Miami Dade College chief among 21 to receive Presidential Medal of Freedom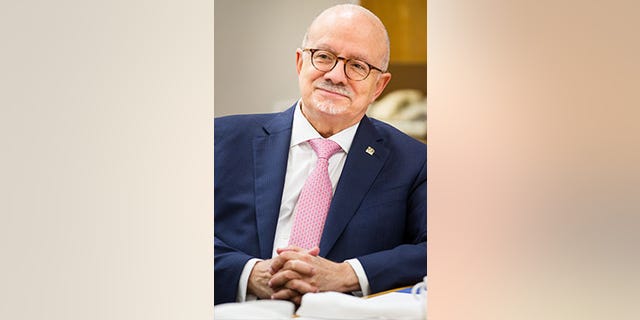 President Barack Obama announced Wednesday the 21 recipients of the Presidential Medal of Freedom.
In a statement from the White House, the award is described as "the Nation's highest civilian honor, presented to individuals who have made especially meritorious contributions to the security or national interests of the U.S., to world peace, or to cultural or other significant public or private endeavors."
Among the recipients are Bill and Melinda Gates, musicians Bruce Springsteen and Diana Ross, basketball greats Kareem Abdul-Jabbar and Michael Jordan, and Vietnam War Memorial designer Maya Lin.
Also on the list is Eduardo Padrón, the president of Miami Dade College (MDC), one of the largest institutions of higher education in the United States.
Padrón has been credited with overseeing a dramatic expansion of the school, offering opportunities to thousands of students from under-represented groups, and transforming it into a national model for affordable education.
"During his more than four decade career, President Padrón has been a national voice for access and inclusion," the White House said in explaining his selection for the medal. "He has worked to ensure all students have access to high quality, affordable education. He has championed innovative teaching and learning strategies making MDC a national model of excellence."
With more than 165,000 students, according to Miami Herald, the college enrolls and graduates a greater number of Hispanic and African-American students than any other school in the country.
"I am humbled and so grateful to the president for this special honor," Padrón said in a statement. "This award truly is an affirmation of Miami Dade College and the life-changing work that takes place every day at our campuses and classrooms."
He added, "This recognition is also for every professor, administrator and staff member who has stood by my side during the last four decades, pushing forth our mission to change lives through education. And I especially dedicate this honor to the millions of students who found an open door to opportunity at Miami Dade College and gave me the chance to make a difference in their lives."
Padrón has been featured in People magazine as one of the world's most influential Latinos, in Hispanic magazine's list of most powerful Latinos and among Poder magazine's "Movers and Shakers."
He's been appointed by six presidents for national leadership roles – including chairman of the White House Commission on Educational Excellence for Hispanic Americans and U.S. representative at UNESCO's World Conference on Higher Education.
The Medal of Freedom will be presented at a ceremony in the White House on Nov. 22.
Also receiving the award this year are actors Tom Hanks, Robert De Niro, Robert Redford and Cicely Tyson, "Saturday Night Live" creator Lorne Michaels, former Federal Communications Commision chief Newt Minow, the late U.S. Navy Rear Admiral Grace Hopper, computer science pioneer Margaret H. Hamilton, architect Frank Gehry, television personality Ellen DeGeneres, the deceased Native American activist Elouise Cobell, physicist Richard Garwin and baseball broadcaster Vin Scully.
Padrón and the others will join the ranks of past recipients including, Dr. Martin Luther King, Jr. and Stephen Hawking.
"The Presidential Medal of Freedom is not just our nation's highest civilian honor – it's a tribute to the idea that all of us, no matter where we come from, have the opportunity to change this country for the better," Obama said in a statement. "From scientists, philanthropists and public servants to activists, athletes and artists, these 21 individuals have helped push America forward, inspiring millions of people around the world along the way."
Like us on Facebook
Follow us on Twitter & Instagram