Mexican Tenor Villazon Making Met Opera Comeback After Risky Surgery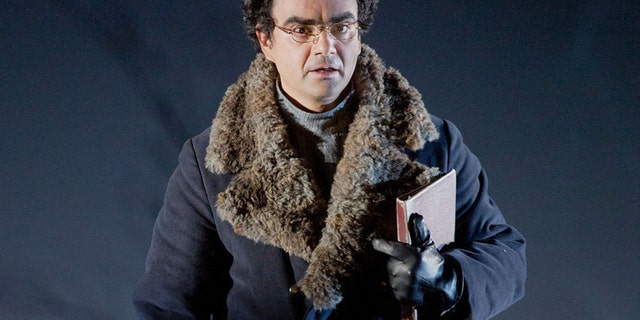 NEW YORK (AP) – It's an opera singer's nightmare: Suddenly, in mid-performance, the voice fails to respond — and instead of a high note, the audience hears a painful croak.
To Rolando Villazon, it happened onstage at the Metropolitan Opera nearly five years ago during Donizetti's "Lucia di Lammermoor."
At a climactic moment in Act 2, his voice cracked. In front of nearly 4,000 people he froze, stopped singing for several seconds, cleared his throat and then repeated the note.
It was a highly public demonstration of vocal problems that had been plaguing the Mexican tenor for two years, problems that eventually would be diagnosed as a congenital cyst lodged inside his left vocal chord. After risky but successful surgery, he had to relearn how to speak, then sing, and he slowly resumed his career, trying to rebuild his technique, stamina and confidence.
Now, he's returning to the Met, the place where, he wryly jokes, "I had my big moment. My dramatic moment of silence." He's singing five performances, starting Saturday, as the headstrong poet Lenski in a new production of Tchaikovsky's "Eugene Onegin."
"The first thing I did when I arrived for rehearsals, I left my things here," Villazon said during an interview in the apartment where he's staying near Lincoln Center. "And I walked over to see the opera house. I did the same thing in Vienna. Every time I've come back to theaters again, I go and see the theater, and I cry."
The outlines of Villazon's career are well known, starting with his meteoric rise to prominence in 2004 at age 32, with debuts at London's Royal Opera House in Offenbach's "Tales of Hoffmann" and at the Met in Verdi's "La Traviata." His vibrant sound combined with a charismatic, go-for-broke style made him one of the most in-demand young lyric tenors. The following summer came the Salzburg production of "Traviata" directed by Willy Decker. It paired him with soprano Anna Netrebko and became an international sensation.
But within a year, the cyst began taking its toll. He canceled plans to star in a new production of Gounod's "Romeo et Juliette" at the Met, took time off and consulted doctor after doctor seeking an explanation. Because the cyst was internal, instead of being visible on the outside of the chord like a node, all the doctors saw was the damage it was causing.
By the time of his Met meltdown in "Lucia," his vocal folds had become so inflamed and misshapen that he said one doctor told him, "these are not even chords. These are like bad packaged sausages."
All the doctors, he said, agreed he would never be able to resume his career. All that is, except two French doctors — one who finally discovered the internal cyst and the surgeon who removed it.
It was nearly a year before he returned to the opera stage, in Donizetti's "L'Elisir d'Amore" in Vienna in March 2010.
"The beginning was quite difficult," Villazon said. "It was a big challenge to go back and deal with the pressure. There were some great shows, and some that were really not good. The moment I experienced a little bit of phlegm or something, I panicked and then things collapsed."
He has maintained much of his old repertoire, while adding the Mozart tenor roles. A run of Massenet's "Werther" in London was a particular triumph, and his Hoffmann in Munich in 2012 was well received.
Yet some critics find Villazon's voice today a compromised instrument. Shirley Apthorp of The Financial Times wrote of his performance in Mozart's "Lucio Silla" in Salzburg last summer, that "it is painful to watch all his charisma, musical intelligence and energy harnessed to the wreckage of this once-beautiful voice."
Moore Parker, on The Opera Critic website, was more positive about a "Traviata" in Vienna last March, writing that "his current disposition forbids some of the less desirable mannerisms of earlier years, and as such his Alfredo is today a more stylish — if vulnerable — figure."
Villazon dismisses any suggestion that his vocal troubles resulted from pushing too hard in his singing. In fact, the opposite is true, according to Dr. Elizabeth Fresnel, the Parisian specialist who accurately diagnosed the cyst.
Such a cyst, she wrote in an email response to questions, is "never caused by a misuse of the voice. But because of it, you have to push on your voice sometimes" in order to sing.
Fresnel said Villazon had a second congenital cyst — this one inside his right vocal chord — but had been able to work around it early in his career. That cyst, she said, eventually dried up and turned into scar tissue.
Based on his medical history, there's no reason to think he will develop similar problems in the future, Fresnel said.
For now, Villazon is concentrating his energy on his Met comeback. "It's a big thing to be back here," he said. "The biggest traumas happened here."
There have been discussions of future roles with the company — Don Ottavio in Mozart's "Don Giovanni" and Nemorino in "L'Elisir." But he knows that much is riding on his performance in "Onegin."
"Whatever happens from this day, it's extra, it's a gift. And that's how I perceive it," he said. "This should not be happening. And yet, here I am. And so, enjoy it! Live it!"
Follow us on twitter.com/foxnewslatino
Like us at facebook.com/foxnewslatino