Meet the Latino Mark Zuckerberg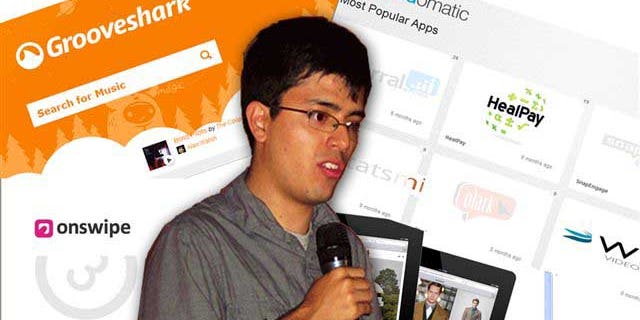 Known as "The Latino Mark Zuckerberg" - Andrés Barreto, a 24-year-old New Yorker originally from Colombia, is making a name for himself as a serial entrepreneur.
Educated at the University of Florida with a degree in political science, Barreto has launched three successful global technology firms. His first, Grooveshark, a website that allows users to listen to streaming music without downloads, was created in 2006, at just 18 years of age (Grooveshark came under fire by the music industry, which teamed up to sue the company). In 2010, Cloudomatic, an app store for web-based businesses, was born.
OnSwipe, Barreto's newest achievement, is a platform for tablet publishing and advertising which promises to "make your content look beautiful on tablet web browsers in under 3 minutes."
"We are betting on the Web as a platform," Barreto is quoted as saying on the OnSwipe blog. "OnSwipe allows publishers to make their content available through all devices, be it iOS, Android, BlackBerry, etc., without the time and expense of developing a native app for each, and without sacrificing the user experience."
Barreto is getting buzz in Latin America, which has likened him to the billionaire Facebook founder, but for the most part he has remained under the radar outside tech circles in the U.S.
While Barreto lives in the New York City area, he continues to promote entrepreneurship in his native Colombia, which he left behind when he was 12. Barreto speaks at conferences throughout Latin America and gives back to the community with his startup and tech blog, PulsoSocial, which is "the leading publication on Social Media, Technology and Entrepreneurship" in the region.
When asked in a recent CNN en Español interview what his plans are for the next five years, Barreto responded in Spanish, "In the next five years, what I'm going to try to do is revolutionize consumption of advertising content on touch devices…such as iPad, iPhone, and all that is coming in the future, with my new business, OnSwipe."
However, if his current record is any indicator, I predict that we can expect that and a lot more, from Andrés Barreto.
Tracy López is a bilingual writer living outside the Washington DC metro area. She is the founder of Latinaish.com.
Follow us on twitter.com/foxnewslatino
Like us at facebook.com/foxnewslatino