Kate Middleton: Motherhood can be 'lonely at times'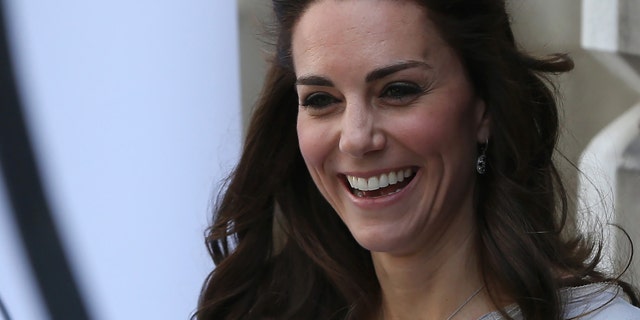 Kate Middleton's latest confession about motherhood is sure to tug at the heart strings of moms across the globe.
The Duchess of Cambridge revealed to an audience of high school students in west London that motherhood can be "lonely" and isolating sometimes, the Belfast Telegraph reported. Her talk was part of the royal family's recently launched mental health campaign, Heads Together.
KATE MIDDLETON SPEAKS OUT ABOUT WHAT MOTHERHOOD MEANS TO HER
Middleton made the heartfelt admission while talking to two mothers who discussed how they forged a friendship while comforting each other through loneliness.
"Yes, it is lonely at times, and you do feel quite isolated," Middleton, mother to Prince George and Princess Charlotte, told the women, who have reportedly created an app to help other mothers who feel similarly. "But actually, so many other mothers are going through exactly what you are going through.
"It is being brave enough, like you obviously were," Middleton continued, "to reach out to those around you."
NEW MOM FIRES BACK AT DIET SALESWOMAN WHO BODY-SHAMED HER IN TARGET
In her talk, Middleton encouraged parents to raise the topic of mental health through play with children whose language skills have not yet developed, the Belfast Telegraph reported.
Also at the event was her brother-in-law Prince Harry, whom Middleton applauded for discussing his own mental health after the 1997 death of his mother, Princess Diana, in a recent interview with the Daily Telegraph. Harry, now 31, was 12 when his mother died in a car crash in Paris.
After 20 years of avoiding the topic completely, and two years after "total chaos," Harry sought help.
IS KATE MIDDLETON'S SECRET FOR GLOWING SKIN ON A GROCERY STORE SHELF?
Harry's older brother and Middleton's husband, Prince William, also made headlines earlier this week when the royal family released a video of him discussing mental health and post-traumatic stress disorder (PTSD) with Lady Gaga for the campaign.
It's "time that everyone speaks up and really feels very normal about mental health," William tells Gaga in the video. "It's the same as physical health."
FOLLOW US ON FACEBOOK FOR MORE FOX LIFESTYLE NEWS
According to data released in 2017 by the Substance Abuse and Mental Health Services Administration, about 9.3 million American adults, or about 4 percent of those age 18 or older, have serious mental illness that affects their daily activities.
While it is unclear whether Middleton was ever formally diagnosed with postpartum depression, the mood disorder affects about one in seven women, according to the American Psychological Association.