Ivanka Trump admirers are spending thousands to look like her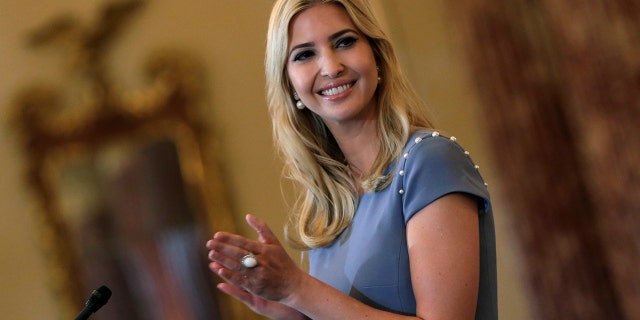 Ivanka Trump's style has been a trending topic since the campaign trail, but now people don't just want to dress like her – they want to look like her.
Since the 2016 Republican primaries, one New York plastic surgeon has seen a huge uptick in patients who want to alter their appearance to look more like President Donald Trump's eldest daughter.
Dr. Norman Rowe, a board certified plastic surgeon, told Page Six that "since the summer of '16,'" as many as "maybe four [clients] a month; one a week" have asked him to give them the Ivanka look – described as widened cheekbones, a slender nose and large eyes.
PRESIDENT TRUMP'S MISMATCHED SUIT LEADS TO SPECULATION ABOUT FASHION FAUX PAS
Around 50 clients at least have reportedly asked the surgeon to give them the "Ivanka" since last summer, which Rowe says now rivals Kylie Jenner as the most sought-after celebrity face.
However, the look doesn't come cheap. Dr. Rowe told Page Six that patients can spend anywhere from $30-50,000 for the look, which ranges from temporary fillers and Botox all the way to what he refers to as the "Permanent Ivanka," which includes cheek implants and rhinoplasty.
This trend is relatively new, Dr. Rowe says, but he is not terribly surprised with women's attraction to the first daughter's aesthetic.
"I never saw [anyone drawing inspiration from Ivanka's face] before the primary," Dr. Rowe said to Page Six. "Maybe they just like the look, but also that [Ivanka is] a powerful woman, self-confidant, part of the first family. Do they want to be her? Yes, deep down, maybe."
This desire for the Ivanka look isn't limited to Republicans. The surgeon also commented that political leanings don't seem to matter when it comes to the plastic surgery.
"I don't think it plays a role in the least," Dr. Rowe said to Page Six. "I think it has to do with somebody who you respect the way they look, and I don't think it's anything to do with whether you're blue or red."
FOLLOW US ON FACEBOOK FOR MORE FOX LIFESTYLE NEWS
She may be the only one in the family to elicit such extreme fandom, though. When Dr. Rowe was asked if anyone had asked for her father's resemblance, Dr. Rowe definitively denied any such request.
"No," Dr. Rowe Said, "I've never had anybody come in and say, 'Make me into a Donald!'"