H&M slammed for dramatic sizing discrepancies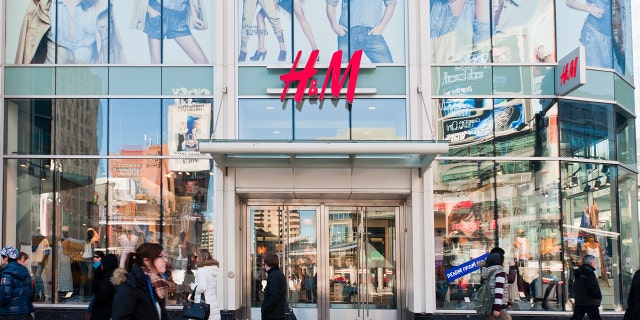 Clothing retailers are often criticized for their inconsistent sizes and H&M seems to be one of the repeat offenders. In a recent social media post, one woman shared a photo to show just how different the clothing brand's sizing practices are from other retailers.
Samantha Bell posted an image in the Facebook group "Free to be OK with me," a body-positive community, showing two pairs of size 16 jeans — one from H&M and one from Primark, another European retailer.
"I know I'm not the first person to raise this, but holy s--t, H&M need to do something about their sizing. This is a size 16 from H&M (blue) vs a size 16 from Primark (black)," Bell wrote in her post, which she also shared on Twitter.
While both pairs of jeans are marked the same size, the difference is drastic. Bell notes that she measured the two, and the pair from H&M is 5.5 inches smaller. She added that "yes, they're both the same style (skinny fit)."
WOMAN'S VIRAL PHOTOS PROVE CLOTHING SIZES ARE RIDICULOUS
Other users commented that this kind of sizing discrepancy can make women feel bad about their bodies, especially when stores aren't carrying items that fit them.
"I don't consider myself to be too large," Bell wrote. "I tried on eight pairs of the largest sizes they make and I couldn't get a single pair to fasten. I couldn't even get some of them past my knees."
Others agreed, arguing that there needs to be some sort of sizing regulation for clothing to avoid these stark inconsistencies between retailers.
"That is beyond ridiculous. Are there any campaigns demanding regulation of clothing sizes? If not, we should do it," one user wrote.
FOLLOW US ON FACEBOOK FOR MORE FOX LIFESTYLE NEWS
Despite the continuous outrage from consumers, H&M and other retailers have yet to make a change. Just a few months ago, a woman called out H&M for the same issue, only this time it involved a dress.
In a post that has since gone viral, she shared a photo of her trying on a size 16 dress that she could barely get on, noting that she's normally a size 12. "Going up 3-4 sizes surely should make you realize that you need to seriously sort out sizing!" she wrote.
Fox News is waiting for a response from H&M on this matter.