Grandma outraged at school calling 11-year-old's dress 'distracting'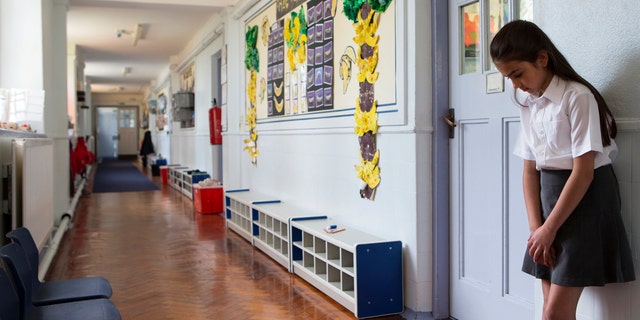 A school in Montana is catching heat from a grandmother over their dress code.
Vegas, an 11-year-old middle schooler, showed up for picture day in a new gray dress with large pink flowers, paired with opaque black leggings.
The adolescent was excited to show off her ensemble for pictures, but was met with a dress code citation instead – for "showing her shoulders."
TEEN CALLS OUT SEXIST DRESS CODE RULES FOR SCHOOL YEARBOOK
"My beautiful granddaughter Vegas got dress coded today, her sister bought her this dress and they told her to change it because it was distracting," her grandmother, Sandra Lynn Beeler Darling wrote in a Facebook post. "It was picture day and she wanted to look cute; she is 11."
Vegas, who Darling describes as "quiet and reserved" Yahoo Lifestyle reported, was devastated by the citation.
"Vegas was so hurt by this," Darling said.
"In my opinion, that is shaming her for showing her shoulders," she told Yahoo. "She was right when she said they are just shoulders."
Other people feel the same way as Darling, responding to her Facebook post about the incident – which has gone viral with nearly 2,000 shares and 1,300 reactions.
"She looks adorable but so sad. School has gotten to be more like prison than a place to get an education," one user said.
"The board put in some ridiculous policy that their shoulders cannot show. It is stupid; if they are sexualizing a[n] 11 year old's shoulders they should not be allowed around children!" another said.
One commented that a cardigan may help avoid situations like this, to which Darling responded, saying she was going to send Vegas to school with some.
FOLLOW US ON FACEBOOK FOR MORE FOX LIFESTYLE NEWS
But, Darling thinks "If you or your kids think it is distracting, don't look at her."
The school did relent and allow Vegas to take her pictures in the gray frock, but her sister had to bring her a change of clothes to wear the rest of the school day.
Vegas has never received a dress-code violation before, and neither have her siblings at the same school, though they have bared their shoulders before.
"She has three other sisters and a brother," Darling says. "The older kids wore things like tank tops — never dress-coded."
The school has refused to discuss the incident further since "the case is closed, she changed her clothes," Darling said.
But Vegas is still bothered by the write-up, telling her grandmother that "it still upsets her."