Gigi Hadid's underarms spark major debate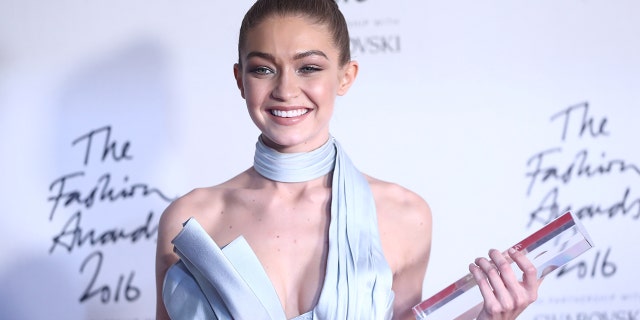 People are getting pretty prickly about Gigi Hadid's underarms after the young model revealed that she might quite possibly grow body hair.
The 22-year-old was at a video shoot for LOVE Magazine's Advent calendar series, where she represented Day 11 in the Christmas countdown.
Hadid was recorded doing some boxing moves, stretching and spiking a volleyball during the minute-long clip. But her athletic prowess isn't what people are talking about – it's the supermodel's potentially hairy armpits.
VICTORIA'S SECRET GETS SLAMMED FOR LACK OF BODY DIVERSITY
In the beginning of the video, Hadid is seen sporting a blue crop top as part of her collaborative line with Tommy Hilfiger, Gigi X Tommy. However, after she starts working up a sweat with her kicks and spikes, Hadid sheds the covering and is left standing in a red sports bra and athletic shorts – also from her line.
At the end of the video, Hadid raises her bare arms up to flex her muscles, but is instead upstaged by her armpits, which appear to be unshaven.
Soon, people started talking about whether Hadid was making a statement by not shaving her underarms – which some celebrities have started doing.
Others brought the issue to social media, where some shared messages of support like, "Love her and her armpits hair."
One user was especially moved by the look, and wrote on Instagram, "I praise Gigi for this! Show the world that women DO grow body hair and that it shouldn't be something to be ashamed of just because we're female."
Some others, meanwhile, were disgusted by the possibility, and said, "Her armpits not shaved ewwwww."
Further negative comments included, "Horrible armpit hair" and "Just shave."
FOLLOW US ON FACEBOOK FOR MORE FOX LIFESTYLE NEWS
However, those comments — negative or positive — may have all been in vain, as sources for TMZ are claiming that the debris under her arms was just fuzz from the blue jacket she was wearing earlier in the vid.
Hadid has not weighed in on the matter, as the model is taking a week-long hiatus from social media.