Georgia high school football coach proposes to girlfriend during game — with help from his players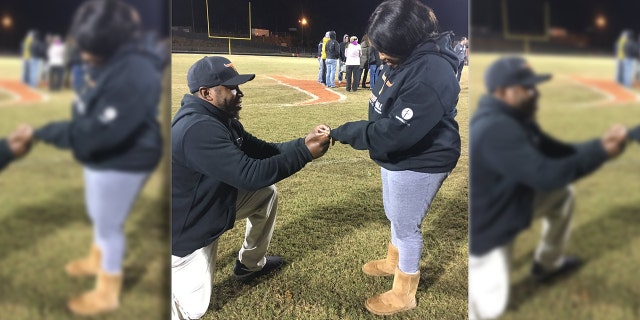 Talk about a team effort.
A Georgia woman said "yes" to her boyfriend's marriage proposal — which he pulled off with a little help from the players of the high school football team he coaches.
Nafis Pickett, the football recruiting coordinator and wide receiver coach at Lanier High School in Buford, rallied his players for an unusual play, with just 1 minute and 30 seconds left in their evening game on Nov. 2, Good Morning America reports.
In a video clip of the proposal, which has since been viewed more than 25,000 times on Twitter, Pickett's team can be seen gathering in a circle around his girlfriend Ashley Wilson, when one young man kicks off the surprise with a few sweet words.
"On behalf of this football program, we'd like to thank you for allowing Coach Pickett to coach up our young men, and guide us through the hard times we've had. We appreciate you for everything that you do," the young man says, as he presents Wilson with a single red rose. His teammates all follow his lead, handing Wilson more roses.
Then Pickett, entering the circle, takes over: "About a year ago today, God placed this beautiful woman in my life," he says. "She's been with me through everything in I do."
"I love her with all of my heart. I appreciate that everything she does for me," he continues, before dramatically dropping to one knee and taking out a ring. "It's only right that I ask her… Will you marry me?"
An overjoyed Wilson bursts into tears and accepts as the boys scream and shout in excitement. And when Pickett and Wilson embrace, the team piles around them for a giant hug.
MAN SHAMED FOR PROPOSING AT NEW YORK CITY MARATHON AS GIRLFRIEND RUNS BY: 'HE COULDN'T PROPOSE TO HER AT THE FINISH LINE?'
"She's the love of my life," the 31-year-old groom-to-be told GMA a few days later. "She supports me in everything I do ... She's at every single football game, she knows it's my passion. She knows I'll do anything [for] those boys."
"Last night my baby said yes!!! Love my queen," Pickett wrote on Twitter in a post that has since been liked over 800 times.
According to the comments, his fans and players couldn't be happier, either.
"Congratulations Coach," one wrote.
"Congratulations Coach Pickett! May God bless and be a blessing to you and your bride's union!" another wrote.
"God bless homie...football is family," one agreed.
Though the post has gone viral online and earned him a lot of praise, Pickett says he's just happy to be engaged to the love of his life.
"I'm just grateful that God was able to place her in my life. When you can find a woman like that, that's all you can ask for," he told the outlet.
FOLLOW US ON FACEBOOK FOR MORE FOX LIFESTYLE NEWS
Here's to a happily ever after for all, both on and off the field.