Man shamed for proposing at New York City Marathon as girlfriend runs by: 'He couldn't propose to her at the finish line?'
They say there's a time and place for everything, but one man's marriage proposal to his girlfriend — while she was in the middle of the New York City Marathon on Sunday — was neither the time nor the place to pop the question, at least according to a number of enraged Twitter users.
Kaitlyn Curran was nearing the 16-mile mark at the Queensboro Bridge — keeping up momentum during her first-ever marathon — when her boyfriend of four years, Dennis Galvin, caught her attention from the sidelines, CBS News reports.
After her beau cleared the spectator-separating barrier and dropped to one knee, Curran appeared to be visibly shocked, and gleefully accepted Galvin's proposal, as seen in video footage that has since gone viral on Twitter.
DALLAS MAVERICKS FAN GETS INVITED TO COUPLE'S WEDDING AFTER VIRAL REACTION TO PROPOSAL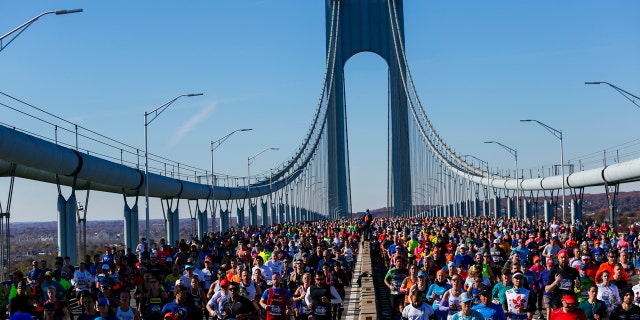 "She cried a little bit, said yes, hugged him and then said 'OK, I have to go finish my race,'" Galvin's cousin Kathleen Figueroa told CBS News.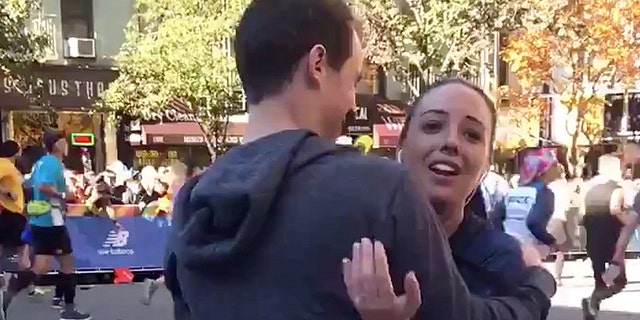 Waving goodbye to her new fiancé, Curran continued on running the 10.2 miles left of the marathon — with a sparkling new ring on her finger.
Figueroa also revealed Galvin was "very nervous" ahead of the big moment, as he waited with family and friends for about an hour for his bride-to-be to pass by.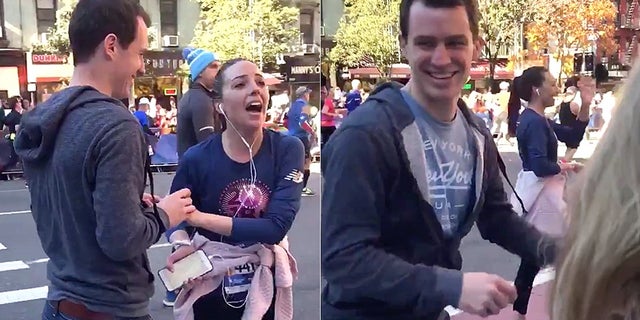 Though the Jersey City, N.J. couple went on to celebrate with friends and family later that day, some Twitter users were feeling less than joyful after the story hit the internet. Many took issue with timing of the proposal, arguing that Galvin's big question totally eclipsed his girlfriend's major personal achievement.
"He couldn't propose to her at the finish line?" one of the hundreds of commenters wondered.
"He messed up her time so badly," another said.
"If he really loved her, he would've waited until after the race, given her a massage, taken her to a nice dinner, left her alone all night so she could have a nice long rest, woke her up the next morning with homemade waffles and strawberries, then asked her to marry him. Geez," one romantic chimed in.
"His male ego was too small to let her get all of the attention for even a few hours," one critic harshly clapped.
"I wonder what dude would've done if he was in the middle of a huge work presentation that he was working on for months and then, midway through, she interrupts with a proposal," another agreed.
One woman offered the story of her own post-marathon proposal, adding that she "100 [percent] would say no" if she had been asked for her hand in marriage during the race.
Supporters, meanwhile, emerged to defend Galvin's move.
"Maybe he just knew that the time wasn't that a big deal to her," one defender said, before being promptly shut down by critics.
All digital outcry aside, Figueroa says that the happy couple couldn't be more excited for the next chapter of their lives.
"They're both very happy," she told CBS. "We can't wait for the wedding."
FOLLOW US ON FACEBOOK FOR MORE FOX LIFESTYLE NEWS
Back in the runner's lane, Curran was one of 52,000 finishers in the world's largest marathon, completing the elite race with a time of 4 hours and 24 minutes, the outlet added.