Funds from shirt that tricked Trump supporters pay for booze-up at Mexican bar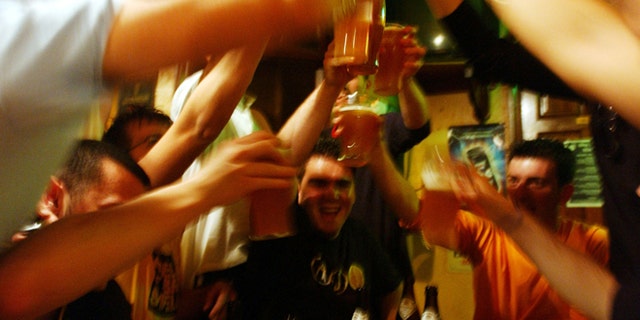 NEWYou can now listen to Fox News articles!
Little did a few Donald Trump supporters know that the money they spent for T-shirts they bought in the U.S., would end up paying the tab for a booze-up at a Mexico City bar.
Little did they know, too, that with body heat the "I support Donald" print on the front would change into a rather insulting Mexican expression — and turn the Republican U.S. candidate into a red-nosed clown.
Cerveza Cucapá, an artisanal brewery located in Mexicali, in Baja, Mexico, came up with the plan.
It's reported that Mario García, Cucapá's CEO, flew his staff to Los Angeles to hawk what appeared to be T-shirts emblazoned with the presidential candidate's face and the phrase "I support Donald."
Cucapá's team videotaped themselves selling shirts along Venice Beach and Hollywood Boulevard to unsuspecting Trump supporters.
The tees sold for between $5 and $10, but little did buyers know, the wearer's body temperature would alter the graphics of the tee, morphing the pro-Trump message into a diss reading, "Donald, el que lo lea," or "He who reads this is a fool," and add a red clown nose to Trump's face.
The money raised from the sales bought a few rounds of beer for hundreds of people in Mexico City — many of whom feel it's only fair, since Trump publicly labeled Mexicans as rapists and drug dealers.
"It's amazing that we can have a party paid for by Donald Trump!" 54-year-old Leticia Villanueva told Reuters, while holding her free beer at the Mexico City event.
Many of those in attendance at the booze-up were distinctly anti-Trump in their sentiments.
"His campaign is garbage, and the only good thing he's ever done is get us drunk," 21-year-old Ivan Grajeda told Reuters. "It's great that he's losing ... that's a triumph for Mexico."
Esteban Pacheco, a 26-year-old Cucapá employee, told Reuters the aim of the campaign was to build bridges between the two countries.
"We want to unite the people with these types of activities," he said.
Like us on Facebook
Follow us on Twitter & Instagram