Five more injured in Pamplona's running with bulls festival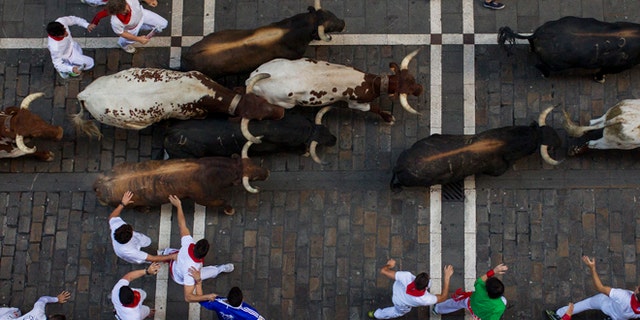 NEWYou can now listen to Fox News articles!
PAMPLONA, Spain (AP) – Five Spaniards were injured Thursday as thousands of people raced alongside fighting bulls in the third bull run of Pamplona's San Fermin festival.
Navarra Hospital chief Dr. Javier Sesma said the five were treated for bruises but none was in serious condition.
No one was gored in the 8 a.m. run, which lasted 2 minutes, 27 seconds.
An Australian was gored Wednesday and two Americans and a Briton were gored in the first run Tuesday.
The nationally televised run sees people racing with six bulls, each weighing some 500 kilograms (1,100 pounds), along a narrow 930-yard (850-meter) course from a holding pen to the city bull ring.
On Thursday, one bull charged into a group of some 20 participants, tossing and butting many, but did not gore anyone. In another incident, a bull hurled a runner to the ground after hooking a horn in the man's T-shirt from behind.
The bulls are killed by professional matadors in bullfights each afternoon during the festival.
The nine-day fiesta, which features 24-hour street partying, was made famous in Ernest Hemingway's 1926 novel "The Sun Also Rises" and attracts thousands of foreign tourists.
Bull runs are a traditional part of summer festivals across Spain. Dozens are injured each year, mostly in falls.
Two men died recently after being gored by bulls in Spanish festivals — one last Saturday in the eastern town of Grao de Castellon and another June 24 in the southwestern town of Coria.
In all, 15 people have died from gorings in Pamplona since record-keeping began in 1924 for the San Fermin festival.
Like us on Facebook
Follow us on Twitter & Instagram