Fashion Nova bikini makes waves on Twitter over cancer warning included on tag
A bikini available for sale at Fashion Nova is attracting a bit of negative attention on Twitter due to a cancer warning included on the tag.
Earlier this week, Twitter user @Aziaani called attention to the tag in a post that has since been retweeted nearly 7,000 times, writing, "Did y'all know this tag is in Fashion Nova swimsuits?"
SEE IT: FASHION NOVA'S 'CUT-OUT' PANTS GET MOCKED ON TWITTER
She also included four photographs of the retailer's "Water Sports Bikini" and its tag, the latter of which reads, "This product can expose you to Di(2-ethykhexyl) phthalate, lead and cadmium, which are known to the state of California to cause cancer, birth defects and other reproductive harm."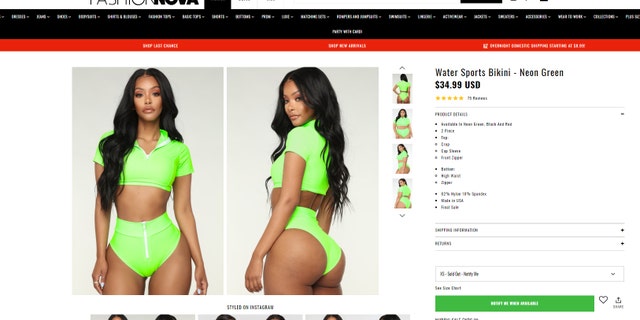 The tag also directed those seeing further information to a California government website detailing Proposition 65, which requires companies put warnings on products that contain what the state considers potentially harmful chemicals. Similar warning labels also appear on coffee and alcohol sold in California.
Aziaani's post, meanwhile, has garnered a slew of responses from Twitter users, some of whom expressed concern, while others claimed to have seen these warnings on "everything" in California.
MICRO 'SKINNY DIPPING' BIKINI WITH INVISIBLE STRAPS COMES WITH CAUTION WARNING
A representative for Fashion Nova was not immediately available to respond to a request for comment, although a message posted to the site's Terms of Service page says the retailer is acting in accordance with the latest guidelines of "Proposition 65, the Safe Drinking Water and Toxic Enforcement Act of 1986, which requires us to inform citizens in California about exposures to certain chemicals." And as noted by USA Today, the National Library of Medicine links the chemical named on the Water Sports Bikini's tag with "deteriorating male reproductive health."
It is also unclear if Fashion Nova, which sells merchandise online, is including the warning on all swimsuits that contain the potentially harmful chemicals, or just those sold in the state of California. At least one social media user claimed to have the same swimsuit, sans the warning.
CLICK HERE TO GET THE FOX NEWS APP
Aziaani, meanwhile, has said on Twitter she was upset by the message on the tag and won't be shopping with Fashion Nova again — though she admitted she may still wear the swimsuit at least once.