Fake puppy scams: Americans are falling victim at 'alarming rate,' report says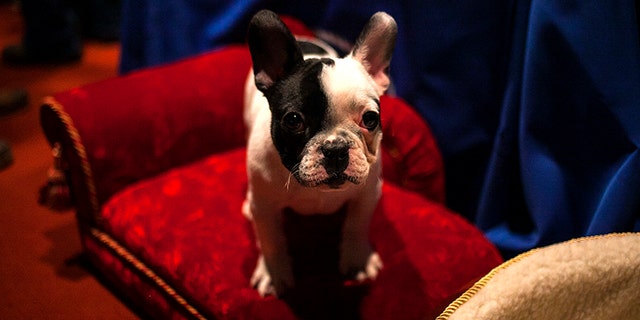 Who could say no to that face?
Well, if you are looking at pictures of cute puppies and other animals for sale online, you should at least think about it, the Better Business Bureau warns in a new report which estimates that tens of thousands of consumers may have fallen victim to fake pet ads originating from Africa.
"Fraud in the sale of online pets is on the rise, with scammers victimizing American consumers at an alarming rate," the bureau says in the report. "Incredibly, experts believe at least 80 percent of the sponsored advertising links that appear in an internet search for pets may be fraudulent. In fact, it can be difficult to navigate an online search for a pet without coming across a bogus website."
HOW TO CARE FOR YOUR PETS AFTER YOU DIE — AND WHAT YOU SHOULD NEVER DO
The report says scammers — mostly from Cameroon — are using Western Union and MoneyGram orders to collect fraudulent payments as they lead buyers to believe that the discounted cuddly animals need to undergo medical treatment and be shipped from far-flung places.
The BBB says the Federal Trade Commission concluded that the majority of the victims are in their 20s and 30s and lose around up to $1,000 in the scams. French Bulldogs, Yorkshire Terriers and Pomeranians lead the pack of dog breeds who are the most likely to be listed in fake-but-sophisticated ads, with parrots also popular, the report says, citing data from PetScams.com.
Through one phony ad, a victim was bilked out of $5,000 until they realized they were being duped.
In another case, Collinsville, Ill., resident Danny Shelton sent $700 by MoneyGram to Atlanta and offered to drive there to pick up a Weimaraner puppy, but was rebuffed by the seller, who insisted it was shipped by air, the report said.
RACHAEL RAY DONATES $1 MILLION TO ANIMALS AFFECTED BY HARVEY
The seller then asked for another $1,400 for insurance for the imaginary animal and Shelton realized something was wrong.
"He sent a text to the thieves, saying he knew he was being scammed, and included a photo of his five year old daughter crying. The seller's response: "f--- you!"," the report said.
The website Shelton visited was still online at the time of publication of this article.
The BBB urges the public to inspect animals in person before buying, pay by credit card only if you do your business online, and make sure images of pets you are trying to purchase don't appear on other websites.
An internal FTC report in 2015 found 37,000 complaints related to pet issues, with most believed to be scam sales, according to the report.
FOLLOW US ON FACEBOOK FOR MORE FOX LIFESTYLE NEWS
Police have already made several arrests in the U.S. related to pet scam operations.
In May 2017, three Cameroonian students in Pennsylvania were charged with pet fraud and are accused of raking in tens of thousands of dollars from victims through Craigslist ads for Boxer puppies. Two were arrested and a third has not been located yet.
In 2016, a man from Cameroon was arrested in Charlotte, N.C., and is alleged to have collected more than $500,000 from pet scams, the report said.