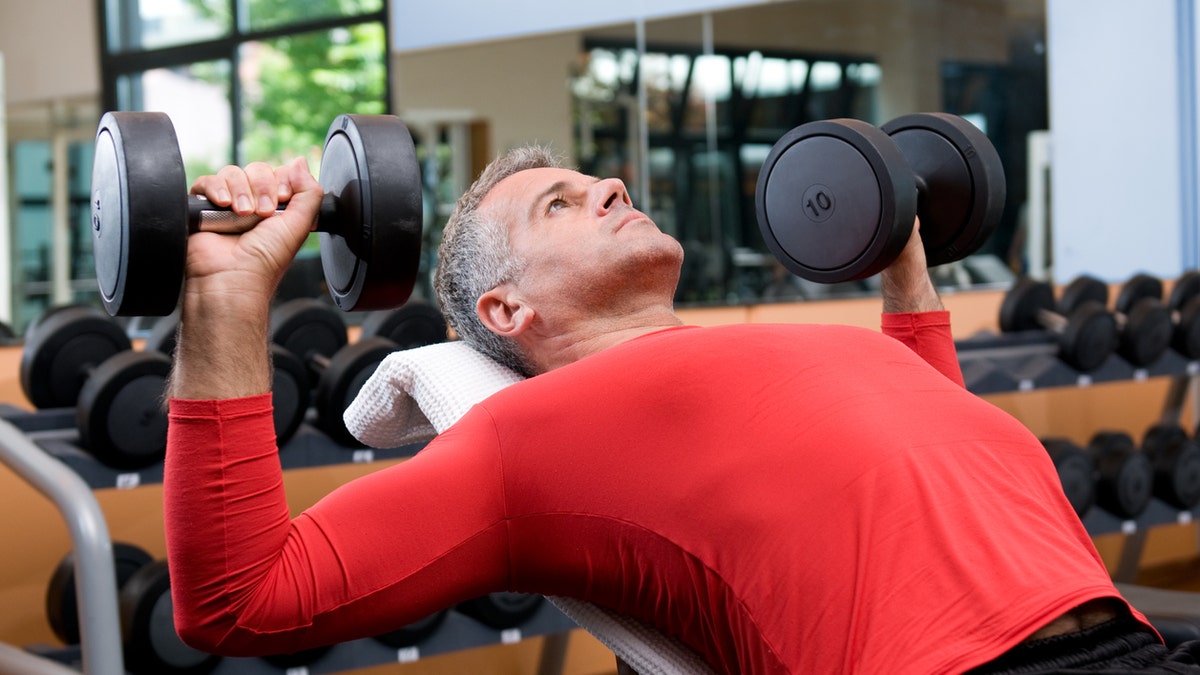 Those laps around the track could boost your memory and brain power: According to a large, comprehensive review published Monday in the British Journal of Sports Medicine, exercise has a significant effect on brain health for those age 50 and older.
"Even in people who had some cognitive declines already, we were actually able to show that exercise improved their brain function," first author Joseph Michael Northey, a researcher at the University of Canberra Research Institute for Sport and Exercise, told Fox News.
The researchers analyzed 39 relevant studies, published from 1989 to 2016. They found that different types of exercise —sessions of at least moderate intensity and lasting about 45 to 60 minutes — were associated with a number of benefits for your brain, including memory and cognitive function.
WHAT'S THE BEST EXERCISE TO LOSE WEIGHT: CARDIO OR LIFTING WEIGHTS?
The reason, according to the review, may have to do with exercise's protective powers: Though brain power declines with age, exercise may help slow such declines by reducing cell damage and inflammation. Brain scans also have shown that exercise can increase the density of both brain cells and blood vessels in certain areas of the brain.
Ruchika Prakash, director of the Clinical Neuroscience Laboratory at the Ohio State University, who was not involved in the study, told Fox News that the review was well conducted and inclusive. However, she cautioned that it's important to consider the control group for each study (such as whether the control group only filled out surveys, or attended educational sessions, or met for social support), as certain control groups showed smaller differences in exercise's effects — which indicates that multiple factors, not just exercise, are resulting in these cognitive benefits.
STUDY IDENTIFIES BEST EXERCISE TO REVERSE SIGNS OF AGING
Fox News spoke with Northey and Prakash to get their tips on exercises that, based on the review, would provide the most brain benefits for those age 50 and older:
1. Opt for aerobic exercise.
Besides being great for your heart health, aerobic exercise can help improve your brain function, Northey said. Prakash agreed, noting that studies have shown aerobic exercise can improve functioning in parts of the brain associated with planning, organizing, and multitasking.
THE 6 BEST EXERCISES TO EASE LOWER-BACK PAIN
2. Include some resistance training with weights.
Resistance training might have especially beneficial effects on memory, Northey said.
3. Skip low-intensity yoga.
Based on the couple of studies that Northey and his team looked at, yoga doesn't appear to have a lot of benefit for brain function. But that may be because those studies looked at lighter-intensity yoga, Northey said, so it's still possible that your more intense hot yoga, power yoga, or Bikram yoga class could boost your brain power.
FOLLOW US ON FACEBOOK FOR MORE FOX LIFESTYLE NEWS
4. If you're looking for something gentler, try tai chi.
The review found some benefits to brain function for those who participated in tai chi, an ancient Chinese exercise that fuses meditation and movement. Because tai chi is low impact, it might be great for those sedentary people looking to get back into exercise, Northey said.
5. Combine exercises.
It's possible that different types of exercise benefit different parts of the brain. So if you combine your favorite forms, your cognition and memory may benefit in more ways than one.