'Depression isn't beautiful': Woman's heartbreaking Facebook post goes viral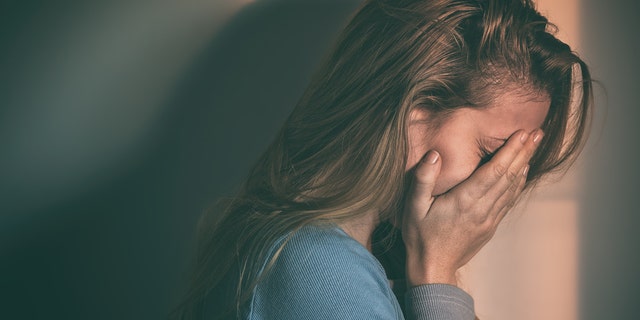 A young woman's honest Facebook post is helping to change the conversation around depression — a topic popular culture sometimes glamorizes and romanticizes.
In her May 7 post, Facebook user Katelyn Marie Todd shares a photo of herself brushing her hair for what she writes is the first time in four weeks.
"It was matted and twisted together. It snapped and tore with every stroke. I cried while I washed and conditioned it, because I forgot how it felt to run my fingers through it," Todd wrote. "I brushed my teeth, too, for the first time in a week. My gums bled. My water ran red. I cried over that, as well. When I got out of the shower, I couldn't stop sniffing my hair and arms. I've avoided hugging people for a while, because I never smell good. I always smell like I've been on bedrest for a week. I have no clean clothes, because I'm too tired and sad to wash them."
HOW A WWE STAR WRESTLED WITH MENTAL ILLNESS
She goes on to write what she's suggested thus far in the post: "Depression isn't beautiful."
Rather, she writes, "Depression is bad hygiene, dirty dishes, and a sore body from sleeping too much. Depression is having 3 friends that are only still around because they have the patience and love of a saint. Depression is crying until there's no more tears, just dry heaving and sobbing until you're gasping for your next breath. Depression is staring at the ceiling until your eyes burn because you forget to blink. Depression is making your family cry because they think you don't love them anymore when you're distant and distracted. Depression is somatic as well as emotional, an emptiness you can physically feel."
GWYNETH PALTROW'S GOOP OFFERS A RIDICULOUS DEPRESSION CURE
With some celebrities such as Lana Del Rey and director Sofia Coppola have bee criticized for glamorizing suicide through music videos and film, many commenters applauded Todd for her refreshingly raw approach to depression, which is one of the most burdensome illnesses in the United States. According to the Centers for Disease Control and Prevention, from 2009 to 2012, more than one out of 20 Americans age 12 and older and nearly 10 percent of adults ages 40 to 59 reported depressive symptoms.
"Every word is true," one commenter wrote in response to Todd's post. "Some people don't understand how hard the daily struggle is."
Another wrote, "The BEST description of depression I have ever read! Thank you for sharing this with the rest of us."
CAN VITAMIN DEFICIENCIES TRIGGER DEPRESSION?
As of Wednesday afternoon, Todd's post had garnered nearly 266,000 shares, more than 19,000 comments, and over 196,000 reactions on Facebook.
She ends the post by urging others to sympathize with any loved ones who may be struggling with depression as well.
"Please be easy on your friends and family that have trouble getting up the energy to clean, hang out, or take care of themselves," she wrote. "And please, please take them seriously if they talk to you about it. We're trying. I swear we're trying. See? I brushed my hair today."