Cyclist photobombs Kentucky couple's engagement photos: 'What in the world was this guy thinking?'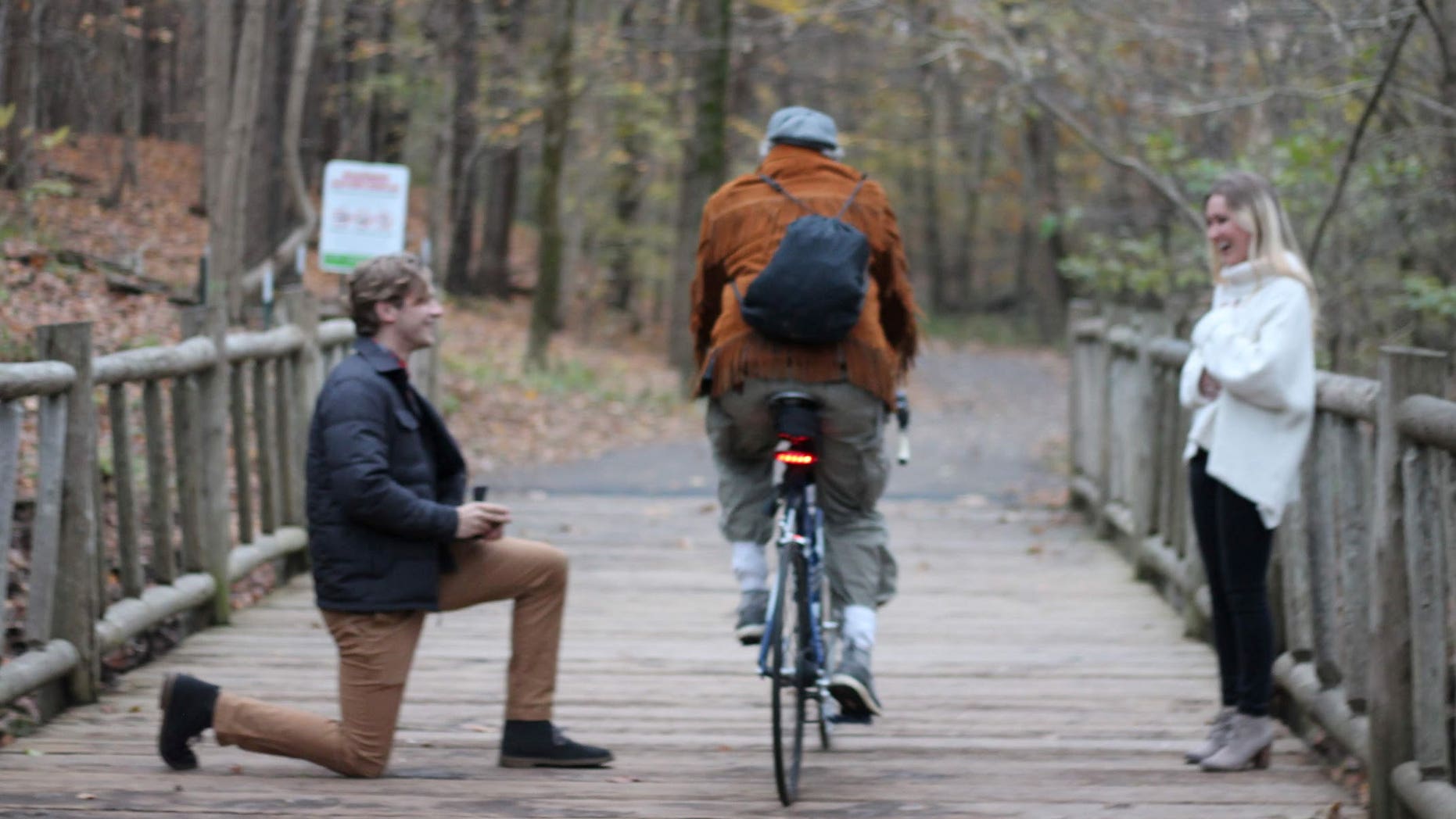 This is the hilarious moment a couple's perfectly planned proposal photoshoot was ruined when an oblivious cyclist whizzed through the romantic scene.
Blake Martin, 25, spent three months planning the moment he would pop the question to girlfriend Shannon Keene, 24. He picked a scenic spot on a wooden bridge in Cherokee Park in Louisville, Ky., and hired a photographer to capture the proposal on camera.
But just as he got down on one knee to ask the all-important question, an oblivious cyclist in a bright orange jacket whizzed right in front of him.
Martin, a chemical engineering Ph.D. student, said the man apologized quickly before continuing on his way.
MAN PROPOSES WITH SIX RINGS TO LET FIANCE DECIDE WHICH SHE LIKES
The funny moment, from Nov. 9, was captured on camera by photographer Christine Calacsan, a friend of the couple.
"I had been planning this proposal for about three months," said Martin, a Louisville native. "I was extremely nervous. It all happened so fast. I got down on one knee and this orange blur just zipped by and screamed 'Sorry.' It was nuts."
Keene, a law student, said she thought she and Martin were "just going to pose for fun" when they started taking pics.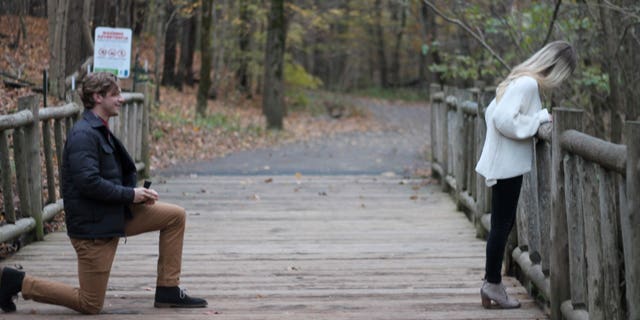 "We were on this little bridge when Blake asked me to look out over the creek for a photo which I thought was dumb. I did not know why he wanted me to pose on my own during a couple's photo shoot. When I turned around he was on one knee," she explained. "I was so shocked. He started saying, 'I love you so much, I want to spend my life with you. Will you marry me?'
"It was at this exact moment this man flies by on a bike so fast I hardly even registered it."
PICS: COUPLE MARRY INSIDE A CALIFORNIA COSTCO
Despite the disruption, Keene, who has been dating Martin for four years, accepted her boyfriend's sweet proposal.
The couple, who live in Louisville together, said the amusing moment made the proposal even more memorable.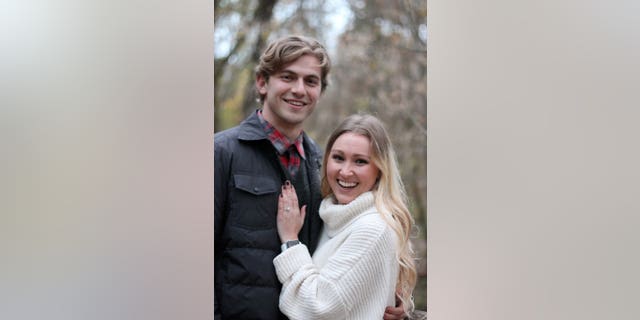 "It wasn't until after we hugged that Christine said, "You won't believe the photo I got," Keene said. "When we saw it we both cracked up. It was a good reminder that you shouldn't take things too seriously."
As Martin added, "Afterwards I was like, 'What in the world was this guy thinking?' When we saw the photo we just laughed. It made the proposal so much more special because it was unique."
FOLLOW US ON FACEBOOK FOR MORE FOX LIFESTYLE NEWS
The happy couple, who met while studying in Centre College,Ky., plan to wed in 2020.