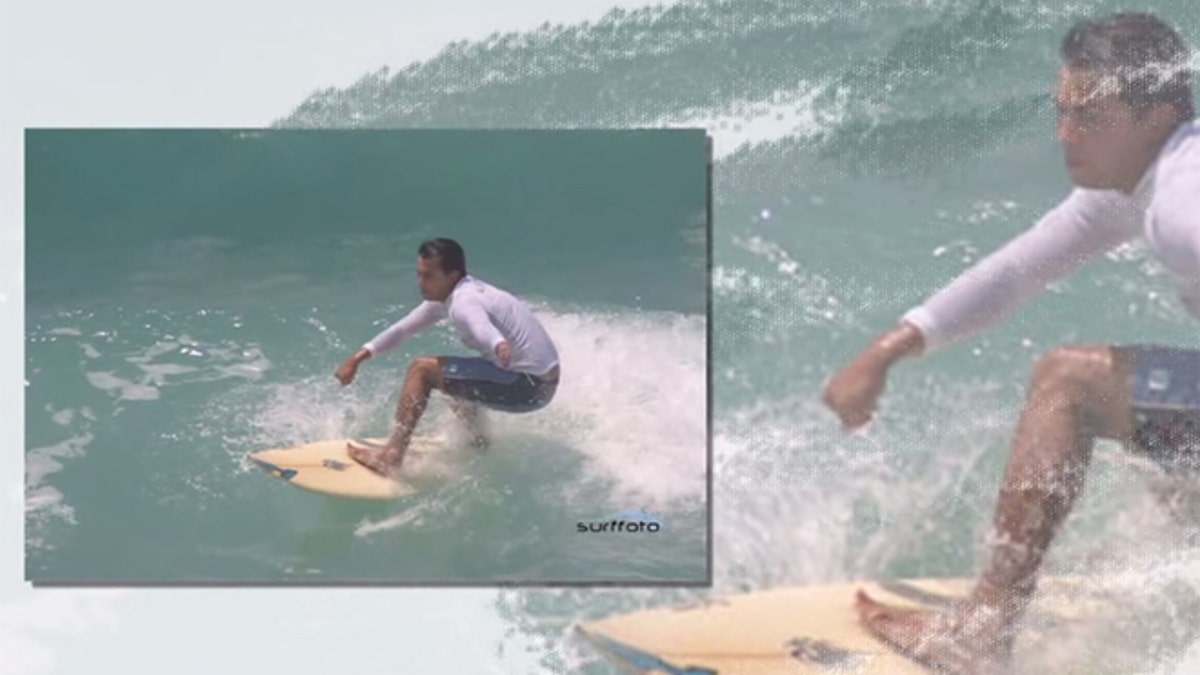 Surfers around the world may have an actual saint to pray to when they're hoping for a good swell if priests in Brazil can convince the Vatican.
Guido Schäffer, a Catholic priest-in-training who died in 2009 at age 34 while surfing near his home in Rio de Janeiro, has become something of a folk saint in Brazil, and devotees have begun to make pilgrimages to his grave and leave prayers or replicas of body parts thanking him for his intercession.
The so-called Surfer Angel's cult has become so popular that priests began to hold monthly masses at his grave, a journalist from Portugal penned a book on Schäffer's devotees and evidence of devotion to him has appeared has far away as Poland.
The Vatican in January paved the way for Rio priests to put together evidence of Schäffer's holiness and present it to Pope Francis – a move that is considered the first step to sainthood.
After that move, Schäffer's remains were moved to the Our Lady of Peace Church near Copacabana beach, as part of procession that included a fire truck and friends holding surfboards in the air. One board read, "Jesus Is Our Wave" in large letters.
"For him, surfing was a mystical experience, like prayer. He felt the presence of God in the sea," Rev. Jorge Neves, who mentored Schäffer at Our Lady of Peace, told the Wall Street Journal.
Schäffer drowned while surfing in Barra da Tijuca, Rio de Janeiro, only weeks before he was due to be ordained as a Catholic priest. He was known for his work among the city's poor and among the country's indigenous tribes.
"He was very sensitive toward others and was a man of great faith and was passionate for the word of God," Father Roberto Lopes, episcopal vicar for the causes of saints in the archdiocese of Rio, told the Daily Mail. "On the day of his burial, the Church of Our Lady of Copacabana was filled with bishops, priests and many believers who saw him a young man who was different and who deeply loved God."
For many in Brazil, the Surfer Angel is not only the patron saint of tasty waves but also a symbol of the Catholic Church's fight against the rise of Evangelical Protestantism. Instead of portraying martyrs as inaccessible holy men, Schäffer preached the Gospel between sets and held prayer sessions on the beach.
Some say a young thrill-seeker who found God is just the thing the Catholic Church needs in Brazil right now – especially in Rio, a city known for its hedonism.
"As a saint, he would embody the best of Rio: young, a surfer in touch with nature, a professional who studied and helped the poor," Teresa Maria Gutiérrez, a 58-year-old economist told the Journal. "I pray to him all the time."
And while miracles attributed to the surfing seminarian might take years to be confirmed, his death has already taken on mystical proportions.
"It was all an act of God. God made it so Guido would die at the beach, that he would die surfing," said 29-year-old Rio surfer Ricardo Bretas.