CrossFit athlete's powerful transformation photo proves getting fit takes time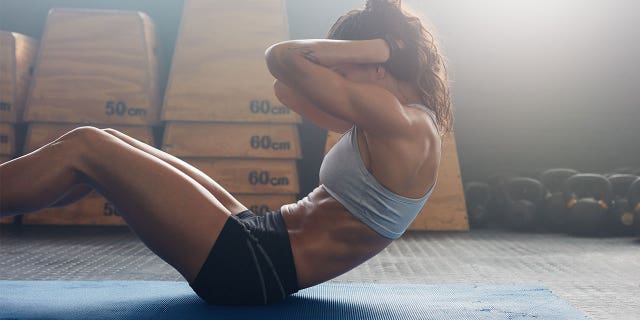 NEWYou can now listen to Fox News articles!
Getting healthier and fitter can often be a daunting task when you don't see progress right away. CrossFit athlete Emily Bridgers understands this struggle, which is why she shared encouraging transformation photos to show that changing your body takes time.
Bridgers, who describes herself as a Christian in her profile, posted the before-and-after pictures to her Instagram Wednesday, revealing how her body looked seven years ago before she started CrossFit compared with what she looks like now. She wants people to know that while the results didn't come easy, anyone can do it.
"This is for anyone who thinks they can't change their life... it didn't happen over night. There was no magic pill. It took consistency and hard work," Bridgers wrote on the post, which had over 18,300 likes by Tuesday afternoon.
'I LOST 100 POUNDS ON A FAD NO-CARB DIET'
The athlete credits her fit body to diet and exercise, noting that she's healthier and in better shape now at age 29 than she was at 22. Bridgers wrote that it's taken her "Lots of constantly varied, functional movement done at high intensity. Gradually building muscle over time."
Bridgers' fitness program of choice, CrossFit, is a high-intensity regimen that incorporates elements from several sports and types of exercise. The workouts include aspects of gymnastics, weightlifting, running, rowing and more, according to the CrossFit website.
Bridgers explained she also had to adjust what she consumes, writing that not only does she eat more now than she used to, but she also drinks "a lot less" alcohol.
Studies suggest that alcohol can have a negative impact on exercise, as it "decreases the use of glucose and amino acids by skeletal muscles, adversely affects energy supply and impairs the metabolic process during exercise," according to the U.S. National Library of Medicine.
FOLLOW US ON FACEBOOK FOR MORE FOX LIFESTYLE NEWS
If you're looking to make their own fitness transformation, Bridgers' post may just be the inspiration you need. One Instagram user, @cookie_monster814, commented, "Yessss!!! Thank you for sharing and reminding us that it all takes time."