Couple uses blazing 416 Fire as wedding photo background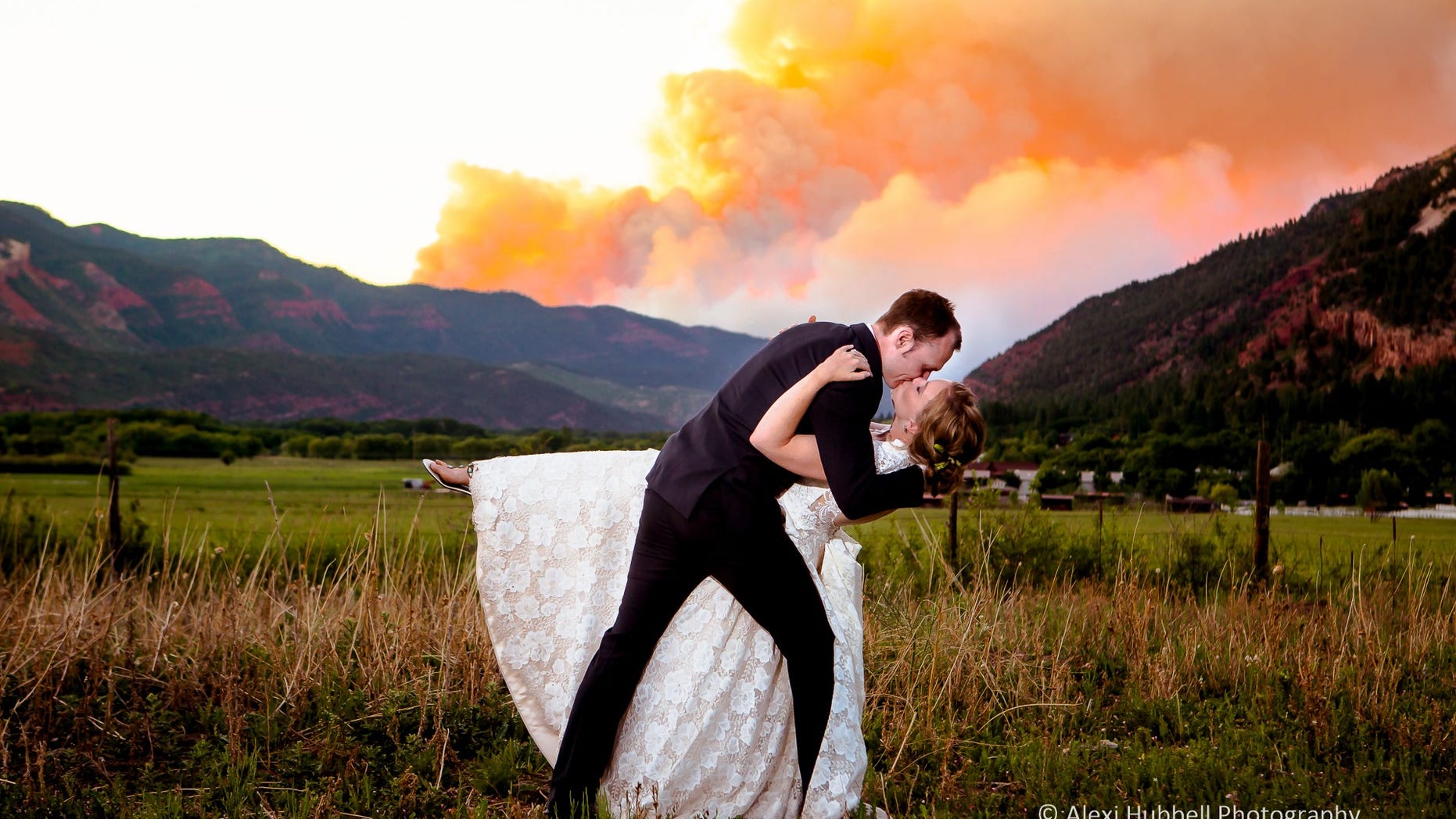 A couple has improvised their way to viral fame after a wildfire forced them to reconfigure their wedding day plans.
Sara and Michael Kramer of Fort Collins, Colo., were planning on getting married Saturday at a venue in the San Juan National Forest, MSN reported. However, those plans were halted because of the devastating 416 Fire that has reportedly burned nearly 26,000 acres north of Durango as of Wednesday morning, fire officials said.
'KILLER CLOWN' WEDDING PHOTO SHOCKS NEWLYWED ON HER ANNIVERSARY
The bride and groom moved to a relative's property, away from the evacuation zone, but the fire's smoke and flames were still visible in the background – so the couple and their photographer, Alexi Hubbell, decided to go with it and use it as a backdrop for their wedding pictures.
Hubbell posted the vivid photos on social media, where they have gone viral.
"I want to give a huge thank you to the fire fighters on the ground trying to contain this thing! Sara and Michael were supposed to be married at Cascade Village but had to change venues to a family home on CR 250 at the last minute. I know the crews out there are working extremely hard to protect this valley and the homes in it, including the one we were at last night," she captioned one of the photos on Instagram.
Hubbell was quick to point out the images are "not meant to glorify the situation here in Durango or minimize the impact it is having on our town and the economy or what the families that have been evacuated are going through. We fully understand everyone's pain. We are in this together!"
Hubbell also thanked the firefighters and shared the contact information for Community Foundation Serving Southwest Colorado for their Community Emergency Relief Fund for people who are interested in donating.
FOLLOW US ON FACEBOOK FOR MORE FOX LIFESTYLE NEWS
The wildfire has only been 15 percent contained since it was reported June 1, fire officials said. Nearly 1,400 homes have been evacuated, but no structures have been lost as of Wednesday evening.