Couple takes wedding photos at Target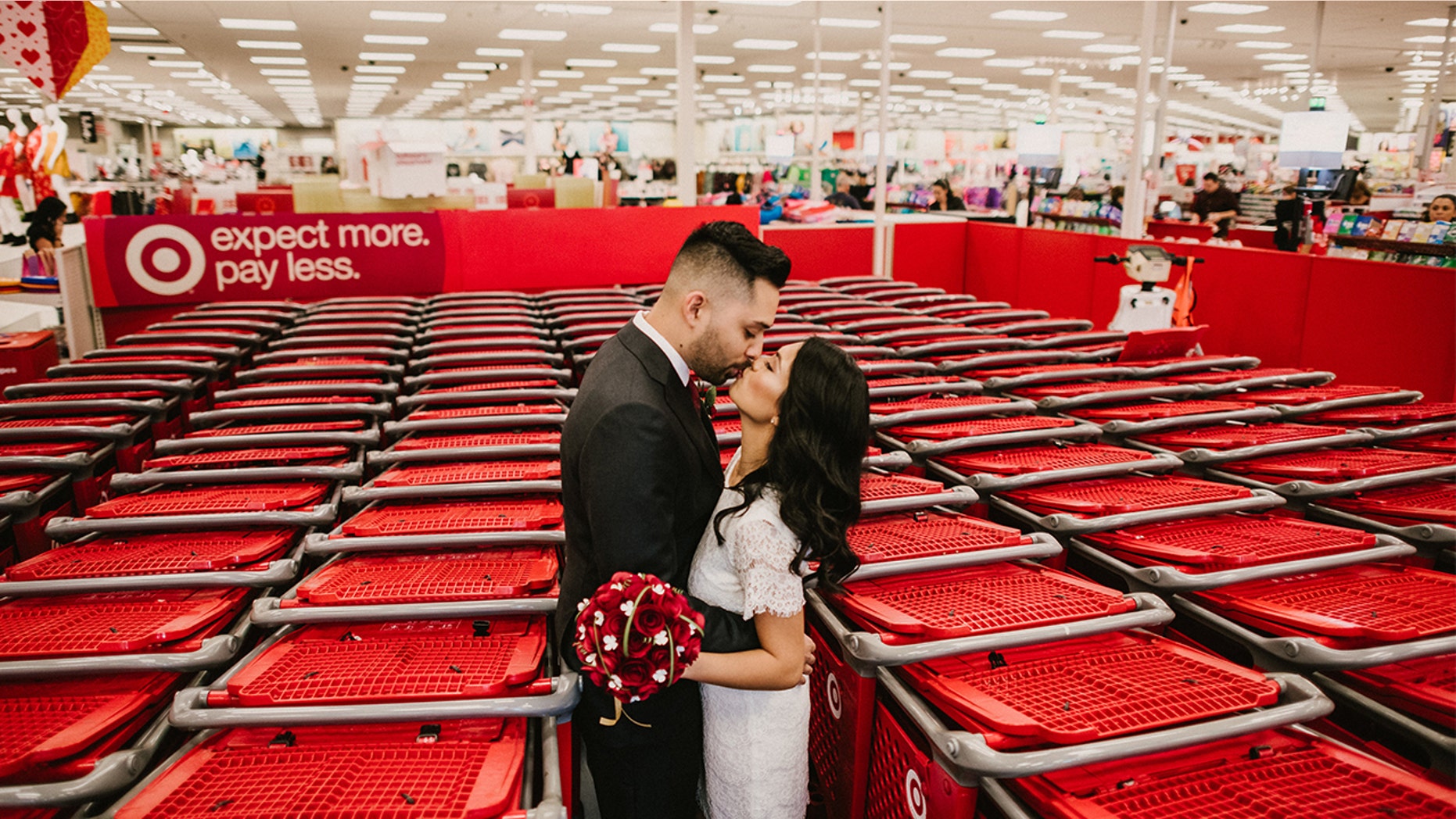 Love never fails, especially at Target.
After recently tying the knot, Michael Delvalle and Isabella Sablan of Miami, Florida knew that only one location was fitting for their first photos as husband and wife: their local Target.
Sablan told ABC News on March 2 that she and Delvalle have been together for nearly eight years, having met at age 19 while working at their local Hollister. During their courtship, they took trips to Target so often, they felt it was only right to include it in their big day.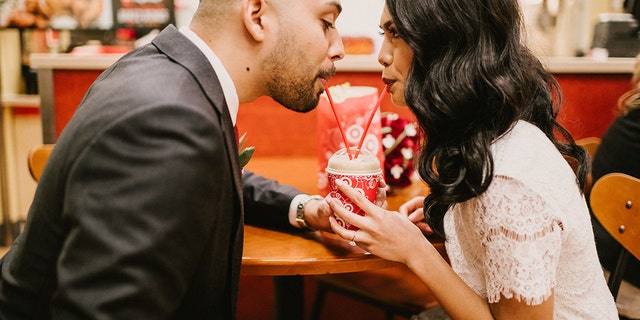 "The basis of our relationship is built on Target. We probably go two to three times a week. We like long walks at Target instead of on the beach," the bride said.
WOMAN ENJOYS 'NEW LIFE' AFTER LEG AMPUTATION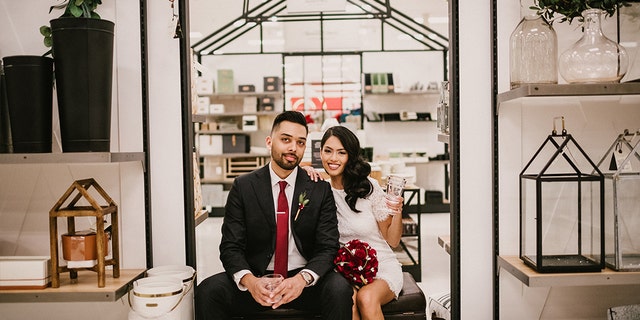 Delvalle couldn't agree more, adding that Target "has always been a pretty significant part of our relationship," in a statement shared to Fox News by wedding photographer Evan Rich.
"When we needed something to do on a slow Thursday night, Target was always there with open doors. Even if we didn't need anything, Target always knew what was best for us and it never failed to send us home without some sort of delicious treat, household good, or one of those beautiful red tag clearance items that now consume our entire home décor," the groom said.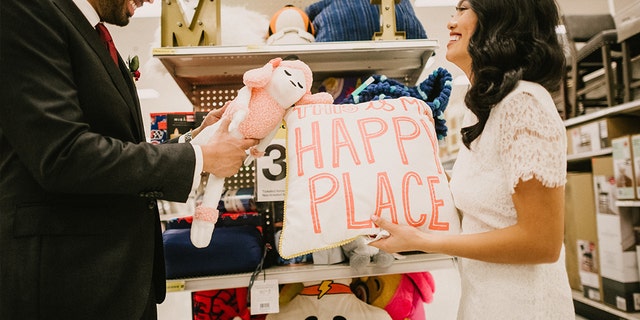 "When it came time to decide on a location to shoot our engagement photos, we knew it had to be somewhere with deep personal meaning- somewhere that contributed to the development of our relationship- so naturally our first inclination was the enthralling aisles of our favorite emporium," Delvalle cheekily quipped.
DOMESTIC VIOLENCE SURVIVOR TORCHES WEDDING DRESS AT GARAGE SALE
Before saying "I do" in front of eight loved ones at Miami Beach Botanical Gardens on Jan. 26, the couple hit a North Miami Target with Rich to take photos at the place where their love story began. Rich, who usually shoots wedding photos in more traditional venues, jumped at the chance to "highlight love in a common everyday setting."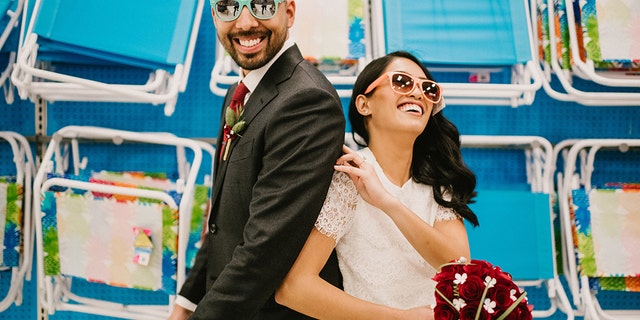 The wedding photographer told ABC that he "played off the energies" of the new Mr. and Mrs. as he caught sweet shots of the couple sharing a slushie, trying on sunglasses, riding a bicycle, picking up frozen pizzas, and generally reveling in all the best that the retail superstore has to offer.
FOLLOW US ON FACEBOOK FOR MORE FOX LIFESTYLE NEWS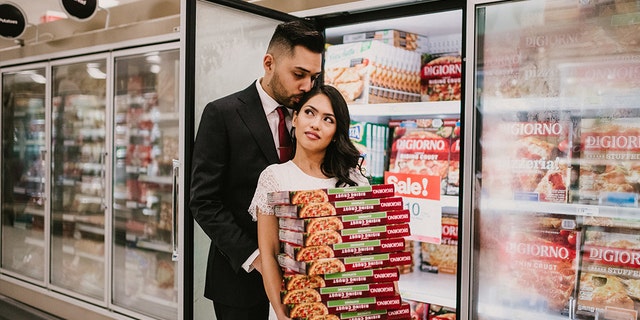 "If you ask any of our friends, none of them would be surprised that we chose to do this at Target- THAT's how obsessed we are," Delvalle said. He and Sablan are such Target superfans, they run an Instagram account with a following of almost 4,000 called @cupsoftarget, where they invent silly stories about the abandoned cups they find throughout the stores.
"It's too bad we can't throw our reception in Target because then that would truly be the frosting on the Market Pantry cake," the groom said of their wedding day. After celebrating a mini-moon in Clearwater, Fla., the couple are thrilled to begin their life together.
"I'm looking forward to more trips to Target," Sablan said.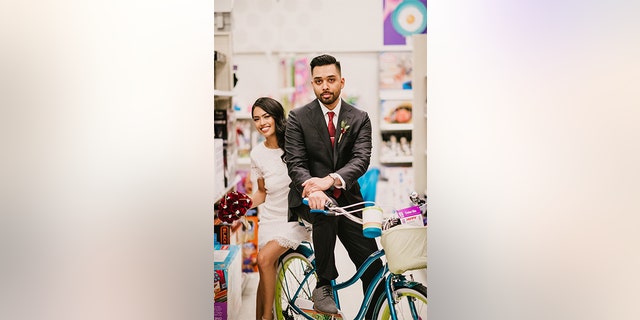 "We appreciate seeing Michael's and Isabella's love of the Target brand and wish them all the best as they start their life together," Target spokesperson Erin Conroy confirmed to Fox News.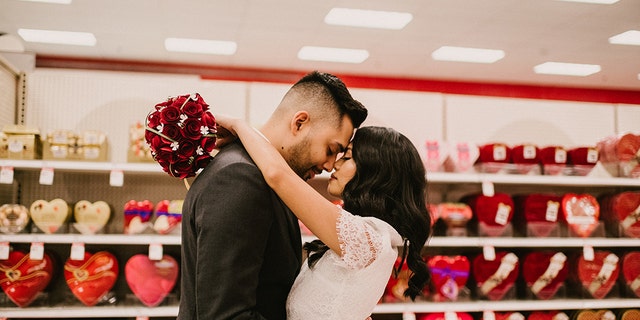 The newlyweds are not alone in honoring the Minneapolis headquartered superstore on an all-important occasion - a little girl recently celebrated her third birthday with a Target-themed bash, too.