Christmas is here! Pope Francis welcomes Baby Jesus with Mass in St. Peter's Basilica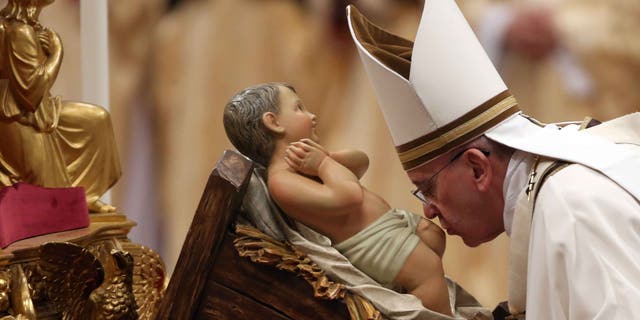 Saint Peter Basilica is once again the epicenter of Christmas this evening, with Pope Francis saying Mass before tens of thousands of souls expected to gather at the heart of Rome.
Pope Francis has used these occasions in the past to promote the main themes of his pontificate: the love of God for all and God's mercy for all.
Last year, in his homily of Christmas Eve a somber Pope Francis steeped his Christmas message in sadness for those with little cause for joy — abused children, refugees, hostages and others suffering from violence in the Middle East, Africa, Ukraine and elsewhere.
He also asked Catholics to welcome the tenderness of the Christ Child by letting him, his kindness and his love find us.
On Christmas Day, the pope is set to deliver his Urbi et Orbi message from the loggia of St. Peter's Basilica, as well as his Apostolic Blessing.
The Official Vatican Newtork said on its website it will broadcast all the papal activities televise , all of which will be televised live on the Vatican Player and on Youtube.
Earlier this week, Pope Francis was named as the winner of the International Charlemagne Prize, awarded annually by the German city of Aachen for contributions to European unity.
The prize committee said Wednesday that the pontiff has sent "a message of hope and encouragement" at a time in which "many citizens in Europe are seeking orientation," news agency dpa reported.
Previous winners include former U.S. President Bill Clinton and St. John Paul II, who received a special edition of the prize in 2004.
With reporting by the Associated Press.