#PopeBars: Meme of Pope Francis 'rapping' goes viral on social media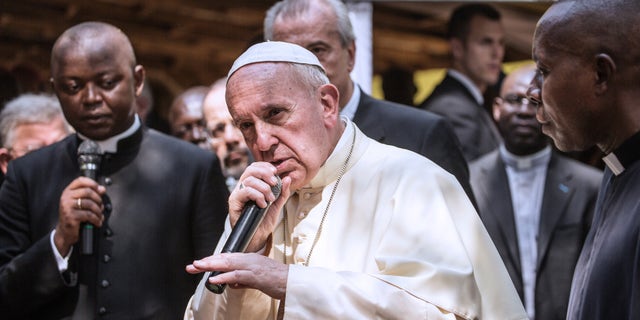 Drake and Fetty Wap may be battling for hip-hop supremacy on the Billboard charts, but the world is witnessing the rise of a new rap superstar. And this one has God on his side.
Fresh off releasing his debut album, Jorge Mario Bergoglio – better known by his stage name, Pope Francis – has become a social media sensation after an image of the pontiff's trip to the Central African Republic appears to show him in the midst of laying down some hot lines.
Twitter users – from Hamilton creator Lin-Manuel Miranda to Brooklyn rapper Talib Kweli – have taken to the social media site to post their own faith-based verses alongside the image and the hashtag #PopeBars.
Some of the best verses have come from people rewriting their favorite hip lyrics ("I'm a Jesus Man, but I'm not Jesus, Man," on Jay Z fan tweeted, while a Notorious B.I.G. devotee tweeted "It was all a dream, I used to read Luke 4:17, Virgin Mary and Moses looking over my papal mezzanine").
Then there's this gem that plays off Eminem's "Lose Yourself."
Hamilton's Miranda, who seems to be the only on the planet right now to earn as much praise as the Pope himself, decided to use his own skills on the mic to drop a slew of papal verses.
If one is wondering, why this #PopeBars meme has generated so much buzz, it might be because of the similarities between Pope Francis and many rappers. Sure, on the surface the humble Argentinian may not appear to have anything in common with someone like A$Ap Rocky or Lil Wayne, but take a closer look.
Don't both the pope and rappers drive around in customized cars? Yep.
What about the penchant for funny hat? Isn't Pharrell's giant hat just one step away from the papal miter?
Any of the flowing white robes the pope wears sure look similar to something Kanye "the guy who wrote "Jesus Walks" West rocked during his last tour.