Children of 9/11 victims meet at camp, wed 16 years later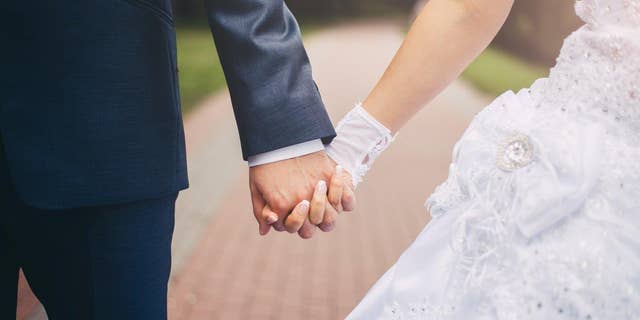 NEWYou can now listen to Fox News articles!
Brielle Saracini and Sean McGuire were just ten years old when their fathers passed away in the terrorist attacks on the World Trade Center on Sept. 11, 2001. Sixteen years later, almost to the day, on Sept. 9, the two were married in a stunning outdoor ceremony in Austin, Tex. There was not a dry eye the house.
The disaster brought Saracini and McGuire together at a young age. According to Philly.com, the couple met in seventh grade at Camp Better Days, a sleepaway summer camp in New Jersey for children who lost loved ones on 9/11. At the time, Saracini said they were "just kids who used to hang out together and match up against one another in pool and basketball."
TEARS AND TRIBUTES AS NATION REMEMBERS 9/11
Brielle's father, 51-year-old Victor Saracini, was the captain of United Flight 175, the airplane that hit the South Tower of the World Trade Center. On the 84th floor of that building, McGuire's father, 40-year-old Patrick McGuire, was at work at Euro Brokers Inc.
"We were brought together by this tragedy, but we are definitely not defined by it, McGuire told A Plus. "Our relationship is so much more than the way we met. That being said, I think one of the reasons that we connect so well is because we have that common ground."
There's no denying Sacarini and McGuire have weathered much of their personal journeys as a couple. From attending the same college and studying aboard together, to staying strong through Saracini's two-year battle with Stage 4B Hodgkin's lymphoma (during which McGuire slept in her hospital room on a cot for a month), their commitment to one another proves that love can conquer all.
WHY DOES THE WEDDING RING GO ON OUR LEFT HAND?
Arriving in Texas for their wedding weekend, the presence of their fathers was felt from the moment they touched down in the Lone Star state.
"When we arrived in Austin it was muggy and hot, but for the days of the guests coming to celebrate, it was unseasonably cool and pleasant, just to return to hot and muggy once it was over," said Ellen Saracini, mother of the bride. "[Victor] was there, you just need to look for the signs. No hand to hold, but I smile and feel him in my heart."
During the ceremony, Saracini and McGuire had a special moment of silence to recognize their dads and the posthumous role they played in the couple's lives and relationship.
"It was important for us to do so, to properly honor them and pay respects to how they raised us and shaped us," the bride said. "I also wanted to keep a seat open for my dad, so I placed his captain hat on a seat in the front row."
FOLLOW US ON FACEBOOK FOR MORE FOX LIFESTYLE NEWS
While Sacarini and McGuire didn't intentionally set the date near Sept. 11, it turned out to be only available weekend their venue was available. Saracini told A Plus they took it as a good omen.
Marrying one another before 165 family and friends, Saracini's vows in particular captured the essence of their union.
"We met at a summer camp for children with broken hearts, but we built back up together," she said. "The biggest takeaway from 9/11 — for me — was that you might be able to break down steel and structure, but you can never destroy love."