Cheaper by the Dozen for Sextuplets Dad Victor Carpia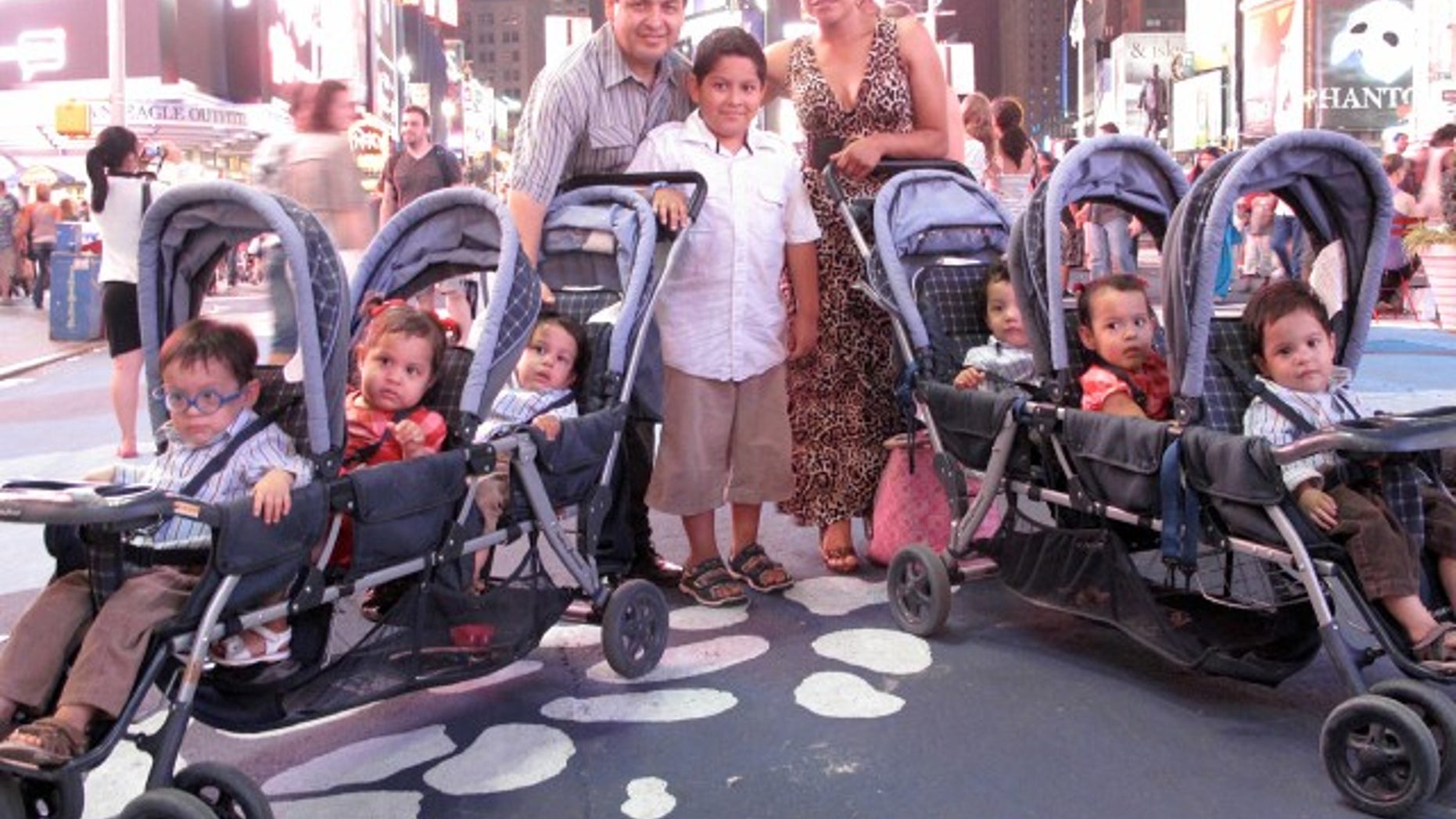 Work a full day, put in overtime, be an extra set of hands at dinner, help with baths, put kids to bed, get a little rest, do it all again. Victor Carpio's daily schedule is repeated by fathers across the world.
But as patriarch of what are believed to be the first Hispanic sextuplets in the US, Carpio's hands are a little fuller than most -- and his wallet a little lighter. This is why Father's Day in this particular household is an especially big day.
"I don't know why I am in this situation or what I did in the past,"
said the 37-year-old. "But it is an incredible experience. When you get home and they are running around each other to come to me...you have to be in that situation to understand. It's so beautiful."
As he sees it, his primary duty involves getting his children fed. For his 10-year-old son Jhancarlos and the two-year-olds-- Jaden, Joel, Jezreel, Justin, Genesis and Danelia -- that is no small feat. In one day, these kids can consume one gallon of milk, two 64-ounce bottles of juice and a pineapple a day -- and that's not even covering the main meals.
Despite spending at least $400 a week on groceries, the family manages to scrape by on one salary.
"We live day to every other day," explained Carpio who was just promoted to a slightly higher paying maintenance position with the New York City Housing Authority.
This isn't exactly the vision the Ecuadoran immigrant had for himself.
He was once was an aspiring musician and songwriter and still harbors hope that the bachata band Aventura might play one of his songs one day. He knows the likelihood of that is low since most of his jam sessions occur with his kids when he sings them bedtime lullabies.
His greatest passion now is watching his little ones grow and their dreams manifest as his own have been quietly tucked away somewhere in the basement between his rarely played piano and the toddlers'outgrown cribs that now collect dust.
"I don't know why God chose us, but he knows we can handle this," said Carpio. "I know my hands are full but I enjoy every minute."
On Father's Day, Carpio, his wife Digna and their children will go to the Tabernacle Church of Jesus Christ in Corona, Queens for a celebration. The kids have been working on making crafts and Carpio says proudly that he will get seven gifts that day. Then, they will go to the park for a little picnic.
The next day, he will go back to work and begin his routine again. The epic responsibility of stretching his thin paycheck all taken in stride as part of being a father.
"If you have love for your family everything is possible," said Carpio.
Soni Sangha is a freelance writer based in New York City.
Follow us on twitter.com/foxnewslatino
Like us at facebook.com/foxnewslatino