Cervantes may have had British roots, newly discovered document claims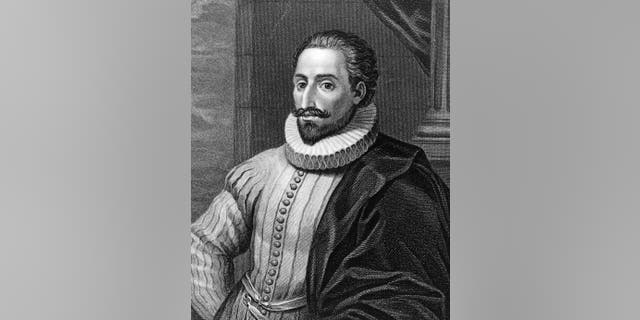 NEWYou can now listen to Fox News articles!
Ask any well-read person who the greatest writer in the Spanish language is and there is a good chance many will name Miguel de Cervantes.
Cervantes, the 16th-century writer who penned "Don Quixote" and has had readers chasing windmills ever since, has long been hailed as the creator of what we now consider the modern novel.
New research, however, seems to suggest that Cervantes may not have been the pure-blooded Spaniard that for centuries we have all believed he was.
A newly discovered document seems to point to the fact that Cervantes may have had his roots not on the Iberian Peninsula but on the British Isles.
The manuscript, which was found in the city hall of the Spanish town of Utrera and is thought to date back to 1593, identifies a man named "Juan Titon de Servantes," who historian Julio Mayo believes is a relative of the famed author.
Titon's relatives appear to show that he comes from Anglosaxon stock, with the listed surnames including 'Tintam' (Titon) and Herbert' (Herver). The Tintam family hailed from Bristol in modern day the United Kingdom before settling in Sanlucar de Barrameda, Cadiz in 1480 along with a group of other merchants from England, all of whom were granted protection under the Duke of Medina Sidonia, Enrique de Guzmán
As the family tree is parsed out over time, characters including a British spy and a suspected slave trader from Bristol appear before making its way to the author.
"I truly believe I have proved Cervantes had English family and it's only the beginning," Mayo told the Daily Mail.
While Cervantes family tree may still be under speculation, the facts of his life are more set in stone.
The author lived a colorful life – he survived naval battles, a capture by pirates, five years of captivity in Algiers and stints in prison before writing his masterpiece about a delusional knight who sets out to rid the world of its ills and becoming an inspiration for every writer from Fyodor Dostoyevsky to Mark Twain.
"Cervantes' work is universal because it's not just limited to an era or to a country, but talks about feelings and people... It's very relevant today," said Javier Rodriguez Palacios, mayor of Alcala de Henares near Madrid where Cervantes was born.
Last month, Spain celebrated the 400th anniversary of the author's death with a number of festivals and gatherings.
Like us on Facebook
Follow us on Twitter & Instagram