British woman seeks Internet's help locating lost engagement ring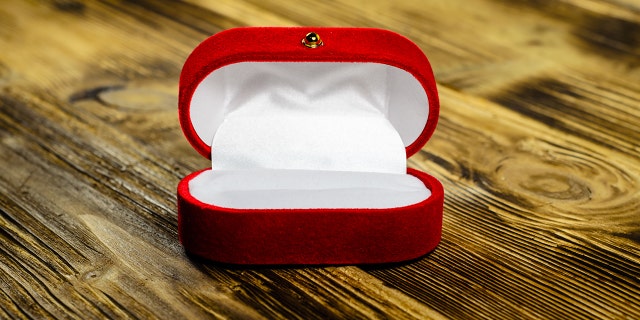 A bride-to-be is making a desperate plea over social media after losing her engagement ring on a recent vacation in New Zealand.
Ruth Bamber shared a photo of her and her fiancé, Justin Sutcliffe, on Facebook, Instagram and Twitter, explaining how she left the ring on the "shelf above the sink in the upstairs ladies toilets" at a ski resort the end of last month.
WOMAN DIPPING CHICKEN FINGER IN SODA SPARKS OUTRAGE ON SOCIAL MEDIA
As per their posted photos, the England-based couple appear to have been traveling around Queenstown, including a day on the slopes at The Remarkables Ski Resort, 40 minutes away.
Bamber wrote that the ring isn't "worth a lot of money" and the value is "purely sentimental." It isn't a traditional diamond but rather a stone called "Rutilated Quartz" on a rose gold band with tape wrapped around it to make it fit.
Hundreds of people have responded to Bamber's post, offering well wishes and tagging others in hopes of locating the missing piece of jewelry.
MCDONALD'S CUSTOMERS CREATE FAKE POSTER, HANG IT IN RESTAURANT TO PROMOTE RACIAL DIVERSITY
A few curious individuals asked Bamber why she took the ring off in the first place, but she explained the tape she was using to make it fit until she could get it resized was scratchy when she washed her hands.
Apparently Bamber isn't the only one to do this.
"This is quite common according to my [jeweler]," one commenter wrote. "Trick is to put the ring in your mouth while washing your hands then it's impossible to leave behind. No consolation I know, but might help someone."
FOLLOW US ON FACEBOOK FOR MORE FOX LIFESTYLE NEWS
So far, Bamber has reached out to local media outlets and other contacts in the area. Others have shared her info with people they know, helping to spread the word in hopes the power of social media can help her locate the special item.
"Thanks for everyone's support — it means a lot that so many people can try to help another human in a positive way," Bamber wrote in response to all the comments on Twitter.