Brazilian evangelical Christians introduce 'sin-free' version of Facebook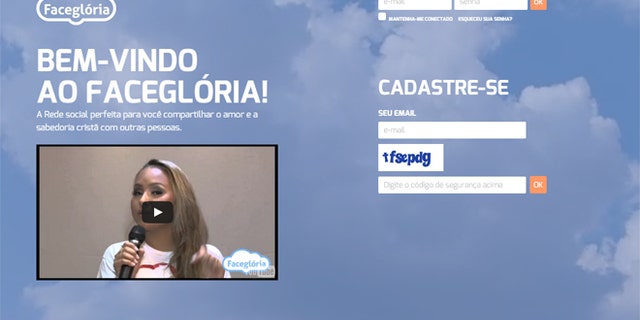 NEWYou can now listen to Fox News articles!
Tired of seeing your Facebook feed overrun by racy pics of Kim Kardashian? Angry over rude or provocative messages on your timeline? Do you speak Portuguese and believe in God, by any chance?
If you answered "yes" to all these questions than you can sign off Facebook and join Faceglória.
Billed as the "sin-free" version of the world's most popular social media site, Faceglória was created by a group of devout evangelical web designers in Brazil – a country that in recent years has seen a huge growth in the number of evangelical Christians – in an attempt to provide a more wholesome social media site to their growing numbers.
"On Facebook, you see a lot of violence and pornography. That's why we thought of creating a network where we could talk about God, love and to spread His word," one of the site's founders, web designer Atilla Barros, told AFP.
Barros and three colleagues spent about three years ago and $16,000 to set up Faceglória. In its first month of operation, it has attracted around 100,000 members – a far cry from the total 42 million evangelical Christians residing in Brazil, never mind the 1.44 billion Facebook users in the world, but still a sizable number of people.
"The Pentecostal message which is preached in the outskirts of cities and favelas puts a lot of emphasis on the individual as being responsible for his behavior if he wants help from God," said Edin Abumanssur, an expert on religion at São Paulo's Catholic University. "This kind of faith works well in cities."
While the website bears a passing resemblance to Mark Zuckerberg's website, there are a few key differences when it comes to posting content.
There are about 600 words that have been banned from use on the site along with content deemed to be violent or erotic. Any photos or videos about homosexuality are also not allowed.
And instead of clicking the "Like" button, you click "Amen."
"We want to be morally and technically better than Facebook. We want all Brazilian evangelicals to shift to Faceglória," Barros said.
Faceglória has a crew of about 20 volunteers who monitor the site for any objectionable content, which might include deleting posts that use curse words or taking down someone's bikini selfie or removing images that feature alcohol or tobacco use.
Faceglória volunteers say that they don't have that hard of a job because most of the site's users are well behaved.
"Our public doesn't publish those kinds of photos," said Daiane Santos, a 26-year old municipal worker who volunteers six hours a day for Faceglória.