Black Barbie's 'half-finished' hairstyle causing controversy, drawing mixed reviews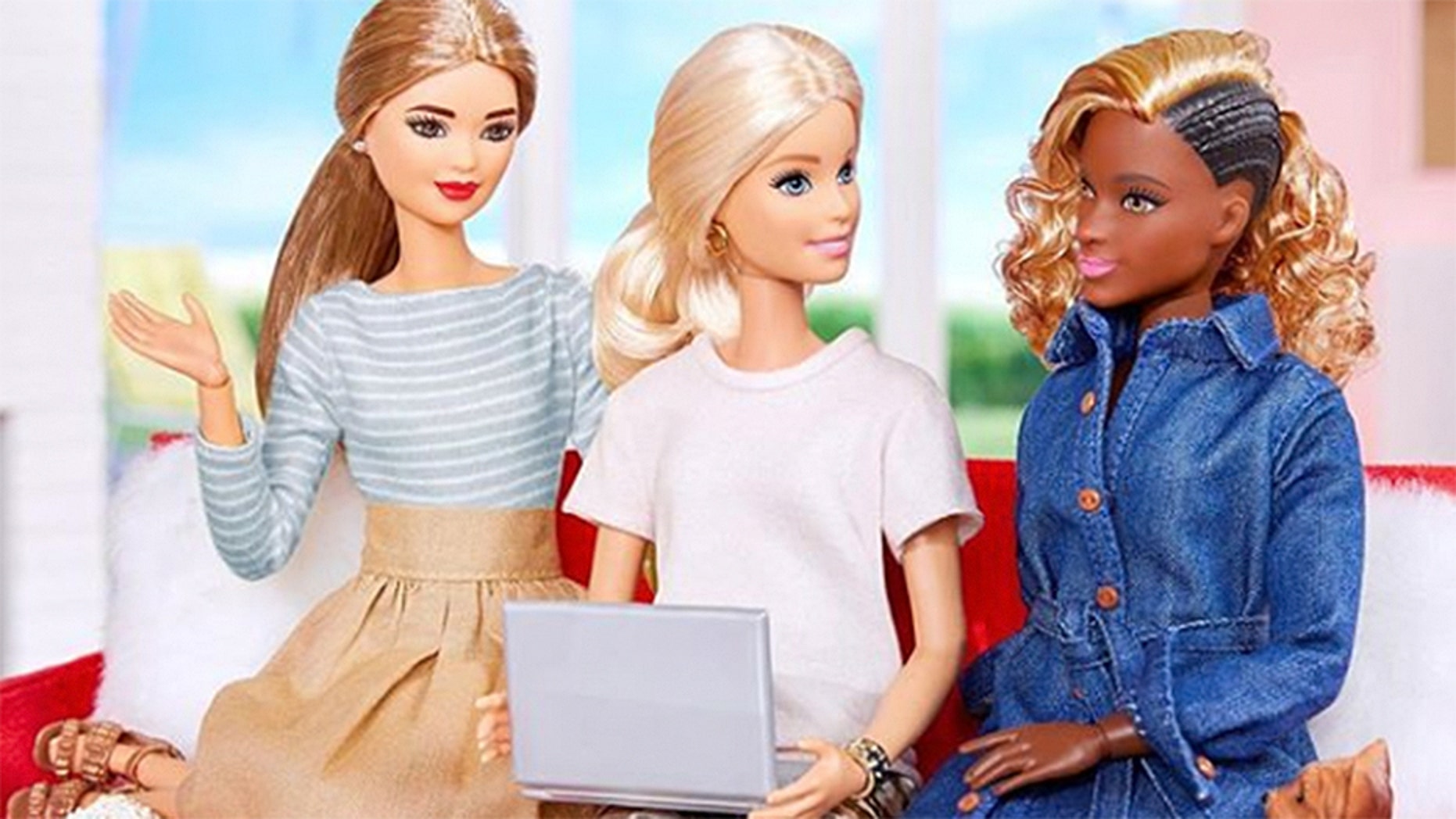 It may be Barbie's world, but some critics are calling out the folks at Mattel for featuring an African-American doll with a "half-finished" hairstyle on social media.
The official BarbieStyle Instagram account shared a photo of three dolls on April 27, promoting a new Barbie documentary. In the image, two white Barbie dolls sport simple ponytails, while a black Barbie has one side of her head hair braided in dark cornrows and the rest styled in bouncy golden curls.
"Movie night with my girls to watch the @Hulu premiere of the new @Barbie documentary, Tiny Shoulders: Rethinking Barbie! Check it out now at the link in my bio! 💖 #barbie #barbiestyle" the account wrote.
Many Twitter and Instagram commentators, however, were quick to criticize the "half-finished" style of the "hot mess" look.
"Why you all got halfway done weave Barbie for sale? The weave ain't done. Let her full Mary J. Blige on. This sewing is not complete — what is you doing? You are exposing the process! This is the secrets! The dark arts of beauty! Help her! Protect her!," @KevOnStage stated in a one-minute Twitter video.
MOVIE THEATER FORCED TO ISSUE DRESS CODE AFTER CUSTOMERS KEEP SHOWING UP IN PAJAMAS, BATHROBES
"Corn rows & a ratchet blonde weave. Why y'all playing in black Barbie's face ?? Sis looks like her hair girl has an emergency and had to go," added Joliette Mechele.
"This is actually just embarrassing. Like they wanted to fit every black hair style on one head. The cornrows, the dyed weave, body wave bundles. Why? Why? Why? Just ask any black person and they will tell you, that you don't do this anywhere. ANYWHERE!" Eno Boateng chimed in.
"See this is the #bs we talking about. Who in THEE HELL did black Barbie's hair like this. Does anyone black work there @barbiestyle @barbie??? #ineedanswers #thisiswhywecantletitgo," agreed Ebony Brown.
TEEN'S POST-SPRAY TAN SELFIE GOES VIRAL
Others, meanwhile, praised the authenticity of the look and inclusivity of Mattel to pointedly feature a diverse mix of dolls.
"I don't see what the issue is, y'all say y'all want inclusion but want the Black dolls to have hair like the white ones? Black girls have different hair Barbie is embracing that, why can't you?" one supporter disagreed on Twitter.
"I think this is cute. Yall stop being sensitive. At least they tried to make a more urban doll," another Instagram user said.
FOLLOW US ON FACEBOOK FOR MORE FOX LIFESTYLE NEWS
Taking the issue more lightly, Kandi Burruss of "The Real Housewives of Atlanta" seized the opportunity to share a photo of herself rocking a nearly identical hairstyle to the Barbie in question.
"I wasn't gonna post this pic but since I have a sense of humor I decided to give y'all a good laugh! I saw people roasting the hair on the Barbie pic today & I laughed so hard because I had this same hairstyle before. This was my real hair, no weave," Buruss wrote in a post that has since been like 90,647 times, to the delight of her 5.2 million followers on the platform.
Somewhat ironically, two days earlier, a Barbie executive said in the "Tiny Shoulders" documentary that the iconic doll is "looking to be inclusive to all kinds of people" in 2018 and moving forward, USA Today reports.
Kim Culmone, vice president of Barbie design, said in the film that new Barbie dolls, from curvy editions to tall and petite sizes, are an integral part of "evolving the images that come to mind when people talk about Barbie."
"[We're listening to] what girls are talking about," she said.
Next year, the iconic doll will celebrate her 60th birthday.
Mattel returned Fox News' request for comment with the following statement:
"The @barbiestyle channel depicts the daily activities of Barbie and showcases dolls with a variety of diverse looks, including skin tones, hairstyles and fashions. For almost 60 years, Barbie has been canvas for cultural conversation," a company spokesperson said. "We are proud to offer the most diverse fashion doll line in the marketplace where consumers can find a doll that resonates with them."