Beauty pageant hopefuls sport beef bikinis to protest sexual harassment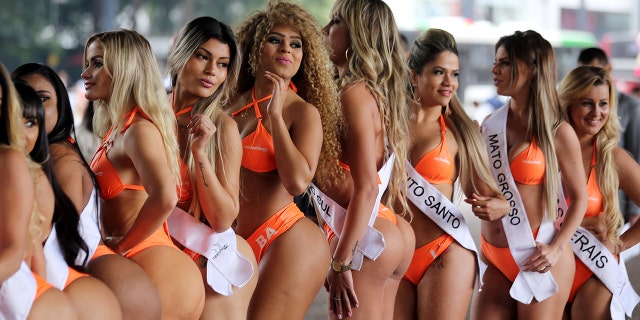 As details continue to emerge surrounding Hollywood's multiple sexual harassment scandals, the timing couldn't have been any weightier for a handful of beauty pageant hopefuls to declare they're not just a piece of meat — by dressing up in raw meat.
In promotion of the seventh annual Miss Bumbum Brazil pageant, five contestants donned 110 pounds of raw prime beef steaks, or so-called "beef-kinis," in photos that graced the invitations for the infamous posterior pageant, the Huffington Post reports.
MISS MALAYSIA'S DRESS AT MISS UNIVERSE PAGEANT INSPIRED BY NASI LEMAK, THE COUNTRY'S NATIONAL DISH
"We are not just a piece of meat. We are blamed for being too sexy. And with Hollywood actresses, what was the excuse?" a contestant told Brazilian media outlets, according to the Mirror.

Likewise, pageant coordinators also endorsed the meatier meaning of the images.
"Women are not just a piece of meat," Miss Bumbum organizers told SplashNews, Huff Post reports.
MAN WANTS GIRLFRIEND TO LOSE WEIGHT FOR HIM, GETS SLAMMED ON FACEBOOK
Puns aside, this wouldn't be the first time that the Miss Bumbum pageant has made headlines for its publicity stunts. Last year, promotional photos of the contestants re-enacting "The Last Supper" by Leonardo DaVinci in barely-there swimsuits had Brazilian Catholics up in arms.
FOLLOW US ON FACEBOOK FOR MORE FOX LIFESTYLE NEWS
Ultimately, the Miss Bumbum competition was held on Nov. 6 in San Paulo, with Amazonas' Rosie Oliveira taking the top prize to become Miss Bumbum Brazil 2017, The Sun reports. She wore an actual bikini to the festivities, according to photographs.