Britt Harris was six weeks pregnant in August 2017 when she learned that her husband, U.S. Army Spc. Chris Harris, was killed in a suicide bombing attack from a vehicle-borne explosive device on his first deployment to Afghanistan.
Heartbroken, Britt found strength in preparing to welcome their "little miracle" on her own and involved his regiment in the baby's gender reveal that soon went viral. (WARNING: Footage contains excited soldiers briefly using strong language.)
"I want her to know that she's her dad's legacy. He never hesitated when it came to helping and would do anything to help others," Britt told WFMY News 2 ahead of her daughter's birth.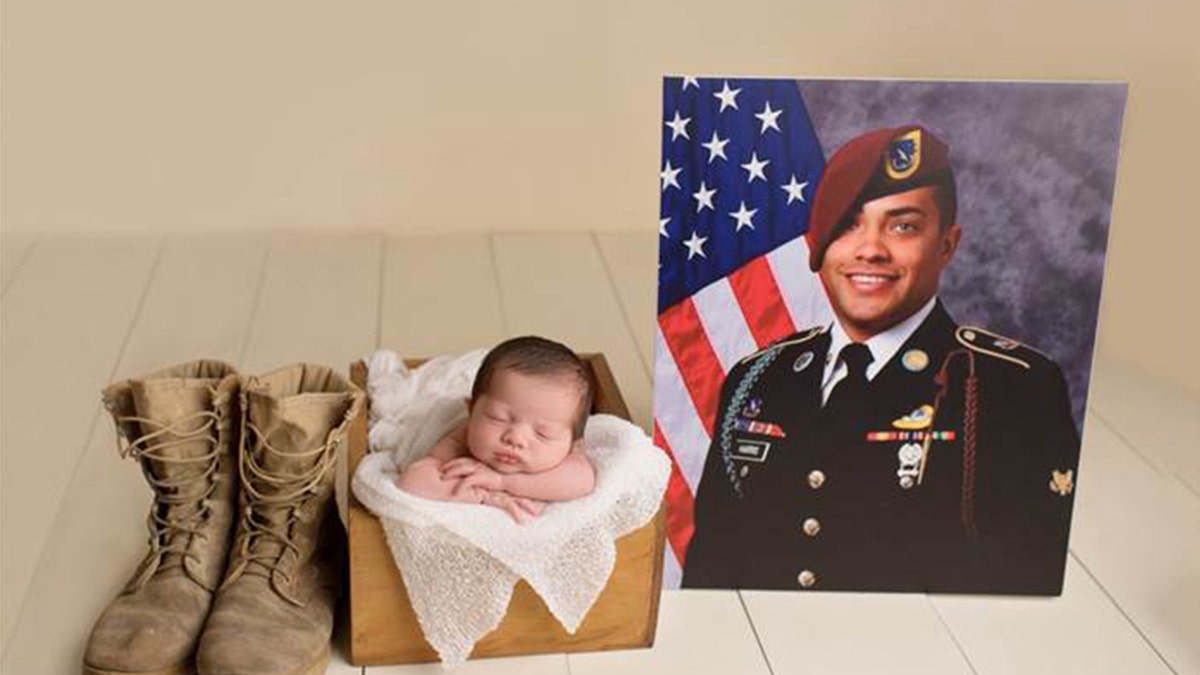 WALMART EMPLOYEE WOWS SHOPPERS WITH NATIONAL ANTHEM PERFORMANCE DAYS AFTER SON LEFT FOR BASIC TRAINING
On March 17, St. Patrick's Day, Chris and Britt's daughter, Christian Michelle Harris, was born. And in celebrating her arrival, the new mom had a touching vision in mind for an all-American photo shoot.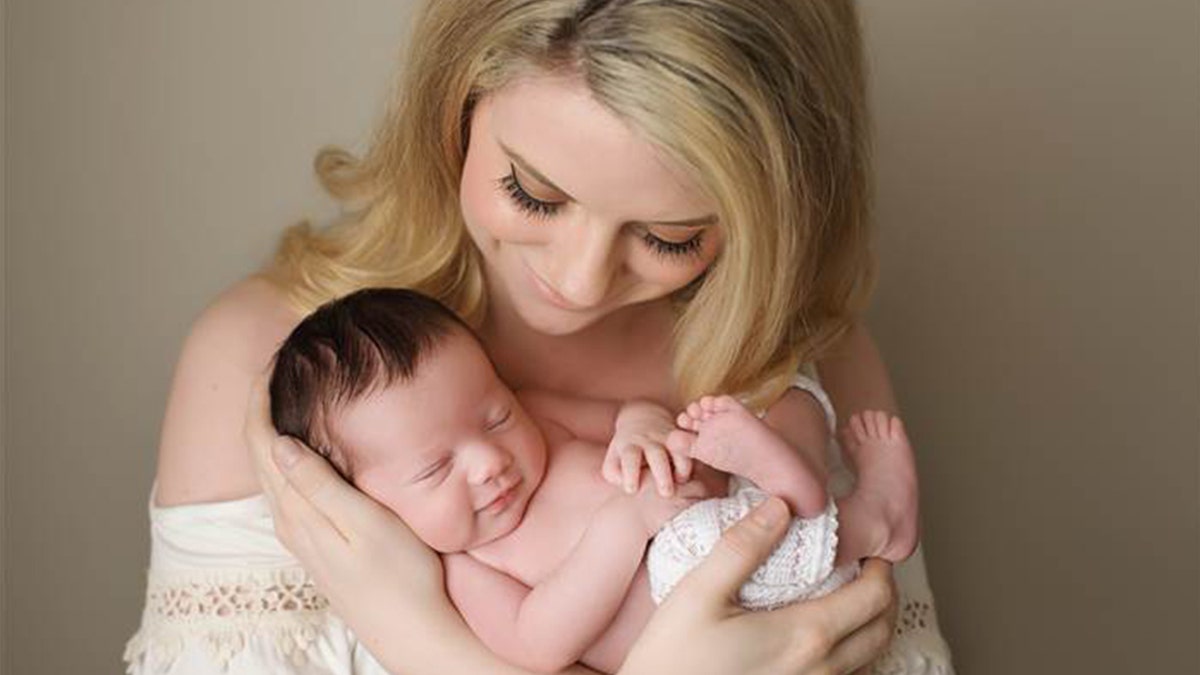 "I wanted to capture as much of Chris' spirit as I could. He was extremely devoted to the Army and his country," the 26-year-old told Today on April 2. "I thought nothing could be more fitting for her photos and [it would be] something she can look back on with pride."
In the images, Christian sleeps peacefully next to her late father's photo, military uniform, boots, and American flag at their home in Fayetteville, N.C. As time passes and Christian grows up, Britt says that the pictures will always honor the father and daughter's powerful bond.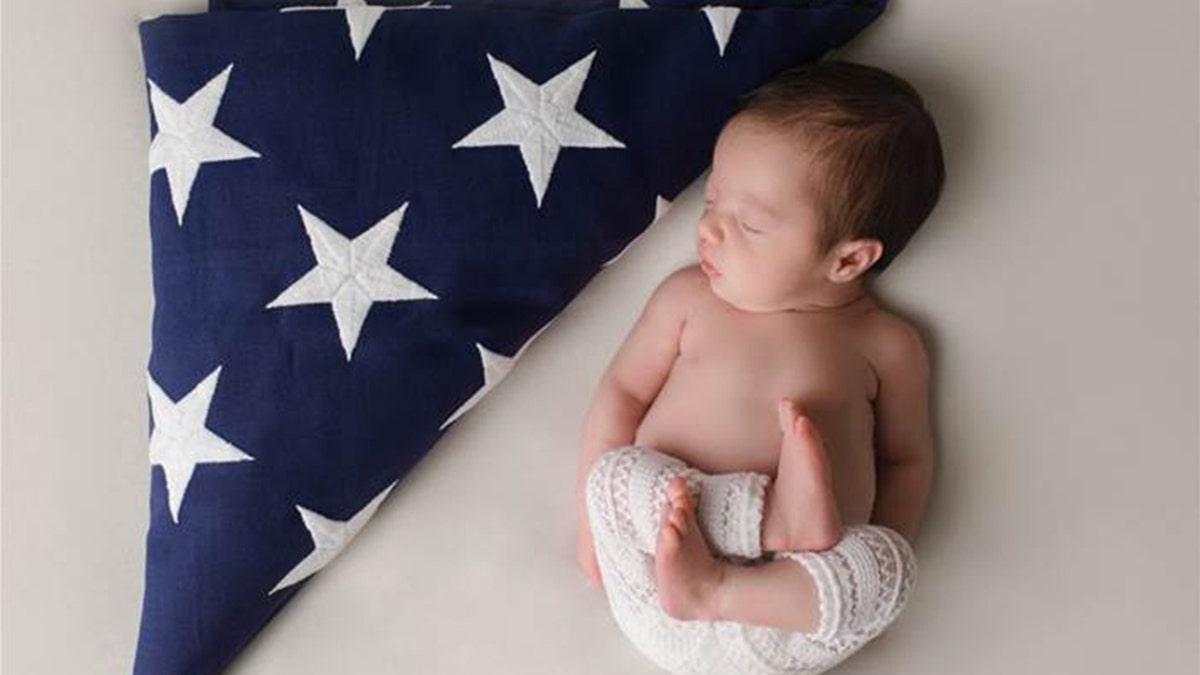 "As soon as I saw the very first preview of the photos, I cried," she said. "The picture of Christian wrapped with Chris' uniform is my favorite. It makes me feel like he's holding her."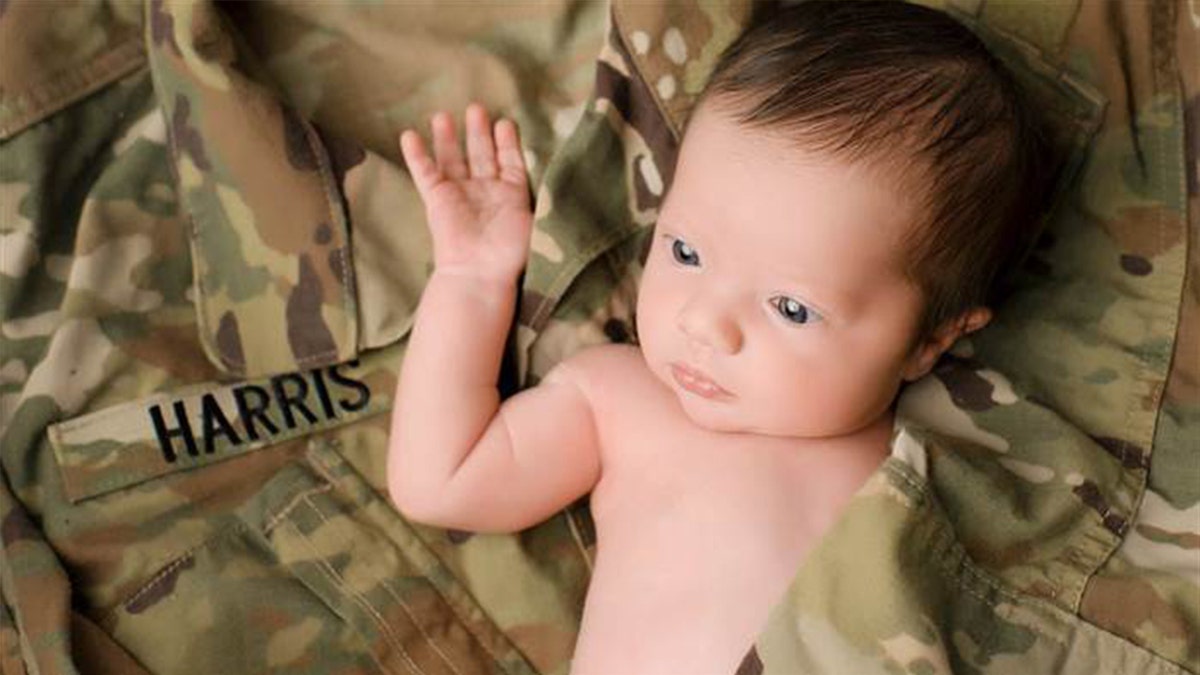 MARINE CORPS ADOPTS NEW PUPPY MASCOT: 'HE'S A GREAT PUPPY AND NEW RECRUIT'
Britt also recalled that her husband, while still overseas, was overjoyed with the good news that he was going to be a father.
"When I told him, it was the happiest I'd ever seen him. He was so excited," Britt told WFMY.
FOLLOW US ON FACEBOOK FOR MORE FOX LIFESTYLE NEWS
Now, Britt will keep Chris' memory alive as she raises their infant daughter.
"She will grow up knowing everything about him. I will tell her every story and show her every picture I have," the new mom told WCNC. "She will grow up with the utmost amount of pride in who her father was."