Army sergeant pays surprise visit to his family, holds infant daughter for 1st time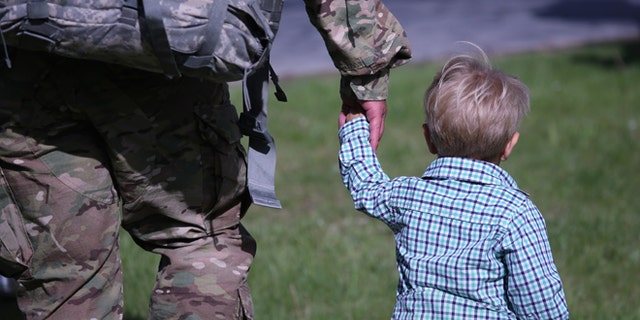 NEWYou can now listen to Fox News articles!
It took an operation of military precision for U.S. Army Sgt. Eddie Martinez to surprise his wife, Angie, and their kids at home in Visalia, California.
Although his wife knew he would get a chance to come home in the next few weeks from his second deployment in Iraq, she wasn't sure when, so Martinez plotted with his mom and Angie's mother to keep her guessing.
"It was pretty hard," Martinez told ABC News. "She didn't think I could do it. She always said I was really bad with surprises, so this time I had to prove her wrong."
He brought a bouquet of flowers, and as soon as the door opened, husband and wife were in each other's arms, laughing and crying.
"It went better than I expected," Martinez told ABC. "I was thinking she wouldn't be that shocked, because I thought she had kind of an idea. But when we got here, the look on her face was just awesome. I knew I got her."
Joining Angie in giving Martinez a family hug was the couple's 5-year-old son, Jordan.
And then it was Martinez's turn to be amazed: He got to hold his infant daughter for the first time.
"It was everything I thought it was going to be," he said, "coming home knowing I missed her birth and first seven months. It was unreal to hold her and know that it's my daughter. It's so special."
The Army sergeant will get to spend four days at home with his family.
Like us on Facebook
Follow us on Twitter & Instagram