Are frozen veggies healthy? Study suggests a surprising finding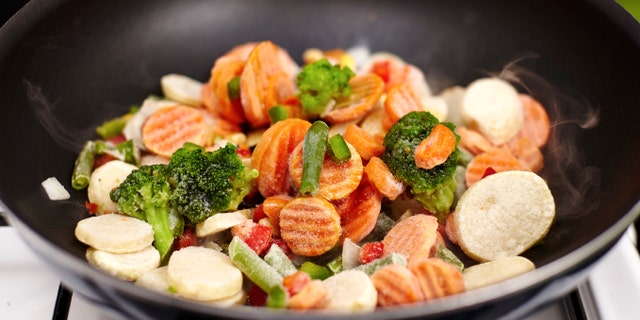 NEWYou can now listen to Fox News articles!
When it comes to fruits and veggies, there's little doubt grabbing a bag of pre-washed, prepped frozen peas from the freezer section is likely to be cheaper and easier.
But, what about your health?
It's long been assumed that eating fresh fruit and veggies is hands-down healthier.
But a new study set to be published in June casts that common belief in doubt.
A team of scientists from the University of Georgia compared fresh with frozen, as well as a third category dubbed "fresh-stored."
RED MEAT CAN BE HEALTHY — WHEN YOU EAT IT THIS WAY
This mimicked the typical length of time people tend to store fresh produce after buying it and was found to be around five days.
The researchers focused on these family favorites:
broccoli
cauliflower
corn
green beans
green peas
spinach
blueberries
strawberries
To judge how fresh each product was, the scientists measured levels of key nutrients, including vitamin C, vitamin A and folate.
In many cases, there was little difference between the fresh, fresh-stored and frozen varieties.
But, where the researchers noted vast differences, they found the frozen produce outshone the fresh counterparts.
They said: "The findings of this study do not support the common belief that fresh food has significantly greater nutritional value than its frozen counterpart.
5 REASONS WHY SPICY FOOD IS GOOD FOR YOU
"In the cases of significant differences, frozen produce outperformed 'fresh-stored' more frequently than 'fresh-stored' outperformed frozen."
The reason why frozen is often better for you comes down to the point at which it is placed on ice.
A technique called fresh freezing ensures food is chilled quickly, often not long after it's picked, reported Mic.
As a result, the nutrients and goodness are trapped in at source.
'EATING TOO MANY VEGETABLES TURNED MY SKIN ORANGE'
Though they may look freshly picked, chances are the produce in the fruit and veggie aisle at most supermarkets has spent some time from when it's picked, being transported to the store and then home.
And the longer that time takes, the fewer vitamins and minerals will survive.
Registered dietitian Emily Braaten told Mic: "Frozen vegetables are usually nutritionally equivalent to fresh vegetables because they're generally flash-frozen on site, immediately after harvest.
"This kind of processing may degrade some nutrients while making others more bioavailable."
6 TIPS FOR MAKING CARBS A HEALTHY PART OF YOUR DIET
The Sun nutritionist Amanda Ursell agrees that fruit and veggies don't have to be fresh to pack a healthy punch.
She said: "Frozen options are full of goodness too.
"Frozen mixed berries can be blended into a smoothie or frozen peas can be cooked and served on the side or added to a tasty dish such as risotto."
A Sun Online investigation earlier this year revealed opting for frozen over fresh could save the average family more than £260 (about $278 USD) a year.
Comparing 10 baskets of fresh and frozen items at Tesco, we found the ice-chilled variety was more than £10 (about $10.70 USD) cheaper than the fresh one.
Regardless of whether you opt for fresh or frozen, it's important to include as many fruit and vegetables in your diet.
FOLLOW US ON FACEBOOK FOR MORE FOX LIFESTYLE NEWS
The NHS advises everyone to aim for five-a-day, as part of a healthy balanced diet.
The five-a-day campaign is based on World Health Organization guidelines, which recommends eating 400g of fruit and veg a day to lower the risk of serious health problems, including heart disease, stroke and some cancers.