Americans' Used Clothes are Causing Upheaval in Mexico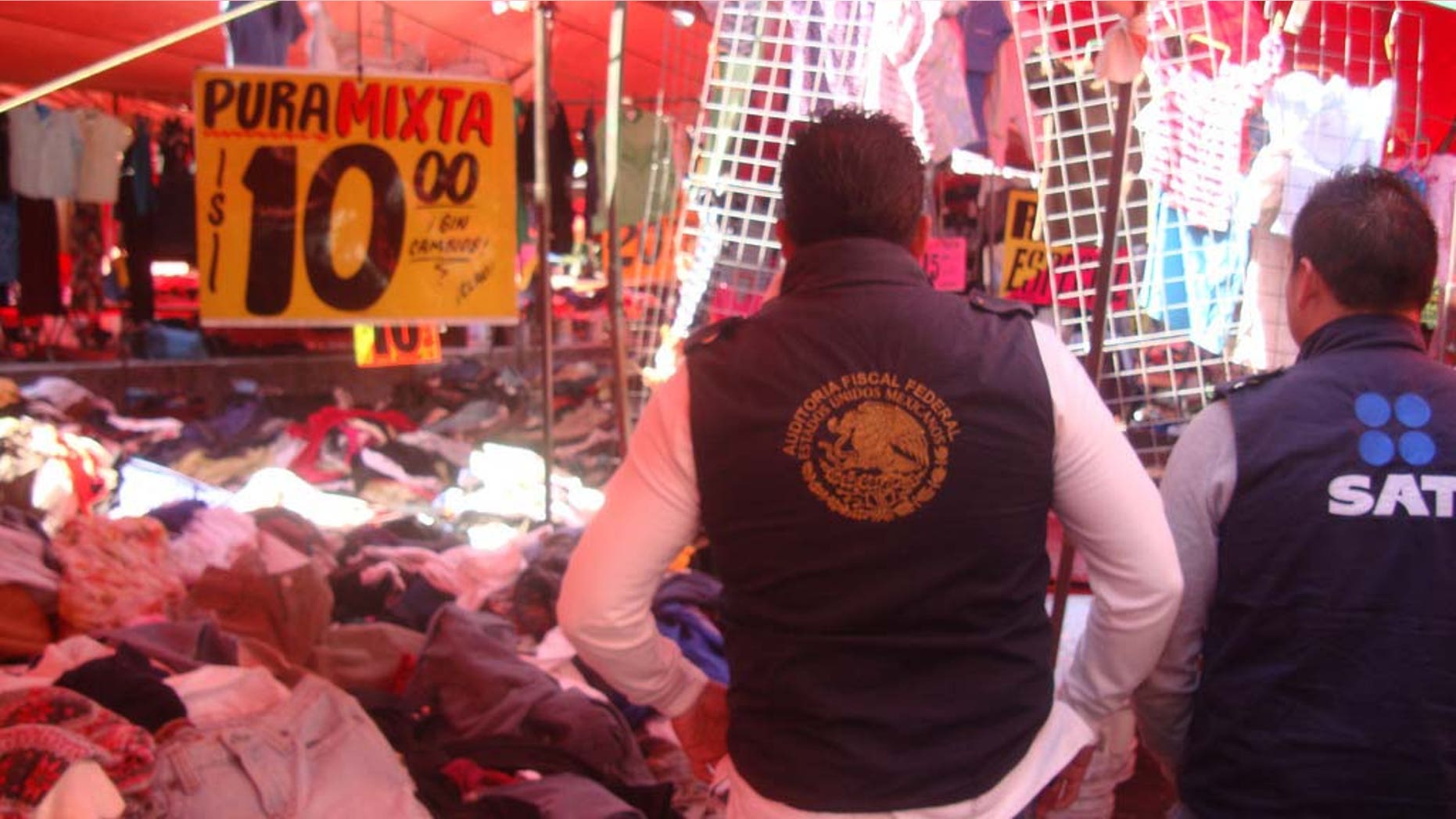 It could happen at any moment.
One second, customers meander around the market, perusing racks of second-hand J. Crew blouses or gently worn Old Navy pants. The next, groups of police brandishing protective shields and batons circle the stands and shut down nearby streets. Pretty soon, government officials arrive to assess the presumed contraband and haul it away.
"They treat us as if we were criminals – that's what angers us the most – as if we were selling drugs," says Ivan Ramos, a Mexico City vendor, describing market raids he has witnessed.
But in these cases, police aren't picking up hidden loads of cocaine, methamphetamines or guns. Their quarry is the clothing, literally tons of it, much of it used and originating from U.S. organizations like the Salvation Army and Goodwill Industries.
The tides of globalization, piracy and black market ingenuity have ushered in a new era for Mexico's decades-old, informal clothing industry. "Illegal" clothing now dominates here: an estimated six out of 10 items of clothing sold in Mexico are stolen, contraband or pirated products, as reported by former Attorney General Eduardo Medina-Mora in 2009. Facing pressure from legitimate manufacturers and international brands, officials are now going after clothing vendors that they say circumvent tax laws and erode the country's bottomline.
Since 2008, officials have escalated their clothing raids, said Pedro Canabal, the spokesman for the Tax Administration Service. That year, there were nine large-scale raids in markets and streets throughout Mexico targeting used clothing, confiscating 310 tons of second-hand attire. In 2010, there were 30, securing more than 650 tons.
Canabal says that officials work directly with textile industry sources to sniff out the illicit apparel. "They provide us very important information," he said.
Police have also invaded vintage clothing stores.
"It really surprised me," says Raúl, who grew up in the Los Angeles suburbs and runs a vintage shop in Mexico City. (He asked to exclude his full name to protect his business.) "Police officers walk by pirated goods. They buy from little street vendors that are not technically there legitimately. No one has a problem with those kinds of things."
Faced with criticism, vendors counter that most people can't afford popular chains, malls and other legally recognized shopping options – they provide the majority of Mexicans with their clothes.
It's no secret that the Mexican textile industry's fortunes have slipped in the last decade. Mexico, the top clothing supplier to the United States in the late 1990s and early 2000s, lost its edge in 2003 to China, according to a 2007 U.S. Congressional report.
Just as globalization and the growth of Chinese manufacturing have profoundly affected legitimate businesses, they have also transformed Mexico's black market – or the "globalization from below," as Carlos José Alba Vega, a professor at the Center of International Studies at the College of México, calls it.
"This globalization – without making a lot of noise – functions very well," says Alba Vega, who has researched central Mexico City's informal economy. "[People] don't use checkbooks. They don't use lawyers. And they don't fight against the globalization from above. They take advantage of the empty spaces – or the spaces that the other globalization could not occupy."
Public officials and textile insiders have tried to sway buyers from used clothing by painting it as disgustingly unsanitary. One example: Mexican newspaper El Universal reported in 2009 that the Attorney General's office had discovered clothing from U.S. hospitals, nursing homes and mortuaries which had not been disinfected before being sold in Mexico.
But that approach jars with the sensible attitude advocated by the Federal Commission for Protection against Sanitary Risks (COFEPRIS).
"The most important thing is to wash it with water and soap," said Rocío Del Carmen Alatorre Eden-Wynter, commissioner of the organization's evidence and risk management office.
An entire border industry – dating back to at least the 1960s – feeds Mexico's demand for used clothing, says Melissa Gauthier, a Binghamtom University visiting assistant anthropology professor, who has extensively studied the used clothing trade.
Cities like McAllen, Laredo and El Paso are loaded with warehouse-like stores selling "ropa usada" or "ropa de paca" ("bales of clothing"), which are 1000 pounds and cost several hundred dollars. The prices differ depending on the quality, and the bales are often categorized by item.
"It's a thousand pounds of jeans, a thousand pounds of polo shirts," she says.
Some clothing crosses the border in personal cars manned by sellers that bribe officials. Other clothing arrives in more commercial vehicles. Clothing can legally cross the border as supposed raw material, bound for factories for manufacturing purposes – not to markets.
"They're supposed to be shredded and used to fill out pillows and making other goods, like mattresses," said Gauthier.
Whatever the way, there's an abundance of material arriving deep into the interior. After the raids, vendors replenish their stocks as soon as possible. But seller Gerardo Balmaceda said the intrusions have changed the way clothing sellers do business.
"Like yesterday, I arrived at 9 a.m., but I didn't hang up my clothing, because I thought there might be an operation," he said.
Usually by 12:30 or 12:45, vendors hear about other raids and consider themselves safe, he said.
"But then you're really starting work at 1 p.m. – you've lost half the day."
Ruth Samuelson is a freelance writer living in Mexico City. She can be reached at ruth.samuelson@gmail.com.
Follow us on twitter.com/foxnewslatino
Like us at facebook.com/foxnewslatino