Airline pilot takes incredible photo of thunderstorm from cockpit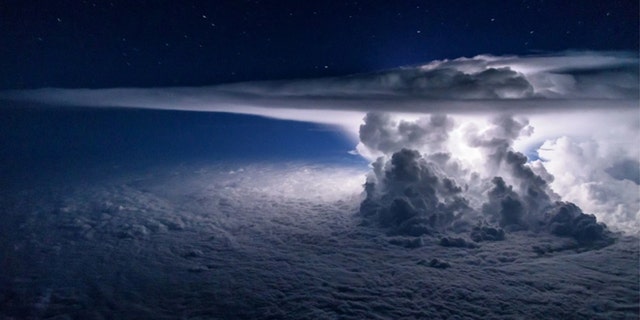 Airline pilot and photography aficionado, Santiago Borja was manning a Boeing 767-300 off the Pacific coast of Panama when he shot one the more stunning photos of a thunderstorm ever captured.
While cruising at an altitude of 37,000 feet, Borja, a first officer for ATAM Ecuador Airlines, used his Nikon D750 camera to shoot the spectacular image of the storm, capturing the moment lightning flashed.
"I like this photo so much, because you can feel the amazing size of the storm and its power," Borja told the Washington Post via e-mail. "But at the same time, it's wonderful how peacefully you can fly around it in still air without touching it."
Borja told the Post that taking the picture wasn't easy at night. "Storms are tricky because the lightning is so fast, there's no tripod, and there's a lot of reflection from [the cockpit] lights," he noted.
"I primarily enjoy nature, landscape and cityscape photography," Borja told the newspaper. "Since I carry my camera everywhere, I started trying to capture storms and in-flight experiences some time ago – combining my two greatest passions, flying and photography."