Academy Awards: Inocente Izucar On Oscar Win, Her Future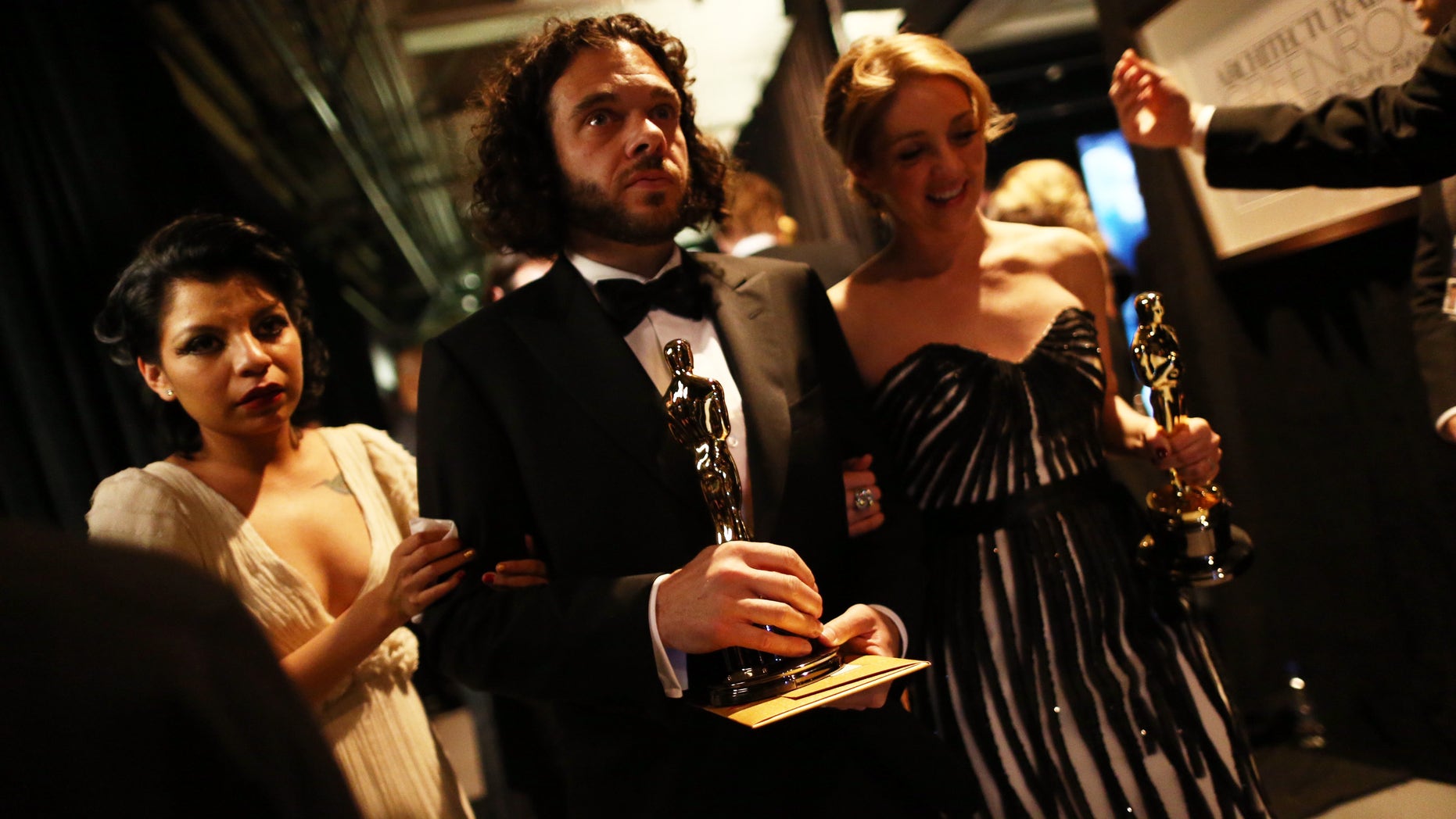 Standing on the stage Sunday night at the Oscars, 19-year-old Inocente Izucar felt like she was in the middle of a bizarre dream.  She, along with husband and wife team and co-directors Sean and Andrea Nix Fine, took to the stage to grab the Oscar in the Best Documentary Short category.
After the award show ended, it was a Cinderella-like evening ending at 5 a.m.—party hopping from the Governor's Ball to the supremely elite Vanity Fair party, and waking up at noon to chat with press from around the globe.
"When you've got an Oscar in your hand, you can talk to anyone you want," Izucar says.
"Inocente" was produced through a "crowd-funding" site called "Kickstarter", with a budget of little over $52,000. Following then 15-year-old Inocente as she pursues her dreams of becoming a professional artist in San Diego, her story is filled with challenges most are unable to imagine. Entering the U.S. illegally with her father at age 5 (without the consent of her mother), after her father's arrested and eventual deportation back to Mexico, her mother and siblings end up homeless and living on the streets and in shelters.
But Izucar sure has come a long way since her story was filmed.
Sunday night wasn't one that dwelled on a homeless girl and now struggling artist, it was Oscar night—great dresses, cool celebs, incredible food, a gold statuette, and a long night of parties. And like her artistic work -- bright, happy, colorful and painted with a sense of humor – Izucar's glam experience was excitement on steroids.
Wearing a loaned gown from an L.A. stylist, Izucar looked stunning in an off-white number by Leila Hafzi.  Izucar says Steven Tyler and Daniel Day Lewis gave her a kiss and told the young artist 'not to listen to anyone, and always do only what you want'.  Daniel Radcliff spoke to her for a while.
"He was so cool and nice," she says.
Before going to their seats, the co-directors say they took Izucar down to the front of the theater so she could really take in the huge number of celebrities present. Halle Berry waved at her, Izucar touched the dresses of Amy Adams, Kristen Stewart, and Jennifer Lawrence.
"First we went to the Governor's Ball, and I saw some famous people. Then we went to the Vanity Fair party and saw A LOT of famous people," Izucar said.
"I went up to Adrian Brody and asked him if it weird that I loved his nose. He said no, but he looked at me like it was really weird."
When the film's title was called, Inocente says all she could think was "please don't trip, please don't trip". Of course, later in the evening there would be a trip seen round the world when Best Actress winner Jennifer Lawrence fell on her way to accept her award.
Last night's win is sure to bring the success the young former homeless Latina artist has been working toward.
Her website, InocenteArt.Com, recently launched, she's got an exhibit in New York scheduled for this year in collaboration with the National Art Club, and Monday morning an unnamed, but well-known clothing designer asked to work with her on a clothing line.
Now she has the world at her feet, an Oscar-winning film to back it up – and now earns enough money to support herself through her work.