Abused dog unable to walk after being kept in small cage looking for new home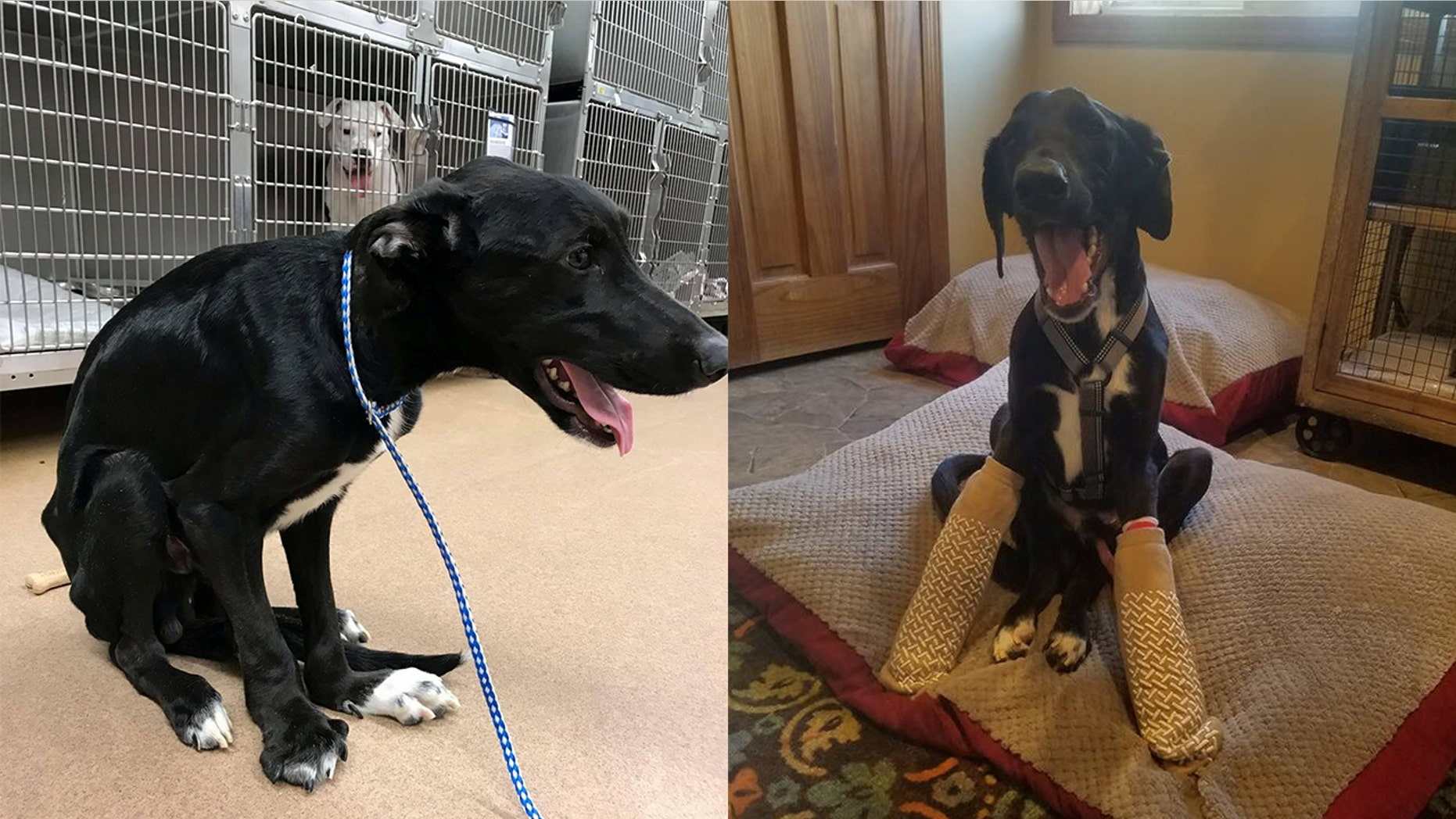 A puppy whose legs are deformed because it was locked in a tiny cage for months on end is looking for a new home after being rescued.
Nine-month-old Ping has trouble walking as his legs were unable to form properly as he grew, as vets believe he was locked in a tiny cage since he was a young pup.
Ping was also 20 pounds too thin when he was rescued by animal shelter Wags 2 Wishes after he was abandoned on the streets of Chicago, Ill. on May 1.
CHICKEN CAUGHT ON VIDEO USING CROSSWALK IN OKLAHOMA
Terri Crotty, 46, the founder of the shelter, said Ping, a Border Collie/Labrador mix, is reluctant to use his hind legs as he is in so much pain.
The dog cannot walk on his paws as his bones and muscles were unable to form properly in the cage. But despite his difficult upbringing, the shelter is working to help Ping achieve more mobility.
The dog currently has his front legs in casts to help fix his wayward bones and Crotty is confident Ping will find a loving family to adopt him.
Crotty said: "The reason he is unable to walk, our vets believe, is that he was locked into a cage that was too small for him.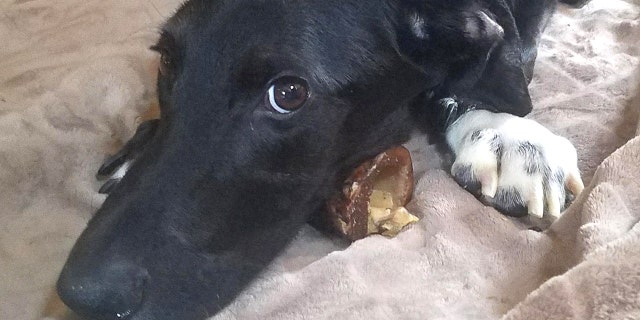 "As he grew in the cage, his bones, muscles and ligaments were deformed.
"For Ping, using his back legs is extremely painful and his front feet are deformed. He can't walk on his paws. His front legs are in casts right now to help fix his bones and hold them in the right place."
UNITED BANNING 25 BREEDS OF DOGS AND CATS FROM CARGO HOLD
Crotty added that it's often emotional when dealing with mistreated animals.
"He's a very friendly and loving dog. He seems to trust humans so much, despite everything he's been through.
"He can't walk so he has to be carried in and out to the bathroom. He's very dependent.
"We're confident he will recover to a point. We need to relieve his pain before we can begin physio and help him to walk. We're going to get him as far as we can."
Ping is currently living it up at home with Crotty in Plainfield, Ill., and enjoying life with her five dogs Chance, Danielle, Blue, Pink, Magoo and cat Shimmer.
"He's really enjoying himself with our family," Crotty said. "Hopefully we can get him a little better and he can run around like every other dog someday."
FOLLOW US ON FACEBOOK FOR MORE FOX LIFESTYLE NEWS
Visit Wags 2 Wishes for more information.