A Super Bowl delight: Grilled shrimp with habanero butter by Aarón Sánchez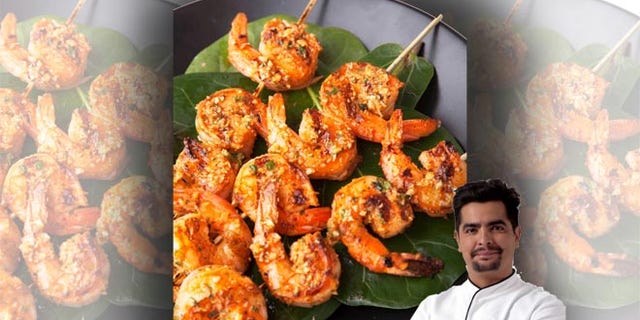 NEWYou can now listen to Fox News articles!
Chef Aarón Sánchez, the TV personality and mastermind behind Paloma restaurant in Stamford, Conn.'s, and his friend and colleague Johnny Sánchez have created this simple yet delectable appetizer to join the party this Super Bowl Sunday. Give it a try!
INGREDIENTS
For the shrimp:
1 cup extra virgin olive oil
12 garlic cloves, peeled
¼ cup Tabasco Chipotle Sauce, or more to taste
¼ cup chopped fresh cilantro
Grated zest of 1 lime
1 teaspoon salt
16 extra-large shrimp, tail on
Salt and pepper, to taste
For the habanero butter:
½ cup butter, softened
1 tablespoon garlic, minced
1 tablespoon shallots, minced
½ teaspoon salt
1 tablespoon Tabasco Habanero Sauce, or more to taste
PREPARATION
For the Shrimp:
Preheat oven to 300 F.
Pour the oil into a heavy, ovenproof medium saucepan. Add the garlic and cover the pot with foil.
Transfer to the oven and cook until the garlic turns a nutty brown and is very soft (think cream cheese). This will take approximately 45 minutes.
Remove the pot from the oven and let the garlic and oil cool to room temperature.
Transfer the garlic and the now garlic-infused oil into a food processor or blender. Add the Tabasco Chipotle Sauce, cilantro, lime zest, and salt; puree until the mixture is very smooth.
Preheat a grill or grill pan to medium heat.
Clean the shrimp and pat dry using a paper towel. Thread the shrimp onto the skewers, 3 to 4 shrimp per skewer. (Tip: Soak skewers in water prior to using to prevent them from burning.)
Brush a generous amount of the sauce onto each side of the shrimp, then lightly season with salt and pepper. Cook on the grill for 1 to 2 minutes on each side.
For the Habanero Butter:
Combine all ingredients in a glass bowl and mix until well incorporated.
For additional spice, lightly brush each side of the shrimp with the Habanero Butter while grilling, or serve with shrimp for dipping.
Makes 3 to 4 servings.
Like us on Facebook
Follow us on Twitter & Instagram