7 healthy travel snacks for your next flight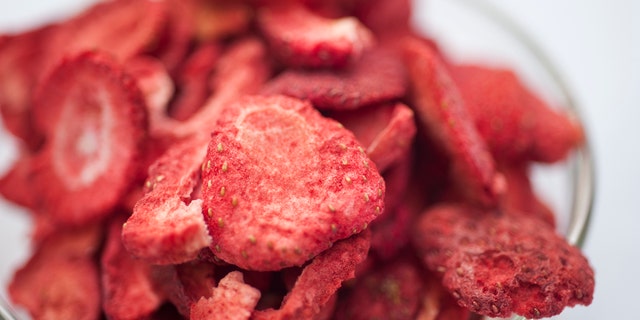 When you're traveling, it's easy to reach for quick snacks that are more convenient than healthy. But with travel season fast approaching, is there a way to jet-set without sabotaging your weight loss goals?
One solution: Bring your own snacks rather than relying on airport food. "Make a plan so you're prepared," advised Alexandra Miller, a dietitian at Medifast. Carry pre-portioned snacks with you that are satisfying and satiating, to keep you full until your next meal, she said.
THE BEST SNACKS TO EAT IF YOU'RE TRYING TO AVOID SUGAR
Fox News talked to Candice Schreiber, an RD at The Ohio State University Wexner Medical Center, and Miller for suggestions on the best snacks to reach for when traveling:
1. A handful of nuts
Schreiber always recommends a handful of nuts as an excellent on-the-go snack. Stick to about an ounce or quarter cup, she advised. Nuts have both protein and fiber, which will help keep you full.
8 LITTLE CHANGES THAT CAN LEAD TO WEIGHT LOSS
2. Roasted chickpeas or soybeans
Roasted beans, like chickpeas or soybeans, also have plenty of protein and fiber, Schreiber said, and are easy to pack in a purse or carry-on.
3. Jerky
For another great source of protein, try jerky, Miller suggested — variations include salmon, buffalo and beef. She recommended looking for ones that are all-natural, lower in sodium, and that don't have any added sugars.
RED MEAT CAN BE HEALTHY — WHEN YOU EAT IT THIS WAY
4. Popcorn
Popcorn is a great, whole-grain, fiber-rich choice, Schreiber said. Look for air-popped varieties with no added sugar and that are only lightly salted, she said.
5. Freeze-dried fruit
If you're looking for a crunchy, sweeter snack, try freeze-dried fruit. Unlike dried fruit, dehydrated fruit has no added sugar, so you can eat a lot more of it for a snack — about a cup rather than a quarter cup, Schreiber said. Varieties include blueberries, strawberries and raspberries.
FOLLOW US ON FACEBOOK FOR MORE FOX LIFESTYLE NEWS
6. Health bars
Another great on-the-go snack are health bars high in fiber and protein, Miller said. She recommended looking for bars with at least 4 grams of fiber, 5 grams of protein, and sugar under 10 grams, such as Kashi, Kind or Medifast bars. (Miller works at Medifast.)
7. Fresh airport options
If you forgot to bring any snacks, don't despair — you can still choose some healthy options at airport concession stands, Miller said. She suggested reaching for items like hardboiled eggs, cheese sticks, veggie platters with low-fat dips, and grab-and-go fruits such as apples and bananas.