Why people are crawling like babies at the gym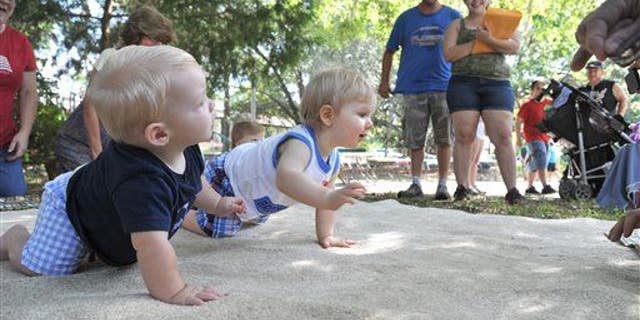 It's not necessarily unusual to see people in odd positions in fitness classes at the gym—the birthing squat, downward dog, seal and happy baby are all "funny-looking" moves with real benefits, as Shape magazine reports.
But crawling? Like a baby? For an extended period of time? It's a thing, reports the Washington Post, and one big proponent is Tim Anderson, co-founder of a fitness system called Original Strength.
He believes that, by practicing the movement patterns of very young children, we can "press reset" and reclaim strength and mobility we've lost over time. A takeaway quote from a chiropractor in the piece who preaches it to patients: "Crawling is the new plank." The basic premise is that babies make use of all four limbs when figuring out how to walk, which is a healthy thing, but we upright humans soon forget that and often wind up in pain.
People are crawling in and out of gyms in other countries, too. One instructor is teaching the "creeping cat" in a free class on the beach in Vietnam, which involves crawling on one's stomach in the sand, reports VietnamNet.
Similarly, a post at Coach out of the UK advises people to imitate a bear crawl to beef up core strength. Expect to see similar sights at gyms.
(Check out who saved this baby crawling toward a highway.)
This article originally appeared on Newser: Why People Are Crawling Like Babies at the Gym