Starbucks employee helps deliver baby on sidewalk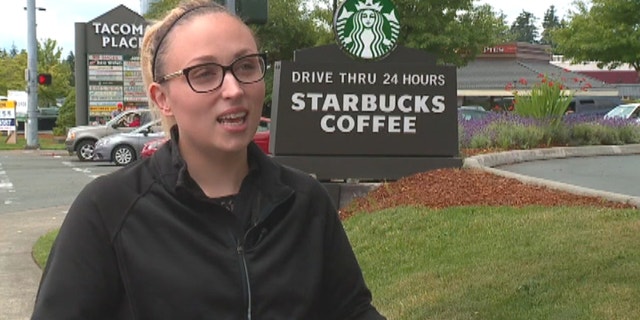 A Starbucks worker in Tacoma, Wash., is being praised for her quick thinking after she assisted in delivering a baby outside of the coffee shop early Friday morning.
Rashelle Rehms is a shift supervisor for the 24-hour drive-thru. She says she has seen some pretty interesting things working the night shift, but never anything like this.
Rehms was working the night shift when she heard a knock on the window around 1 a.m.
Rehms recounts to Kiro7 News that a man told her a woman was laying on the ground about to have a baby.
EMOTIONAL MOMENT MOM MEETS HER BABY FOR FIRST TIME AFTER SHE WENT INTO SEPTIC SHOCK DURING LABOR
Rehms grabbed towels and ran outside to assist. Everything happened very quickly after that, she said.
"She said she needed her pants off," said Rehms. "So I took those off for her and I noticed the baby was crowning. So I asked her to lift her hips so I could put the towels underneath her hips, and as soon as she lifted her hips, the baby came right out."
Paramedics arrived shortly after the baby was born.
Rehms said she went into "mom mode." As a mother of two herself, she said she was not scared. She saw what she needed to do and did it.
Rhems did say, though, that she broke company policy by leaving the store to help.
HORRIFYING PHOTO OF TODDLER'S LEG BREAKING WHILE ON SLIDE WITH MOM
Starbucks released a statement saying, "We're proud of Rashelle for her quick thinking and actions until additional help could arrive, and appreciate their quick response as well."
Later on Friday, Rhems visited the mother and baby in the hospital and was happy to see they were doing well.
"It's an honor that I could be there," Rhems said.