For peanut allergy prevention, study suggests babies can be fed diluted peanut butter at early age
Food allergy dietitian recommends serving diluted peanut butter, says 'severe reactions are rare'
Introducing peanut butter to babies as young as 4 months could dramatically reduce the rate of peanut allergies in infants, a new study suggests.
The study, published in The Journal of Allergy and Clinical Immunology, found there was a 77% reduction in peanut allergies when the food was consumed by 4-month-old infants who had severe eczema and at 6 months for infants with mild or no eczema.
(Those with eczema, a skin condition marked by dry, itchy skin and rashes, are at a higher risk of developing food allergies, per the Mayo Clinic.)
When waiting until 12 months to introduce peanut into babies' diet, the allergy rate only dropped by 33%.
SESAME ALLERGY MOMS SOUND OFF ABOUT SHORTCUTS ON FDA GUIDELINES: 'THREATENING THE LIVES OF OUR KIDS'
Researchers from King's College London, the University of Southampton and the National Institute for Health and Care Research conducted the study.
They analyzed existing data from multiple studies that evaluated risk factors for peanut allergy in babies and young children.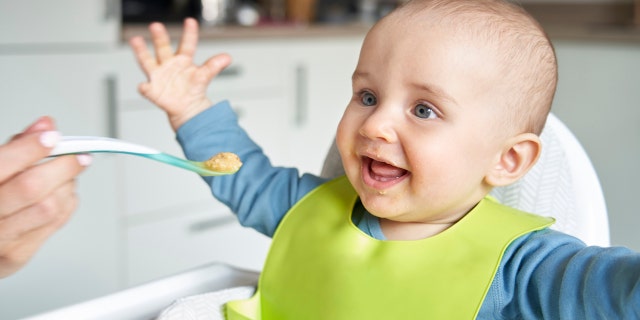 "In order to prevent peanut allergy effectively in the whole population, consumption of peanut-containing foods should be encouraged universally in the whole infant population," said the study's lead researcher Dr. Gideon Lack, professor of pediatric allergy at Kings College London, in an interview with Fox News Digital.
PEANUT BUTTER CUP MONKEY BREAD RECIPE GOES VIRAL: 'FAMILY FAVORITE'
"In real terms, 75,000 new infants in the U.S. develop peanut allergies every year — that's 750,000 new cases in 10 years," he continued.
"The policy of early universal peanut introduction will prevent 60,000 infants every year from developing peanut allergy and prevent 600,000 cases over 10 years."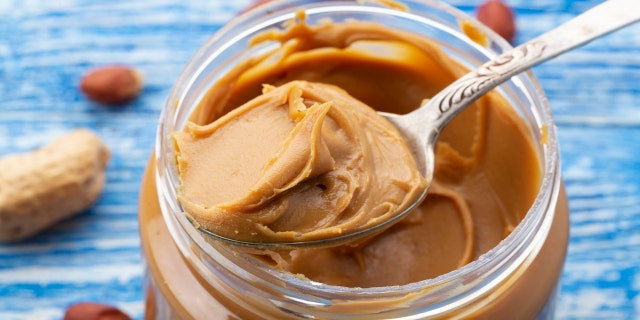 Sherry Coleman Collins, a food allergy dietician and expert from the Atlanta metropolitan area, told Fox News Digital that the benefits of introducing peanuts during infancy are well-supported by a number of studies.
Collins was not involved in the new study.
"We already had evidence that introducing peanut butter in the first year of life is beneficial, but this study gives us a narrower window of when to introduce [it]," she said.
The earlier the better, experts say
Based on the study results, Dr. Lack recommends introducing peanut-containing foods in higher-risk infants with eczema and minority non-White infants at 4 months of age, and to lower-risk infants by 6 months of age.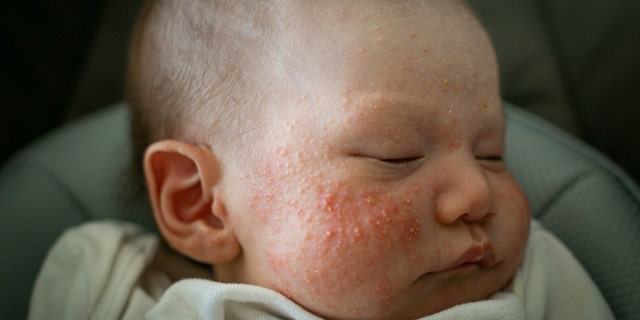 The National Institute of Allergy and Infectious Diseases and the American Academy of Pediatrics both support the recommendation of introducing peanuts to babies in this age range.
There was a 77% reduction in allergies when peanut was consumed by 4- to 6-month-old infants. 
"Most peanut allergy develops very early in the first year of life," Dr. Lack said.
"It develops earlier and more commonly in infants with eczema and non-White infants, who may therefore benefit from support and education about early introduction."
Introducing peanut butter safely
While whole nuts are a choking risk for babies, there are other safe ways to introduce peanut foods.
Peanut butter is usually the easiest way, as most people already have it in their pantries. But Collins points out that undiluted peanut butter can also pose a choking hazard — so it must be "thinned" first.
WHAT TO DO IF YOU GET AN ALLERGIC REACTION: SYMPTOMS, CAUSES, AND PREVENTION
"Mix two teaspoons of peanut butter with a couple of tablespoons of warm water, breast milk or formula to create a smooth texture for a baby," she recommended.
Another option is to offer peanut puffs that have been softened with breast milk or water, or mixed with puréed fruit.
Study had limitations, researcher says
Dr. Lack noted that the study was performed using data from two large peanut prevention studies.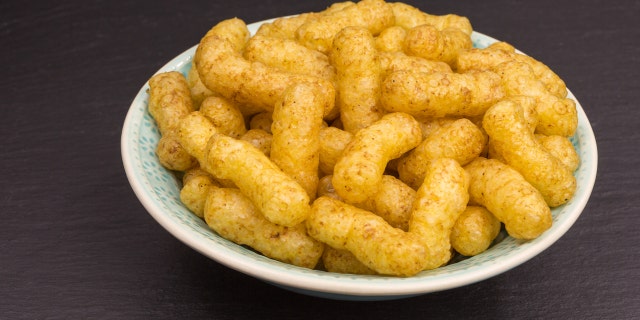 One of them was conducted on high-risk infants with severe eczema, who would normally only comprise about 2% of the infant population.
Another of the studies was conducted in a normal-risk general population.
CLICK HERE TO SIGN UP FOR OUR HEALTH NEWSLETTER
"Combining the data from both studies required adjusting for the actual proportion of high-risk infants in the general population," Dr. Lack said.
"Importantly, the raw data from each of these two studies show the same pattern of peanut allergy developing in the first year of life. This supports and confirms the conclusions derived from our statistically modeled approach."
Parents should consult doctors if in doubt
Although Dr. Lack believes most infants should be developmentally ready to chew and swallow by 4 months old, parents should consult a pediatrician or other health care professional if there is any doubt about a baby's readiness for solid foods.
"It's better to catch the allergy earlier … The older a baby is, the more severe the reaction will be when the allergy shows up."
While it is possible for babies to develop allergies in the first couple months of life — especially if they have severe or uncontrolled eczema — Collins noted that severe reactions to peanut butter at a young age are rare.
CLICK HERE TO GET THE FOX NEWS APP
"And it's better to catch the allergy earlier, because the older a baby is, the more severe the reaction will be when the allergy shows up," she explained.