One in five Latinas has genetic protection from breast cancer, study finds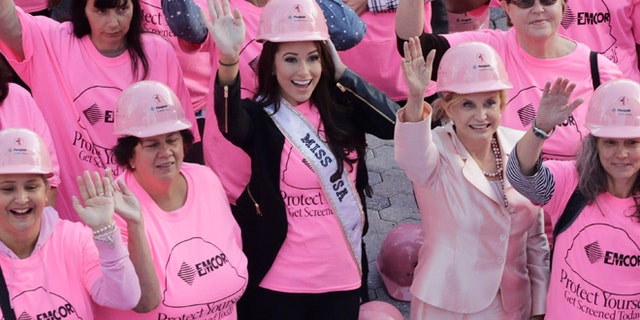 NEWYou can now listen to Fox News articles!
There are benefits to being a Latina. Chief among them, according to a recent study led by researchers at the University of California, San Francisco, would appear to be a genetic variant that is found in one of every five women of Latin American descent in the U.S.
The genes involved in the variant appear on both chromosome strands, so can appear once, twice or not at all.
One of the authors of the study, Dr. Elad Ziv, told a reporter for the UCSF website, "The effect is quite significant. If you have one copy of this variant, which is the case for approximately 20 percent of U.S. Latinas, you are about 40 percent less likely to have breast cancer."
Ziv added, "If you have two copies, which occurs in approximately 1 percent of the U.S. Latina population, the reduction in risk is on the order of 80 percent."
The finding helps explain why Latinas have been found to be less susceptible to breast cancer than non-Hispanic women. A National Cancer Institute finding from 2007-09, showed that white women have about a 13 percent chance to contract breast cancer at some point in their lives; black women have an 11 percent chance; while Latinas have less than 10 percent risk.
The risk was even lower among Hispanic women with indigenous ancestry.
Dr. Jeffrey N. Weitzel, director of California's City of Hope Comprehensive Cancer Center, told Fox News Latino via e-mail, "The findings from this study are interesting and anchor the idea that both genetic and environmental/diet/lifestyle factors are likely to influence breast cancer risk across cultures and ancestral backgrounds. Further, they start to illuminate some of the observations about differences between Hispanic and non-Hispanic white women."
The UCSF study's principal investigator, Laura Fejerman, is an assistant professor of medicine at the school and a Latina herself.
She told the UCSF website, "We have detected something that is definitely relevant to the health of Latinas, who represent a large percentage of the population in California, and of other states such as Texas."
The study was published on Monday in the journal Nature Communications.
Researchers examined more than 1,500 genomes of women that were provided by the Cancer Prevention Institute of California, which also provided funding for the study.
The variant is known technically as a single-nucleotide polymorphism, or SNP, and women carrying the variant have breast tissue that appears in mammograms to be less dense. Dense tissue is considered a risk factor for breast cancer.
SNP appears to have a particularly strong correlation with preventing estrogen receptor-negative breast cancers, which can be an aggressive, difficult-to-treat version of the disease.
"If we can use these results to better understand how this protects estrogen receptor-negative breast cancer, that would be interesting and important because right now we have no good way to prevent that type of breast cancer," Ziv told Tech Times.
As good as the news is for Hispanic women, Jacky Loube, the CEO of the American Breast Cancer Foundation – a national organization that helps women who are uninsured or in medically under-served communities get breast cancer screenings – worries that the findings will increase complacency.
"The largest population for which we provide mammograms and ultrasounds is the Latino community," Loube told FNL.
He says that early diagnosis is still a woman's best defense against the disease – regardless of her ethnicity. "Many women say to themselves, 'I'm too young to get breast cancer,' or 'It can't happen to me,' and they forego mammograms. When they finally do get one, it isn't discovered until a latter stage of breast cancer, and it's much more difficult to treat."