Ebola infuses panic in Spain's capital, nurse's husband says 'she did as told'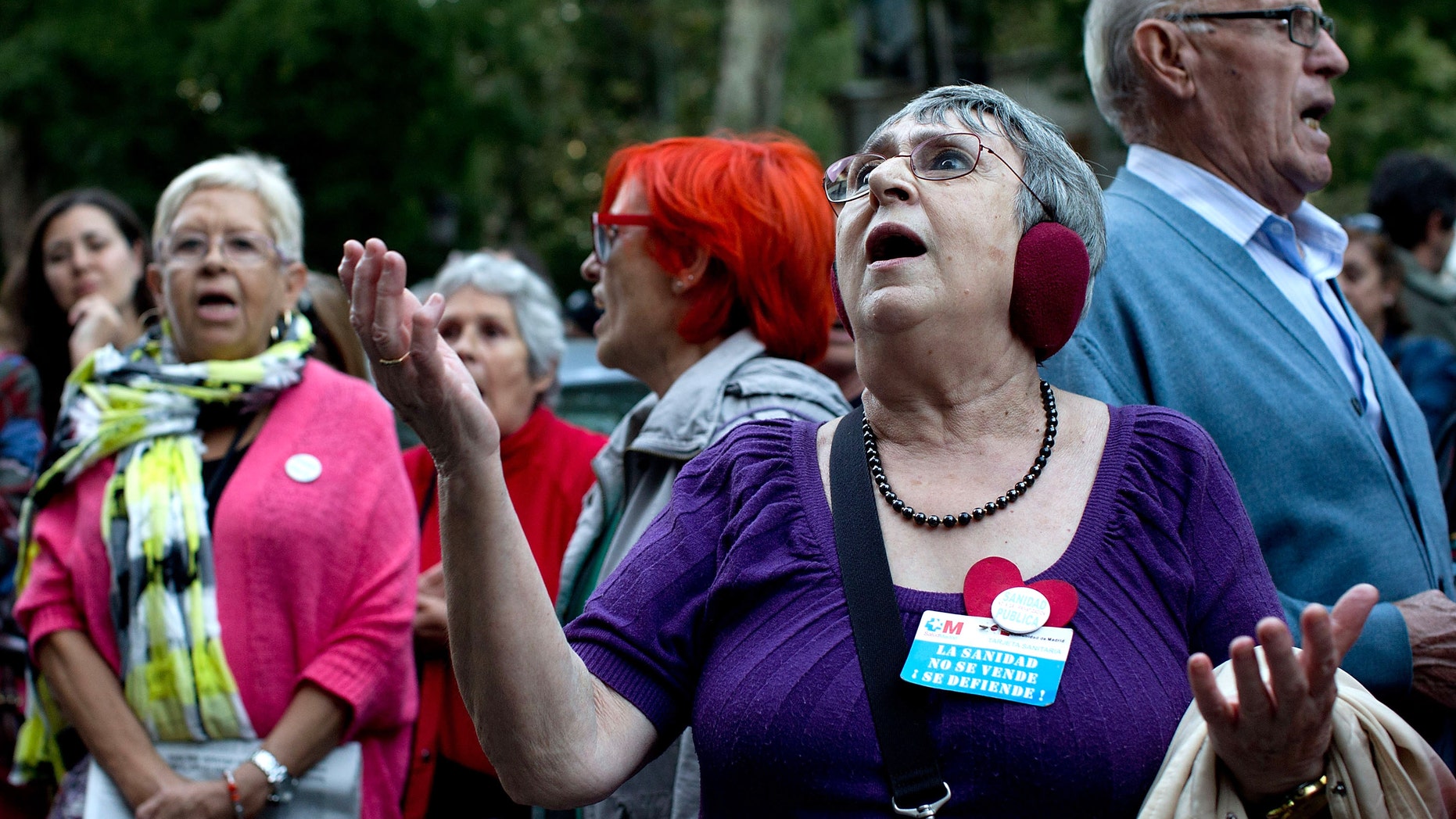 As the news kept sinking in that a nurse in Spain, Teresa R.R., was infected with the Ebola virus, concern was quickly replaced with outrage in the medical community.
Nurses and doctors in Madrid staged several protests on Tuesday demanding the dismissal of Health Secretary Ana Mato. Staff members of Carlos III hospital, where 40-year-old Teresa works as a nurse's aide and is being now treated, are saying they never received proper training nor were they equipped to deal with the deadly disease.
One of them told El Mundo newspaper that nurses in the ICU had to secure their latex gloves themselves with masking tape and that all the orientation they got when the virus first broke were 45-minute seminars.
Meanwhile, Teresa is being treated with an antiviral drug, favipiravir, and also with blood transfusions from a former patient of Ebola, a nun, who was able to survive back in August. Fox News Latino reached out to her, whose name Paciencia Melgar, but members of her congregation - Inmaculada Concepción - said she is not talking to the press at this time.
Melgar worked in Liberia with the first Spanish priest to die from the virus, Miguel Pajares, and was able to recover.
Ebola survivors are the lucky ones who are able to create in time the antibodies needed to fight the infection (for that same reason, they are protected against new infection). So the thinking is that inoculating those antibodies in the sick body could help accelerate the needed response by the immune system.
According to El País, Melgar got to fly to Madrid to try and help Manuel García Viejo, the second priest infected, but he died that same day without her being able to test the therapy.
Now it's all just wait and see.
More than 20 others are currently being closely monitored in Madrid. In addition, a man who recently traveled to Spain from Nigeria, and another nurse, who does not have fever but is showing other symptoms, are both being monitored by doctors in isolation.
The director of Madrid's La Paz and Carlos III hospitals, Rafael Pérez-Santamarina, told El País that Teresa wants her condition status to remain private and undisclosed to the media. He also said the woman progressed "favorably" on Tuesday.
The nurse's husband, Javier L.R. and other three other who came in contact with Teresa are being kept in isolation at the same hospital, with their temperatures being checked twice a day.
A reporter from El Mundo was able to speak briefly with Javier over the phone on Tuesday morning.
"She did everything she was told [by her supervisors], she never told me anything; she came home normally and was not at all worried," Javier said referring to the days his wife was attending the Spanish priests who later died.
The man also said that they had actually planned a vacation trip outside Madrid, but it had to be cancelled for other reasons. "We were going to travel on vacation … but we were not able to go because of an accident I had. So she said, 'Well then, I'm going to spend a few days with my mother instead'." He said that's when Teresa started with the fever.
Teresa RR is was the first case of Ebola transmitted outside of West Africa, where a months-long outbreak has killed at least 3,500 people.
Follow us on twitter.com/foxnewslatino
Like us at facebook.com/foxnewslatino