Ebola dog is put to sleep amid protests and heartache: 'We had no choice,' vet says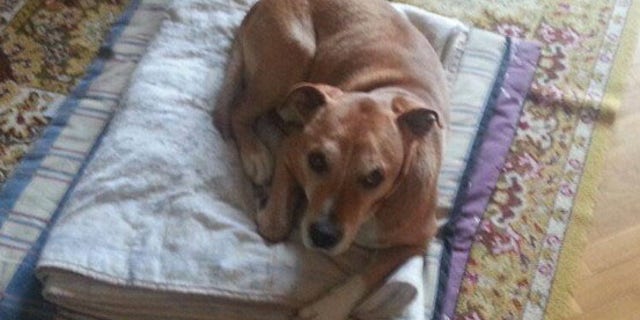 NEWYou can now listen to Fox News articles!
Excalibur, the beloved pet dog of nursing assistant Teresa Romero, who is battling the Ebola virus in Madrid, was put down Wednesday afternoon after much controversy.
"Unfortunately, there was no choice," said Dr. Pedro Luís Lorenzo, the dean of the veterinary school at the Complutense University of Madrid who was part of the team carrying out the procedure, in a telephone interview with Fox News Latino.
According to Spanish media, a van from the university left the building around 6:30 p.m. carrying the dog's corpse to an incinerator facility in central Madrid. Dozens of protesters outside the building yelled "Murderers!" as the van rolled away.
The order to go forward with putting down Excalibur, a mixed-breed dog, proceeded despite pleas from his owners and from animal rights groups across Spain, who said the pooch could not transmit the Ebola virus to humans.
However, Lorenzo said that is not the issue behind the "tough decision" that had to be made.
"The authorities weighed the pros and cons of both possibilities (euthanize and isolate him), and they arrived to this conclusion because there is no lab in the city that can guarantee the safety of those caring for the animal," he told FNL.
The customary quarantine period for Ebola is three weeks.
"We veterinarians, the last thing we wanted to do is sacrifice him," he said, insisting that authorities took the decision after careful thought.
Lorenzo said that no tests were performed to the dog, since they just executed the order of putting him down. He said two veterinary technicians inside the apartment gave the dog an overdose of anesthesia, which put him to sleep with no pain.
According to experts consulted by The Associated Press, at least one major study suggests that dogs can get infected, without showing symptoms. Researchers tested dogs during the 2001-02 Ebola outbreak in Gabon after seeing some of them eating infected dead animals. Of the 337 dogs from various towns and villages, 9 to 25 percent showed antibodies to Ebola, a sign they were infected or exposed to the virus.
Lab experiments on other animals, not dogs, suggest their urine, saliva or stool might contain the virus. That means that in theory, people might catch it through an infected dog licking or biting them, or from grooming.