I made every mistake before my latest half-marathon — and it wasn't a total disaster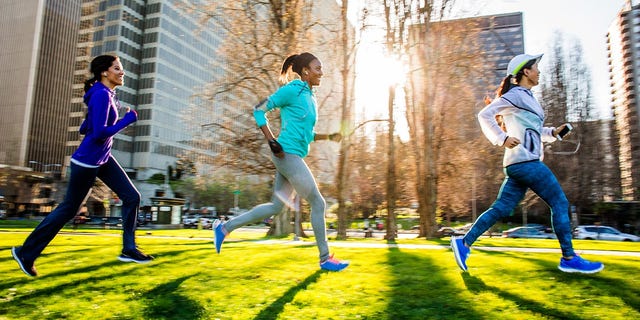 NEWYou can now listen to Fox News articles!
Two weekends ago, I ran the Brooklyn Half-Marathon, which I was super excited about because pretty much everyone who runs it loves it. You start running by Prospect Park, then continue down Ocean Parkway until you hit the finish line at Coney Island.
This was my fifth half-marathon, so I'm comfortable with working up to that distance. And I'm constantly interviewing trainers, so I get to ask them questions about my latest training routines as soon as they pop into my head.
I'd like to think that I train smart for race day—I know what to eat, what to wear, how much to sleep, and what to drink to feel prepared. But this time, pretty much everything was thrown for a loop. I made every mistake the experts tell you not to make, and to be honest, I was pretty concerned about how things would go considering how diligent I've always been in the past.
Even though I've run enough half-marathons to know my body can handle the distance, I always have a bit of a nagging voice in my head that says, What if I can't? I mean, who doesn't feel a little anxiety when they're about to run a race? There is absolutely no shame in walking—some run coaches even recommend taking walk breaks to get a better time—but the truth is, I'm competitive and sometimes hard on myself. I want to run the whole thing, get a personal record (PR) every single time, and finish feeling like a million bucks. Possible? No. But that doesn't stop me from always thinking it.
This time, knowing that I was not totally prepared and didn't follow my pre-race routines to a T made me really anxious. I usually know what to expect, but this time, anything could happen. My time was not going to be my best, and that was kind of hard to swallow.
Regardless, I still got myself up the morning of the race and mentally prepared myself to run. And I'm glad I did: I learned an important lesson and the race was a success—despite a few minor roadblocks.
Before I get into what happened on race day, let me explain all the training mistakes I made, starting with: I cut my training too short.
I usually start training about eight weeks before a half-marathon so I can work my long runs up to 10-milers, plus have a taper week where I dial back, relax, and mentally prep for race day. This time was slightly different, thanks to an unexpected injury.
I had just finished up another race when my foot started acting funny. Wearing heels at work gave me this bizarre pain in the bottom of my foot. Of course I didn't go get it checked out like I should have. But after two weeks of staying off it (as much as I could living in a city where I walk everywhere), I woke up one morning and it felt better. I still have no idea what it was, or why it happened, but I do know it cost me two precious training weeks.
While every training plan is different, I have always done one 10-mile run before race day. That's how I know my body's prepared, and if it's not, I figure I can always walk the last three miles. This time I was supposed to do my final long run on Mother's Day weekend, and it poured rain most of the weekend. I ended up only running 6.2 miles, which left me feeling really unprepared.
Then, the week of the race I decided to take up a new sport...in a different time zone.
The Tuesday before the race, I flew out to Palo Alto, California, to test out Specialized Bike's new e-bikes for work. I ran the day I landed, and then spent the next two days sitting on a bike. While biking is excellent cross-training, I haven't been on a real bike in a while, so my glutes were super sore for a few days.
Initially, I thought to myself, An e-bike is totally fine because I'll barely have to pedal. The catch? When one editor told us he wasn't even using the motor and was pedaling the whole thing himself, the competitor in me had to try it too. So I ended up putting in 50-plus miles on a bike (sometimes with the motor on, and sometimes with it off, but always pedaling) three days out from race day—usually during this time, I'm tapering.
Also, I was in California. Meaning, my sleep schedule was thrown out of whack. While I try to keep East Coast time when I travel west, it doesn't always work, so I was more awake than normal at night and had trouble getting up in the morning. You could definitely say I was tired.
At the end of the weekend, I flew home...and spent the next day entirely on my feet. Friday morning (the day before the race), I went to an indoor cycling class, walked to breakfast, and then walked to the office. Then I had to go pick up my race bib in Brooklyn, so I walked around there, and finally, I made it back to my apartment that night. According to my Apple Watch Health data, I walked about 9 miles that day—not exactly the pre-race rest day I'm used to.
The one thing I didn't change was my dinner the night before. But I really skimped on sleep.
I stuck with my tried and true pasta with red sauce the night before. Traditions, FTW. I normally also have a glass of wine, because I've heard that professional runner, Olympic medalist, and world recorder holder Deena Kastor enjoys a glass before race day (and because I like it). This time, I skipped my glass of wine because I was afraid it wouldn't do my jet lag any favors.
The night before race day, I didn't even log a full six hours of sleep. But I woke up feeling semi-rested despite it all. Credit pre-race jitters and endorphins.
The morning of the race, I decided to wear brand-new gear.
For my past few half marathons, I've always trained in the shoes I was going to run in on race day, plus worn my race outfit before. (Some runners are so regimented about their apparel and shoe choice that they wear the same exact thing during every training run and race.) This time, I shrugged my shoulders and decided to mix it up.
I pulled on my brand new neon green New Balance kicks, brand new leggings, and brand new tank top. I wore a sports bra that I had worn before, but never for 13.1 miles. I pulled on the capri-length leggings, and they fit great. They seemed comfortable. And a tank top is hard to mess up. Plus, the sneakers were so bright, I almost forgot I was going to run 13 miles in them.
I ate something completely new for breakfast and decided to forgo coffee, which I normally drink every single morning.
I normally eat a banana and toast with peanut butter the morning of a race. Except all my recent traveling left my pantry pretty bare, so I didn't have what I needed. So I settled on...a cacao almond smoothie. It seemed like a good choice—plenty of calories, some fiber, and some protein. I also sliced myself a few thick pieces of homemade banana bread to swap out for my normal banana. Almost the same, right?
Skipping coffee was a big mistake. I pretty much regretted it the entire time I was running the race. Coffee usually really helps me get things going before the race begins, so this time, I didn't end up going to the bathroom until mile 8 and felt pretty crampy the entire time before. (More on that later.)
OK, race time! After dealing with a small legging mishap, the first two miles were a breeze—and then, I started to struggle.
About 100 meters in, I felt like my pants were slowly sliding down so I pulled and twisted mid-stride to try to fix them. Then another 100 meters down the road, the same thing happened. It's like my pants fit right when I was just walking, but once I started running, it was all downhill and not in a good way (runner puns!). I had to pull off to the side and really yank my pants up from my calves to get them to stay put. Once that was fixed, I pumped up the tunes and got on my merry way.
I hit mile two, and my legs felt like concrete. I was not expecting to feel so tired so early, but also, after all that biking and walking, I really didn't know what to expect of my body. The course is an out-and-back for the first three miles, and when I started to see people turning around and running back toward me, I felt like they were so far ahead. I've never felt so tuckered out so early on in a race.
Miles three through seven flew by, then I took a bathroom break at mile eight. The rest was smooth sailing, until right at the tail end.
Luckily, by mile three, we could see into Prospect Park and there were spectators all over. Those signs and cheers and high fives were just what I needed to re-energize myself. Nothing can make you feel more like a super star than all the people who show up to cheer for races like these. I started looking for friends, found said friends, and then beamed down the road as I continued to Ocean Parkway.
Once I hit mile eight, I had to stop to use the bathroom. I think this is the first time I've ever stopped to use the bathroom while racing (did I mention I'm competitive?), but after eating something new that morning, I was anticipating it. I also definitely drank more water than I should have right before the race, so that didn't help either.
Post-bathroom break, I finally felt lighter and not so crampy. And at that point, I only had five miles to go! I felt good, and cruised along, getting really excited as we got closer and closer to the finish line at Coney Island—despite living in New York City for over a year, I had never been before. I also knew my family and friends would be waiting for me at the finish line (plus, brunch), so I gave it everything I had left.
The cramps came back with a vengeance right when I saw the 800-meters-to-go sign. I couldn't believe it; I was SO close. I tried really hard to focus on my breathing and slowed down a bit (even though it killed me inside) and kept swiveling my head searching for a familiar face. A couple more strides and I spotted my people—and as soon as I saw them, I decided to push through it and sprint to the finish. Got to look good for those cameras!
While this definitely wasn't my fastest half-marathon, it certainly wasn't my worst. And I learned that sometimes, that's just going to be the case.
With this race, as more and more things went wrong, I tried to keep reminding myself, You're running this for fun. Just enjoy it. There's no reason to push yourself. It helped, but only to a certain extent. Was I nervous the night before the race? Yes. Did I worry I was going to hurt myself because I didn't feel properly trained? Yes. Like everyone else in the world, I hate feeling unprepared—especially for races, because even people that are 100-percent trained end up flopping on the course. Sometimes I have good runs and sometimes I have bad runs, but the important thing to remember is that I really do like to run.
While I certainly didn't PR this time, once I started running, I just reminded myself it would all be OK. I would finish, and that's a huge accomplishment in itself. I mean, those cramps, GI issues, and pre-race injury definitely messed with my head, but I'm still able to look back on the race and know that I had a fun time. Plus, I finally got to experience the race that all my runner friends rave about (big thanks to Michelob Ultra for securing me a spot!). There's no feeling like crossing a finish line—the mix of pride, happiness, and sheer exhaustion you feel—no matter what my actual time ends up being.
Looking back, I've realized that it's totally OK that my race prep wasn't on point. And in the future, maybe I'll let myself off the hook a little bit. Sometimes, the experience of the actual race can take precedent over PR'ing—and that's something I'm teaching my competitive side to get used to. If I'm really gunning for a specific time, I'll avoid repeating these mistakes, but sh*t happens. Life happens. Sometimes you can't train like you wanted to. Injuries set you back. You run out of peanut butter and forget to buy groceries (whoops). As long as you still have fun and are proud of what you can do given the circumstances, you still deserve that medal at the end.