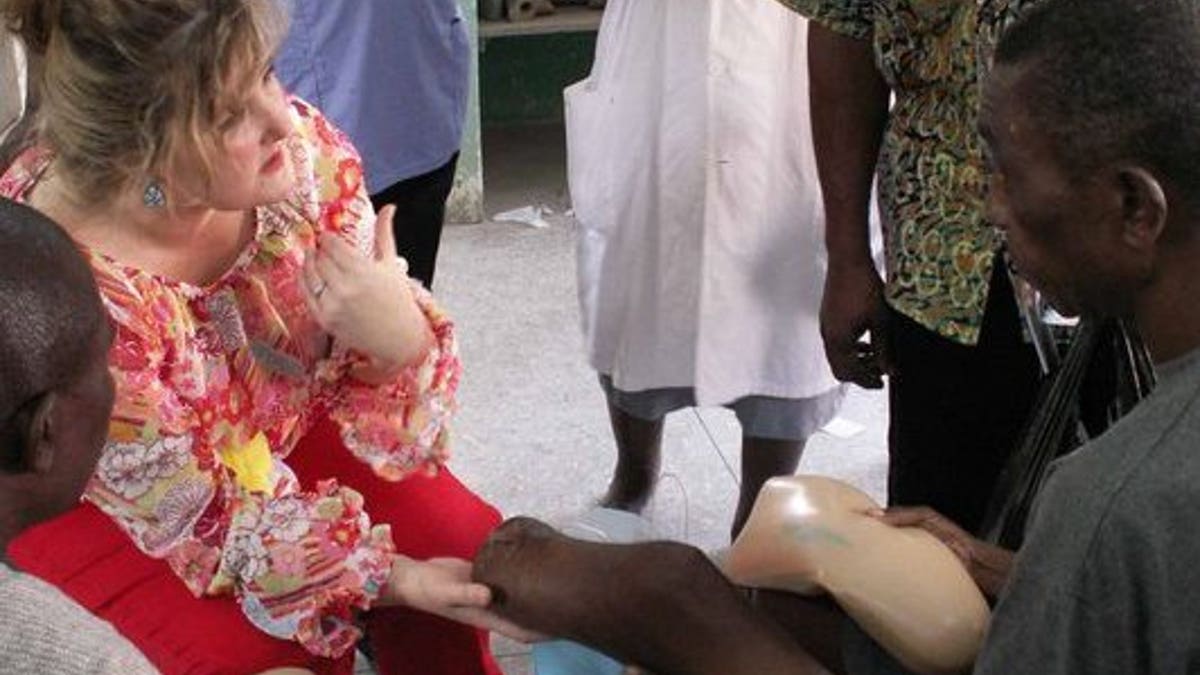 Peter Rosenberger didn't know his wife, Gracie, when she was in a catastrophic car wreck in 1983, and doctors had told the then-17 year-old she wouldn't survive.
Not only did Gracie survive, but two years later, she met Rosenberger and fell in love. The couple got married and started a family, settling into their Nashville, Tennessee home in 1986.
The quality that Rosenberger most admires in his wife? "Her authenticity. She's not plastic, fake, or one to put on airs," he said. "She's who she is, and her passion is genuine. If she loves a dessert, she really loves a dessert. If she wants to help amputees, she really wants to help amputees. That genuine passion extends into every area of her life."
By 1991, Gracie legs had deteriorated – and doctors had no choice but to amputate her right leg. Four years later, the left leg was amputated, too.
After the surgeries, the Rosenbergers discovered first-hand the challenges of life as an amputee, and how living a "normal" life would depend on prosthetic limbs.
While recuperating at home, Gracie watched a documentary on Princess Diana of Wales, in which she helped land mine amputees in Southeast Asia. Rosenberger said at that moment, his wife looked down at her bandages and realized how important prosthetics were to her. She served more than 10 years ago for a year on the board of the Amputee Coalition of America, as well as on the LIMBS FOR LIFE Foundation board in the United States, but wanted to go beyond the U.S. – and do more.
The Rosenbergers partnered with the government of Ghana and started Standing With Hope. They began collecting donated prosthetics to share with the people of West Africa.
"Most prosthetics are stored away, collecting dust, but by donating those legs, other amputees are given a chance to walk," Rosenberger said.
Rosenberger described how one woman kept a box of her deceased husbands' prosthetic legs since 1994 in her basement, and recently donated them to Standing With Hope after hearing about the organization. The Rosenbergers hope that people with similar situations, will donate the unused prosthetics to the foundation, so amputees can have the chance to walk someday. So far, Standing With Hope has collected almost 500 prosthetics for the people of West Africa.
But that wasn't enough for the couple.
"We wanted to go beyond the country…not just put a leg on somebody, but to train others how to do it," said Peter Rosenberger, 48. "My wife and I knew that she had a second chance after her accident, and we wanted to share that attitude."
The organization does not limit who receives prosthetics, although it mostly focuses on children because they have a greater chance for growth and opportunity, Peter Rosenberger said. He added that part of the organization's mission is believing that just because a leg is missing, does not mean you cannot achieve extraordinary things.
Active employable adults are also a high priority, as becoming active again gives them the ability to work.
The prosthetics come at a small price for the West African people. Although the prosthetics are free to the government of Ghana through the Rosenbergers' organization, the government does charge a small fee to each patient for a limb. The average cost of a prosthetic leg is approximately $2,000 – but some could cost up to $15,000. Standing with Hope eliminates the cost of the prosthetics since they are donated to the foundation. If someone in West Africa is unable to afford the limb, they are evaluated by a field director. If they fit the description of a proper candidate, they are given the limbs.
Standing With Hope also partners with the Corrections Corporation of America, giving inmates a chance to learn how to disassemble used limbs to recycle and give to the people of West Africa. Peter Rosenberger visits the prisons frequently and interacts with the inmates on a regular basis.
"They are very enthusiastic about the program and extremely willing to help the cause," he said.
One prisoner wrote to Rosenberger and said, "Before I was locked up, I never thought about people crippled in their bodies. Standing With Hope has not only opened my eyes, but opened my heart."
For more on Standing With Hope, and how to donate, visit www.StandingWithHope.com.