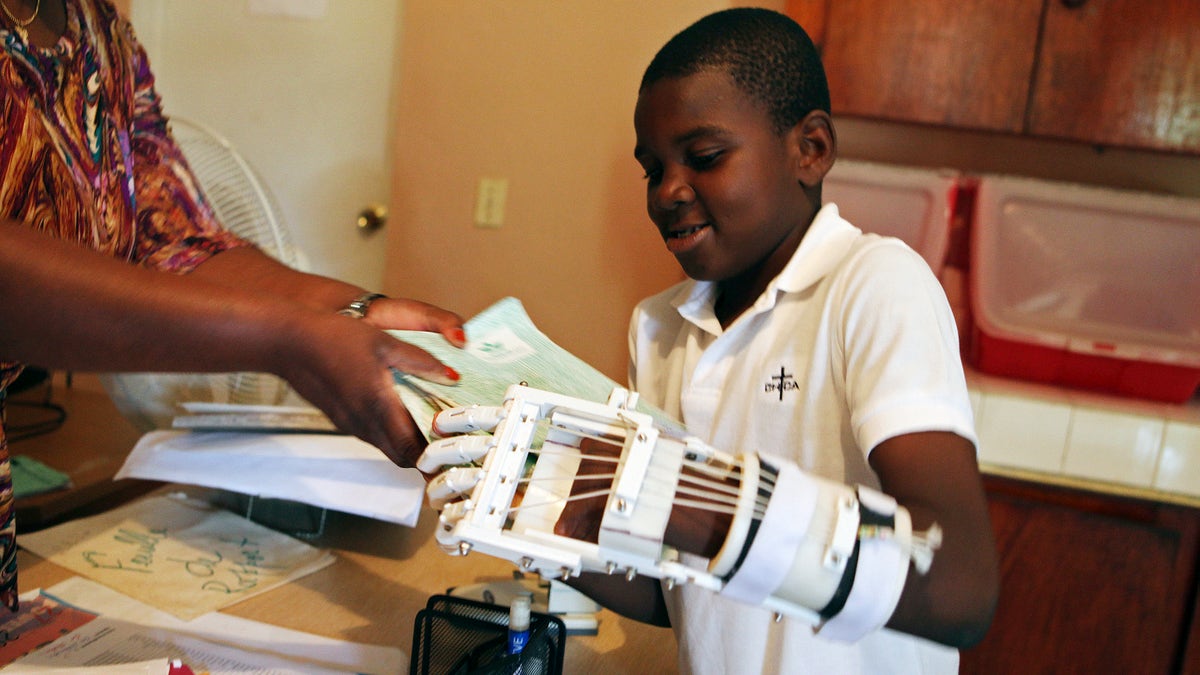 A 12-year-old orphan boy handicapped from birth became the first recipient of a 3-D printer prosthesis in Haiti last month, thanks to a British-born software engineer in California.
Born without fingers on either hand, Stevenson Joseph had little hope of treatment in a country where programs for the disabled are rare apart from a handful of charities.
Now the 3-D prosthesis fitted to his left hand has given him a whole new range of dexterity, including being able to play catch with his friends for the first time and maybe even enabling him to write one day, according to staff at the home for disabled orphans where he lives.
In 2010, Stevenson was brought to Bernard Mevs hospital in the capital, Port-au-Prince, where an orthopedic team was working to fit prosthetic limbs after a devastating earthquake caused injuries that required amputations.
"We couldn't do anything for him here," recalled Thomas Iwalla, a Kenyan orthopedic technician at hospital.
"Some congenital conditions, like Stevenson's, are pretty hard to tackle. Not even surgery could repair his missing fingers," he said.
On a mission trip to Haiti for Florida-based Food for the Poor last year, John Marshall and his wife Lisa, met Stevenson at the Little Children of Jesus orphanage where he has lived since he was abandoned when he was 3 years old.
Back in California, Marshall read an article about Richard van As, a South African man who developed a plastic prosthetic "Robohand" using a 3-D printer after losing his fingers in an woodwork accident in 2011.
Marshall and van As worked for months to design a 3-D print prosthesis for the Haitian boy.
"Stevenson is handicapped in a small way, in a way that's not as bad as some of the other children, yet his hands are holding him back. He can do so much more. He has the potential," said Marshall.
After three attempts, the skeleton-looking prosthesis was ready and shipped to Haiti where Bernard Mevs hospital medical team fit Stevenson with it last month.
"A printed prosthesis is more anatomical and it allows more motion than the one that is usually custom-made," said Iwalla, an orthopedic technician at the hospital. Also, once the model is designed, printing the prosthesis cost only around $300.
"Some patients care more about cosmetics. But for Stevenson function is the most important criteria. That's what is in his mind. His robot-hand makes him happy, makes us happy," said Iwalla.
Instead of shooting ink to print words or images in a page, 3-D printers use plastic or metal to build three-dimensional objects ranging from jewelry to guns.
Stevenson now spends his days getting used to his new hand.
"It is a great hand," he smiled, ticking off his list of accomplishments. "Now I can take a balloon with it. I can score at basketball. I can hold a TV remote and push my friends on their wheelchairs. I can hold a water bottle, a bag. I like it a lot."
The 3-D device, articulated by Stevenson's wrist, makes a slight creaking plastic sound when moving. "Some say that now he looks like a robot, but Stevenson doesn't care," said Edouard Williamson, one of the staff at the orphanage.