Double Lung Transplant Opera Singer Steals the Show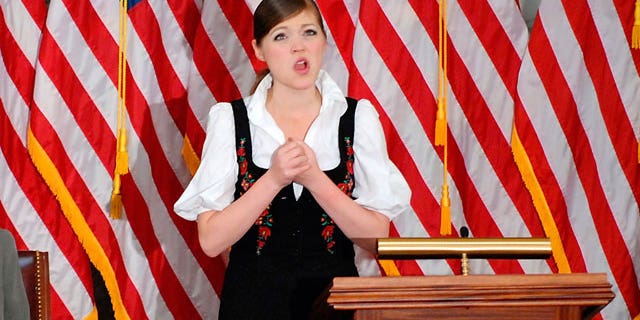 NEWYou can now listen to Fox News articles!
Soprano Charity Tillemann-Dick opened TEDMED medical conference last night. She entered singing and then told her story.
Exactly a year ago, she said, she woke up from a one-month coma, following a double lung transplant.
Tillemann-Dick, who's now 26, had been battling idiopathic pulmonary hypertension — dangerously high blood pressure in the arteries of the lungs — for several years. The condition made her into what she called "a reverse Grinch," with a heart three-and-a-half times too big.
She had to give up a lot of things because of her disease, including, because of the high altitude, trips home to her large family in Colorado. But she refused to give up her singing career, even after one physician told her it was basically killing her. The doctor didn't actually have evidence for that, Tillemann-Dick said.
A portable, 4.5 pound pump to deliver medication directly to her heart helped for a while, and she managed to use the system, though cumbersome, even as she traveled for singing engagements. Though, she says, "the tubing coming out of my chest was a nightmare for costume designers."
She was reluctant to agree to a double-lung transplant because of its attendant risks, but her disease worsened and finally she decided to head to the Cleveland Clinic. A doctor there, in response to her question about whether she could sing while she awaited an available organ, told her that "a happy patient is a healthy patient."
Click here to read more from The Wall Street Journal