Cheerleader's heartwarming 'promposal' goes viral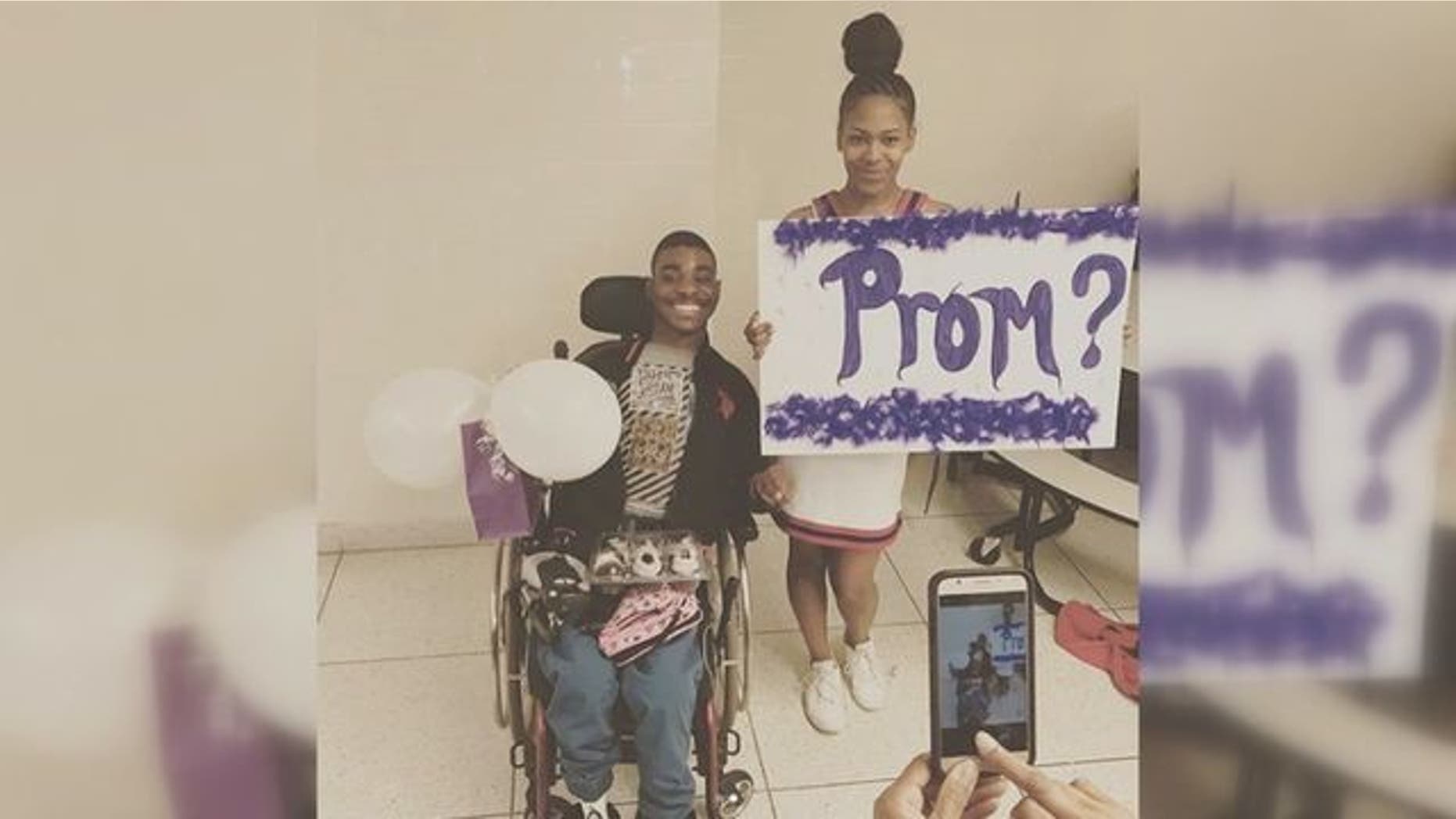 A Washington D.C. teen whose "promposal" went viral said she is just happy that her date said yes. Keyonna Moore, who asked Tyuan Malik Barbour to prom earlier this week, already had a date to the dance, but decided to switch gears and ask her friend who had never been to a dance before instead.
Barbour, who recently transferred to Anacostia High School, was born with several disabilities and relies on a wheelchair to get around, Fox 5 DC reported.
Moore said she and Barbour instantly connected and became close friends. The teen said she wanted to ask him to prom because she wanted "to show him that he matters and give him the attention and kindness that he deserves."
"I believe that everyone should be treated like the beautiful kings and queens," she told Fox 5 DC.
INFANT TWIN BOYS GET LIFE-SAVING BONE MARROW DONATION FROM 4-YEAR-OLD BIG BROTHER
On Monday, a friend captured Moore carrying a purple and white sign and balloons through the halls of their high school to ask Barbour the big question. A video uploaded to Instagram shows friends gathering around the pair as Barbour realizes that Moore is headed toward him.
"I felt like I should just make someone happy for once and not just do it for attention, but actually do a good deed and actually care and show love," Moore told Fox 5 DC. "His face was priceless. He was just so excited and then once he said yes, my heart melted."
Barbour's cousin said that the teen's mom cried when she heard the story went viral.
GIRL BORN WITHOUT FOREARM GETS 'FROZEN'-THEMED PROSTHETIC
"She found it in her heart to want to make a difference for someone with special needs," Antoinio Gray, Barbour's cousin, told Fox 5 DC. "Not for social media and not just to get people to like her for doing something so good, but from the kindness of her heart. She's a very good friend to Tyuan and she's planning on sticking beside him."
Moore said that since their story has gone viral, people have been offering ways to help the couple get ready for their dance.